COMMITMENT
Preserve and restore biodiversity
 
2020 OBJECTIVE 
This document sets out the key data on Veolia's Corporate Social Responsibility (CSR) performance.
Make a diagnosis and deploy an action plan in 100% of the sites where biodiversity has been identified as presenting significant challenge  
2018 PERFORMANCE
In 2018, 60% of sites presenting a major biodiversity challenge completed a diagnosis and deployed an action plan
215 sites conducted a biodiversity diagnosis and deployed action plans (all levels of challenge)
181 sites put ecological management and / or development in place
60 sites have a partnership with a local environmental protection organization
 
In 2015, the Group was officially recognized by the Ministry of Environment, Ecology and Seas for its voluntary commitment to the National Biodiversity Strategy. In this context, Veolia has drawn up a 2016-2018 action plan for all its activities in France and abroad.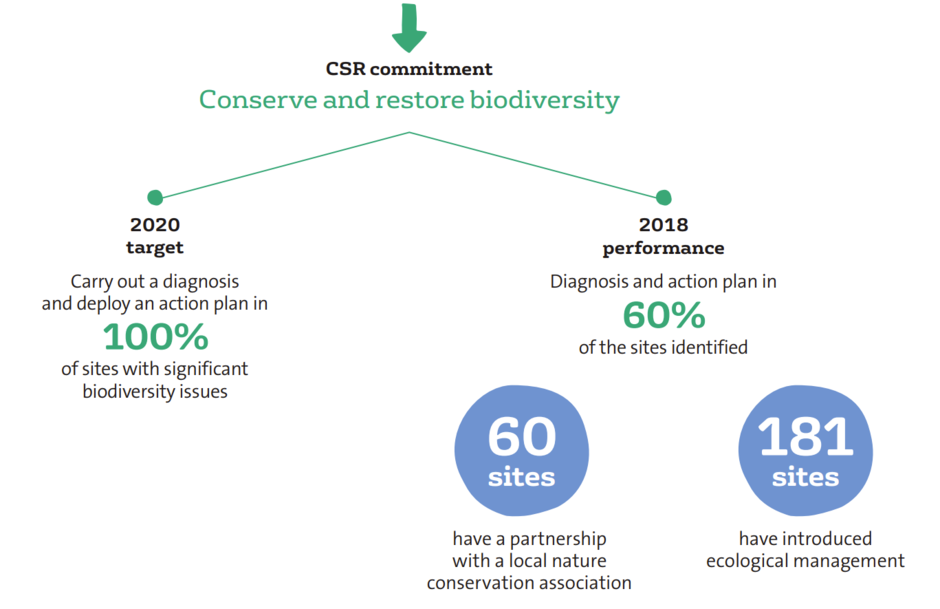 The biodiversity approach is based on both:
- The Environment Management system (EMS) developed by the Group which aims to ensure the environmental performance of our operations. By reusing and returning good quality treated water to rivers and oceans, by collecting and reusing waste, by limiting air emissions through optimized energy consumption and treating flue gases.
 
- The management and exemplary development of the spaces we manage, which helps to maintain and re-establish biodiversity on sites and more broadly in their host communities. Actions are primarily implemented on sites with large land holdings situated in sensitive areas.
To support this approach across the entire Group, including all the new sites, a number of resources have been deployed:
Special partnerships, in particular with the French IUCN committee since 2008 (in France) along with other partnerships in other countries at national (Nabu in Germany) and local level (region, etc.)
A network, internal expertise within the Group's business lines, consultancies and research and innovation teams (2 EI, Setude, etc.)
Research projects, including ecological engineering and innovative initiatives with our customers (certifications, etc.)
Evaluation tools (diagnosis of biodiversity issues, checklist of biodiversity impacts upstream of new projects, etc.) and support for the implementation of actions, in particular a good ecological practice guide for site managers
Awareness raising activities for our stakeholders (customers, employees, general public, etc.) through conferences, open days, information meetings, publications, educational visits, etc.
Performance indicators to measure the level of deployment of the approach locally 
Veolia is also involved in working, reflection and initiative groups with our stakeholders (WBCSD, Oree, EPE, IUCN, etc.)
Finally, through its Foundation, Veolia is also involved in many information and communication campaigns aimed at a wide audience, helping to change behavior towards greater respect for the environment. Since 2004, the Foundation has supported 330 environment and biodiversity related projects.