text-align:justify">
The waste management facility of Southwark incorporates a
sorting center
that isolates high quality materials, a
recycling center
treating household waste and bulky waste, and a
mechanical-biological treatment unit
dedicated to recovering biodegradable waste.
Efficient sorting techniques and innovative treatment units mean the district can
process 120,000 tons of waste per year
and
achieve a recycling rate of 40%.
This rate has doubled since the beginning of the contract, due to the optimization of waste collection and increased public awareness.  
Turning waste into heat and electricity
text-align:justify">Veolia is also responsible for
transforming biodegradable waste from the mechanical-biological treatment process
into fuel.
The fuel is transported to the South East London Combined Heat and Power (SELCHP) cogeneration plant to generate electricity and heat for 2,600 Southwark homes. Compared to using gas boilers,
cogeneration
this solution
avoids the emission of almost 8,000 metric tons of CO2 equivalent
per year.  
This solution not only contributes to
increase the share of renewables in the UK's energy mix
, but also to meet the 2020 target set by the European Union to reduce by 35% the amount of municipal biodegradable waste sent to landfills compared to 1995 volumes.   
120,000 metric tons of waste processed annually
Recycling rate of 40% in 2014
8,000 tons of CO2 avoided per year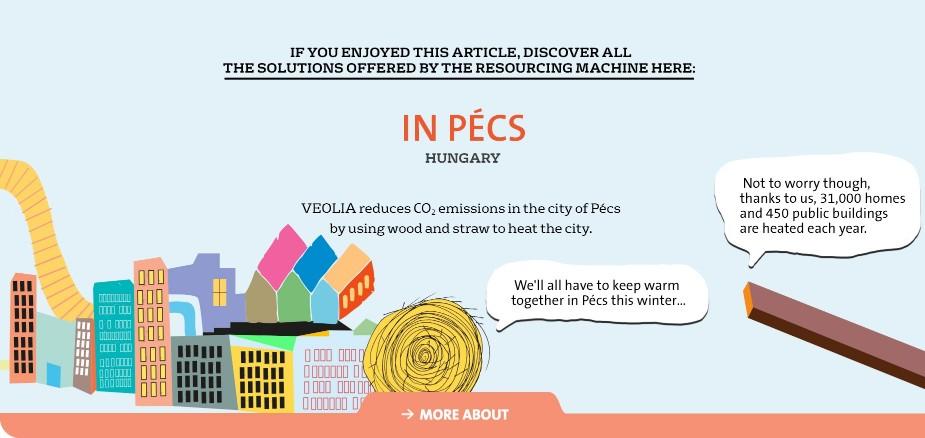 Discover Veolia's contribution and that of our partners, to the debate on climate on our Blog.
With the circular economy model, we use resources in a more sober and efficient way
When you plundge a frog into boiling water, it leaps out in a single bound. But if you put the frog in cold water...