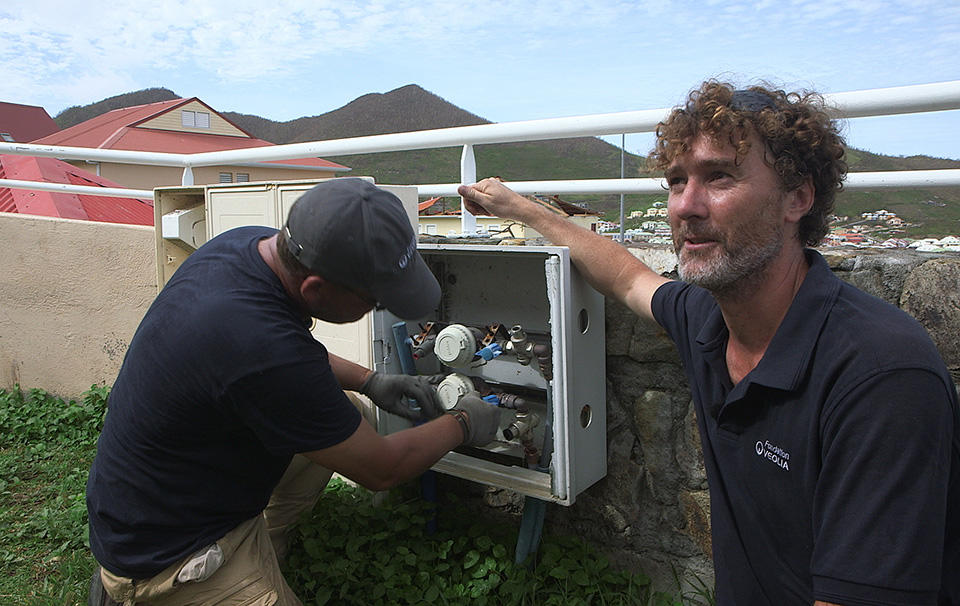 Operating at full capacity, Saint-Martin's drinking water production plant delivers more than five million liters of water every day, which represents the needs of the population pre-hurricane. 
 
"Our teams and our local partners have efficiently worked to repair the three osmosis lines in the desalination unit and they are now operational," says Jean-François Nogrette, Chief Executive Officer of Veolia Water Technologies.
Water distribution on the island has also increased with more than 80% of homes now reconnected. Restoring the remaining 20% will require lengthy repairs as infrastructure has been severely damaged. In the meantime, families are being supplied from 12 water distribution points set up by the French Red Cross, the Veolia Foundation and the Saint-Martin authorities.
 
Finally, the re-commissioning of the Pointe des Canonniers wastewater treatment plant now makes it possible to prevent any risks to health.
 
In order to continue and accelerate the full restoration of the water service in Saint-Martin, Veolia has put an action plan to the Saint Martin authorities. Discussions are underway about establishing a contractual framework for all the work that has to be carried out. 
Cyril de Vomécourt, Director of Veolia's local teams, explains: "Day and night, the teams continue to be mobilized, be they Group employees, Foundation volunteers, subcontractors or our partners. In collaboration with the local authorities, the Prefecture and the Red Cross, giving information to the population is also a priority. Additionally, we are engaged with them in operations in schools to provide training to the staff on how to maintain and repair water facilities in the island's 21 schools."
More : 
> See the video on "Hurricane Irma: Veolia mobilized to restore water" (long version)
> The Veolia Foundation and emergency intervention
> Press release: Paris, november 2, 2017.