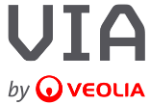 The VIA by Veolia program is the group's Open Innovation program. The program has two main objectives. The first is the search for innovative technical solutions that can contribute to improving our operational performance. The second is linked to the group's growth plan and the desire to offer our customers new offers. In both cases, we seek to establish partnerships with startups or innovative companies. In concrete terms, partnerships can include purchase contracts, licensing agreements, co-distribution, co-development, etc. The terms of partnerships are discussed prior to qualification.
The stages of VIA by Veolia are managed by an experienced team. Each "Call for Solutions" corresponds to needs or opportunities expressed by Veolia's BUs and Corporate entities. 
We also invite you to discover Veolia's Germany Incubator Program U-Start.
---
Discover and participate to the calls for solutions in progress. 
Innovative Innovative wearable devices designed to improve workplace safety.
- CONTACT US -