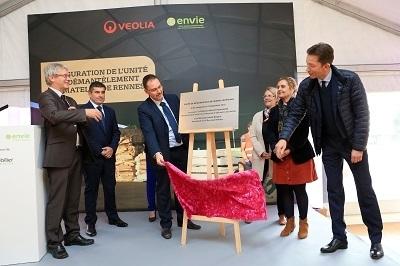 Veolia and the back-to-work network Envie were chosen by Eco-furniture, an eco-organization of mattress manufacturers and distributors in France, to create a mattress recycling unit for western France. Veolia brings its industrial expertise, and Envie 2E Recyclage Bretagne its workplace integration expertise, to the project. Initially, the unit will recycle 4,000 mattresses per month. Once relocated on Veolia's Rennes site, it will be able to process up to 7000 metric tons per year.   
14 people on the back-to work program will be trained and supported.
To ensure safe working conditions for employees and the quality of the recovered material, Veolia has planned a mattress disinfection room that will treat 120 mattresses with a disinfectant mist. The foam outer covering will then be cut horizontally, and the springs will be cut with a circular electric cutter.
 
90% of the components of a mattress (metal, foam, latex, textiles, etc.) will be recycled for the automotive, furniture, and construction industries and will also be re-used by mattress manufacturers.
This project, at the crossroads of the circular economy[1] and the social economy, will create 14 local jobs.
 

"With our partner Envie, we are proud of this project which brings together the circular economy and the social economy in a virtuous circle. This mattress recycling unit, the first for Veolia in France, strengthens the Group's position as a leading producer of recycled raw materials for the furniture industry," said Bernard Harambillet, CEO Waste Solutions for Veolia in France.
> More about the study « The circular revolution. An Imperial College London report commissioned by Veolia UK »
 
---
[1]
 The circular economy is a source of potential jobs. By 2030, between 1.4 and 2.8 million jobs could be created in Europe if it were implemented, according to the
 European Union's Resource Efficiency Platform.