This summer school gives the Group an original and practical way of showing its core business and its activities to students from all over the world. It also provides an occasion to build special relationships with the schools and universities that they come from.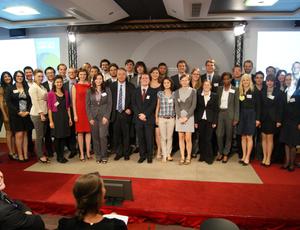 University relations
Veolia takes part in student forums, work-study fairs and regional job forums through its Campus network.
It is an intense week, during which these young people from seventeen countries meet the operations managers, visit sites managed by Veolia, and find out about their work. The programme also allows them to conduct a case study on "
environmental services in sustainable cities
" which was presented to the Veolia Chairman &CEO, Antoine Frérot, on 7
th
July, at the end of the summer school.
In previous years, several students have later had work placements within the Group. Others have taken part in competitions such as the Performance Awards, or carried out academic projects – on practical matters or research – linked to Veolia's work or technologies.
Those who wish to are welcome to join the Group's international graduate programme: Pangeo.