Alarming findings
After 200 samples taken in the Mediterranean and 15,000 kilometers covered in seven months, the findings of the Tara's last scientific expedition, supported by the Veolia Foundation, is clear: the Mediterranean concentrates 5 kilograms of plastic per square kilometer (for only 1 kilogram of plankton) that will take 450 years to disintegrate. 80% of this plastic waste is from the watersheds of the 22 countries on the shores of the Mediterranean with a total population of 450 million people. It mainly consists of packaging, cosmetics, toothpaste beads and textile fiber.
 
"It is a major challenge to rethink our relationship with plastics and find technical, regulatory and behavioral solutions to make it less harmful to the environment" said Philippe Mondielli, scientific director of the Prince Albert II of Monaco Foundation which co-organized this conference with the Surfrider Foundation Europe, Tara Expeditions and the Mava Foundation, in partnership with the Veolia Foundation.
Veolia's practical solution
Marine pollution can only be tackled effectively through shared comprehensive solutions and a heightened awareness. Veolia has created a processing industry for plastic waste by circular economy activities that give it a new life. This waste, once recycled into raw materials, acquires a new value that avoids its dispersion and the pollution it generates. Recycled plastic has become a viable solution to resource scarcity though its volumes and quality and the price of virgin raw materials.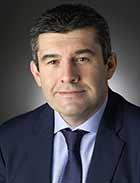 Bernard Harambillet,
CEO of Veolia's waste recovery and recycling division for France
"We are living on credit by consuming 50% more resources than the Earth is able to regenerate" warned Bernard Harambillet, CEO of Veolia's waste recovery and recycling division for France. Today, the reality requires practical solutions to recover an ever increasing portion of the 275 million tons of plastic waste generated every year and our responsibility requires us to implement more comprehensive solutions for the future: stop pollution and involve all users of plastic packaging, from the product design stage, in a truly circular industrial economy."
The Mediterranean represents 0.8% of the ocean surface and concentrates 30% of the world's maritime traffic.
 
Tara Expeditions:
Beyond awareness-raising, Tara Expeditions is continuing its work by analyzing the plastic waste it collected in laboratories to identify pollution and measure its impact on marine ecosystems in the Mediterranean. Objective: guide policy makers and research towards the development of biodegradable plastics.