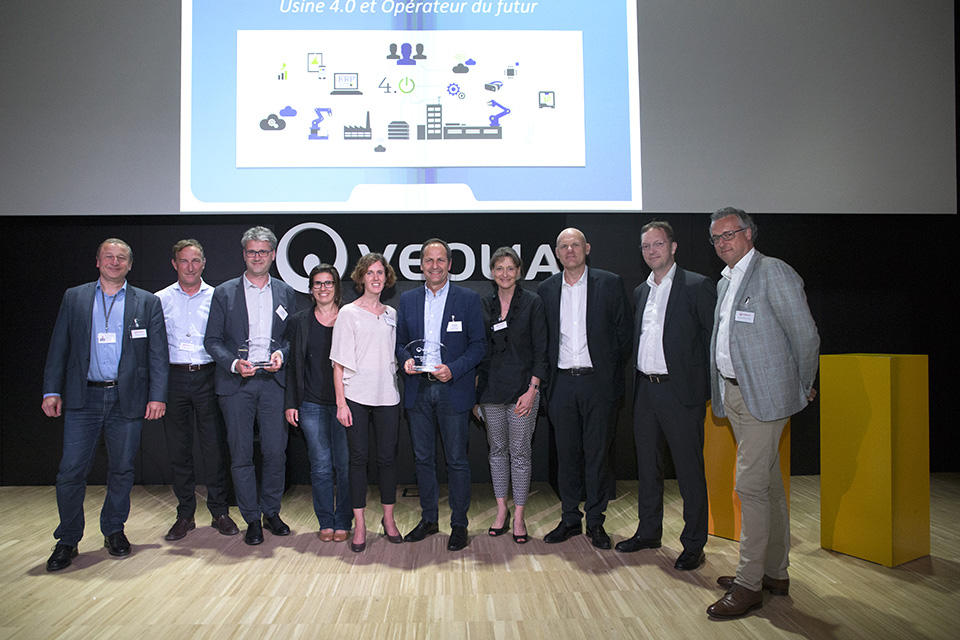 At Veolia headquarters in Aubervilliers, eleven start-ups presented their innovative solutions to a panel of Group operational managers and an audience made up of a large number of Group employees. The operation was carried out in collaboration with IncubAlliance, one of France's leading technology incubators.
The eleven start-ups pitched on the following four themes:
Imaging and 3D modelling:
IoT (Internet of Things) and data analysis:
Robots, cobots, and drones:
Connected operator:
2 start-up winners
At the end of the day, a jury selected the start-up WISEBIM. It will benefit from the opportunity to work with the Group's Research and Innovation teams, finance for proving the concept and the prospect of deploying a pilot project in one of Veolia's Business Units. The start-up Wisebem, a spin off of CEA, offers an application that creates a 3D building models (10,000 m2 / day modelled) to constitute a BIM (Building Information Modeling) database. This solution could enrich Hubgrade, the hypervision system developed by Veolia to manage building and infrastructure energy efficiency.
A prize was awarded by the public to CARTESIAM for its on-board smart sensor, which detects and reports failures of an installation from the vibrations it emits.
IncubAlliance, the technology incubator pooling Paris Saclay higher education and research institutions, west of Paris, transforms technological projects into innovative young companies with high development potential. Since 2000, 251 companies have been created: 177 are in business (70%), 3 of which are publicly traded.
 

 "The entrepreneur creates a product or solution from a technology and a potential market that ends with a solution for a customer. And our incubator helps put the entrepreneur in touch with potential partners such as Veolia," explained Philippe Moreau, Managing Director of IncubAlliance.
"We are delighted to present the jury prize to the start-up WISEBIM. The Research and Innovation and the Technical and Performance Management teams are excited to explore the opportunities with you and move forward together," concluded Christophe Nebon, Director of Research and Innovation and Chief Technology and Performance Officer at Veolia.
More: