A reduced water production and distribution service is gradually being reestablished in Saint Martin, where the sustained mobilization of Veolia's teams has made it possible to exceed initial targets several days ahead of schedule. Since the end of last week, the desalination plant has been operating at over 30% of its production capacity before hurricane IRMA struck, supplying over 1.5 million liters of water per day.
This is a decisive step in meeting the fundamental needs of local populations.
In the drive to restore essential services, Veolia's teams have made considerable progress that has enabled Saint Martin's desalination plant to exceed its targets in terms of water production by September 25. The objective was to reach 30% of the plant's previous capacity before the recent series of hurricanes.  
Veolia has succeeded in this initial challenge, and a further increase in capacity will be generated following the imminent operations start-up of the company's mobile desalination unit from Madrid.
Water production, therefore, is expected to continue to improve every day.
From production to distribution, our teams are working on the network and the individual connections to gradually return them to working order. The damage they have sustained is considerable. To date, close to a quarter of water connections have been re-established. It will take several weeks for a normal service to resume, and probably several months in some areas, particularly because, as a result of the widespread damage, numerous leaks could become apparent once the water supply is restored across the network.  
In the meantime, the water supply to the hospital was reestablished on September 12, and water reserves have been stored in case of another hurricane. Requested and controlled by local authorities, emergency solutions have been implemented on a temporary basis to support the French Red Cross. Distributing water of safe quality helps to meet hygiene needs but, for now, cannot be used to replace bottled water for drinking.  
Employees, experts in emergency situations, desalination, distribution of drinking water, sanitation and network rehabilitation, including the Veoliaforce volunteers, the Veolia group and its foundation are continuing to mobilize their resources to help people locally, working in close collaboration with state services, local authorities and other local operators, such as EDF. 
......…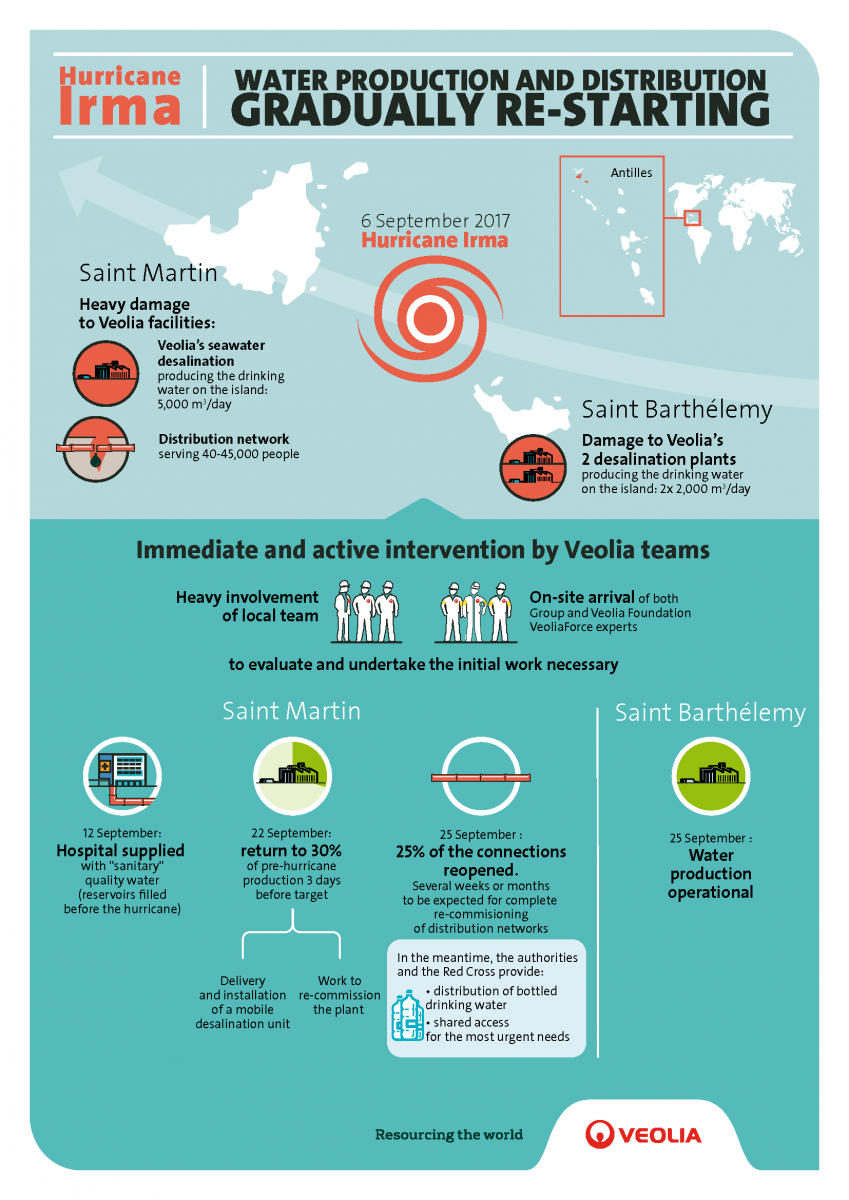 Veolia
group is the global leader in optimised resource management. With over 163,000 employees worldwide, the Group designs and provides water, waste and energy management solutions that contribute to the sustainable development of communities and industries. Through its three complementary business activities, Veolia helps to develop access to resources, preserve available resources, and to replenish them. In 2016, the Veolia group supplied 100 million people with drinking water and 61 million people with wastewater service, produced 54 million megawatt hours of energy and converted 30 million metric tonnes of waste into new materials and energy. Veolia Environnement (listed on Paris Euronext: VIE) recorded consolidated revenue of €24.39 billion in 2016.
www.veolia.com/en
---
Press contacts
Veolia Group Media 
Laurent Obadia   -  Sandrine Guendoul
Stéphane Galfré  -  Marie Bouvet
Tel.: 33 (0)6 09 78 22 63
[email protected]