Taking expertise ever further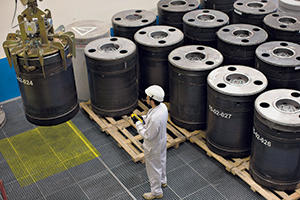 Veolia has brought together all its activities in nuclear cleanup in a single entity: Nuclear Solutions. The new outfit incorporates the expertise of Kurion, Alaron and Asteralis to offer the nuclear industry a full range of expertise and services: secure access to contaminated zones, waste characterization and measurement, sorting, separation, transportation, decontamination and stabilization of low- and intermediate-level radioactive waste.
Radioactive waste Bunkering down
Can it be possible to access and condition nuclear waste from in-ground concrete standpipes and bunkers? Yes, it can! This is the challenge Veolia is taking up for Canadian Nuclear Laboratories at its Whiteshell site in Manitoba, which is currently being decommissioned. For this operation, Nuclear Solutions is going to use a system of robots and technologies that have already proved their worth to retrieve and sort radioactive waste at Dounreay in the United Kingdom. This latest nuclear cleanup project is one of the most ambitious in the world.
Decontamination 99.9%: who can top that?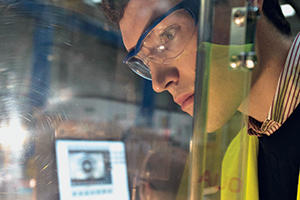 For British nuclear operator Magnox Limited, Veolia is designing and building treatment units for effluent and ponds at four of the 12 sites that Magnox is currently decommissioning.
The technology deployed is similar to that used by Nuclear Solutions in Fukushima, and can treat 1,200 metric tons of contaminated water a day and remove as much as 99.9% of radioactivity.
Deconstruction: a new life for submarines
French naval constructor Naval Group has been awarded a substantial assignment by France's Defense Procurement Agency, the DGA: the deconstruction of five nuclear-powered ballistic missile submarines. Veolia was selected for the deconstruction operations and has committed to recovering 85% of the metals and electronic components.
In Cherbourg, where work starts up in 2018, cutting up the first hull is expected to take around 20 months. It will be transformed into 1-cubic-meter sections.
Mining water in Australia
Veolia will build and manage the water treatment plant for the Springvale mine and the Mount Piper electric power plant for a total of A$400 million over 15 years.
Springvale is the perfect example of an integrated "One Veolia" project providing a unique technical solution for treating difficult mine waste water and using it for beneficial reuse. By treating effluent from mining activities, we will free up a significant stock of water for local communities and the surrounding waterways. It's integrated in that we have managed to mobilize an extraordinary number of Veolia teams from around the world. Our colleagues in Paris supervised the plant's technical process design and validated its performance. In Sydney, there's a dedicated team focusing on the plant's construction, project management, commissioning, operations and maintenance, supplemented with key personnel from Brazil and France. While the ActifloTM and OpusTM water treatment processes are being supplied by VWT teams in Sydney, Kuala Lumpur, Chicago and Singapore, the 3D model is being produced by VWT's office in Chennai (India) and SADE is providing Hydraulic transient studies to ensure the system is safe to operate. The key to the success here has been cooperation and determination, which has enabled us to provide a unique technical and commercial solution for our two clients. It's this type of teamwork that reflects the true strength of Veolia.

Richard Mueller
Executive General Manager Technical and Innovation Veolia Australia and New Zealand