You take part in ecological transformation
Working at Veolia means actively promoting ecological transformation. Decarbonizing, decontaminating, saving and regenerating: you work in the real world to protect and renew resources. You become a resourcer. You work in a profession that has a positive impact on the environment.
In 2022, over 75,000 employees became shareholders in the Group to help speed up the pace of ecological transformation, Today, our employees are our largest single shareholder, with 6.5% of our share capital.
490 kt of plastic were recycled in Veolia's processing plants in 2022
14.1 Mt CO2eq. annual contribution to greenhouse gas emissions avoided
6 in 10 people worldwide believe that our future remains in our hands — so long as we act now!
Did you know?
Veolia offers its employees a training session on The Ecological Transformation Fresco. Based on the Climate Fresk, this explains the challenges facing our environment as well as how and why Veolia's activities help tackle them. 
Meet our Resourcers
In France, Spain, Germany, and soon all around the world, meet Veolia's Resourcers: optimistic, determined and always together, they never give up in the pursuit of ecological transformation. Hear them talk about their projects.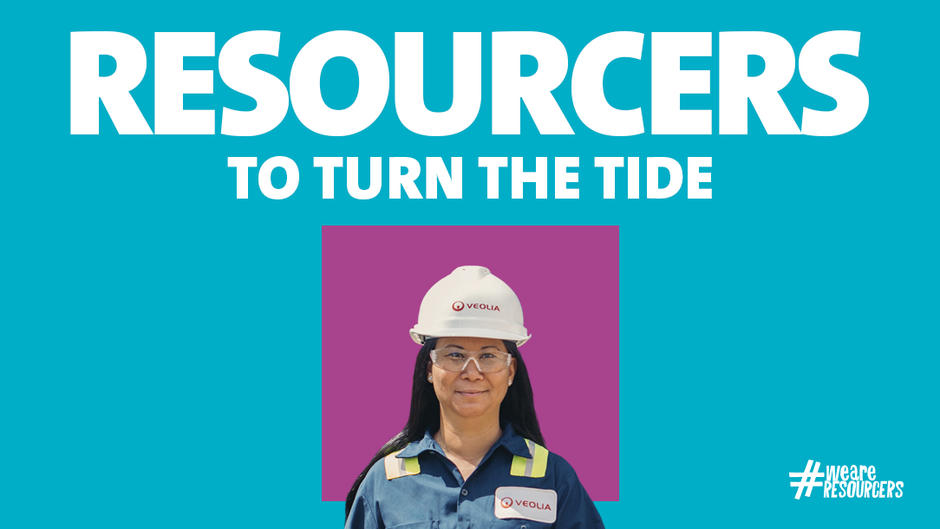 You benefit from good quality of life at work
We take care of your well-being and fulfillment within a committed group, the Resourcers. So'Well, our well-being program covers three dimensions: physical, mental and social, in order to improve life balance and well-being and strengthen cohesion, for the benefit of all. Veolia also organizes numerous sports events: sport is a vector for well-being and quality of life on a daily basis. Join a company in great shape, with a caring  spirit, where it feels good to work!
80% of Veolia employees are satisfied with their work-life balance.
According to the annual engagement survey run in partnership with Ipsos.
7 colleagues who are also top-class athletes will be competing at the 2024 Olympics and are sponsored by Veolia. We support them through professional insertion opportunities, training, financial backing, and flexible working hours.
WACVeolia was awarded the Workplace Active Certification label in October 2022, recognizing the support and encouragement it gives to its employees who want to enjoy sports and physical activities.
Did you know?
In March 2022, Veolia launched a new civic engagement scheme called Resourcers for Communities. This gives colleagues in France and Morocco the change to help local non-profits working to promote ecological transformation.
Veolia Cares
Because at certain crucial moments in life we all need a little help, protection and support. Veolia Cares guarantees for every employee everywhere in the world, parental leave, health cover and death benefits, support for carers and a day to get involved in volunteer work. 
You build your skills and develop your career
Joining Veolia is your chance to take your career to a new level. To gain fresh skills and train in the professions of the future so you can help make ecological transformation a reality. It is also an opportunity to advance with the Group, to seize new opportunities and develop your career, and even to move to a new specialty or profession. Veolia helps its employees develop their careers over the long term, managing talents, offering internal mobility opportunities, building skills, and preparing the managers and leaders of tomorrow.
26 heverybody at Veolia receives an average of 26 hours' training a year
3,600joined the Group in 2022, and 68 students attended the Summer School, an immersion week organized every year in early summer.
Did you know?
The Women in Leadership program gives women working at Veolia a helping hand to accelerate their careers. The six-month program is designed to sharpen their leadership skills in terms of personal efficiency, business focus, workplace visibility, and so on.
You benefit from a safe and healthy working environment
We prioritize risk prevention and health and safety at all times and in all our activities. We always want to improve by providing training and information to our employees. What are our non-negotiables? Looking after our people. Developing new accident prevention actions. Making sure our employees adopt best practices. Driving home the message about our zero accidents goal.
Another way we protect our resourcers around the world is by offering them a common package of benefits, with a provident fund and health cover for them and their families.
0accidents. Since 2015, Veolia has held its International Health and Safety Day in September of every year. This is a worldwide event to raise awareness among our employees of the importance of managing risks. The aim? To achieve zero accidents across all our workplaces!
74.3%of employees at Veolia have received specific safety training or training that includes a major safety component.
5employee benefits to protect all the Group's employees wherever they are in the world. For example, the common base level of employee benefits includes parental leave, health cover as well as support for carers. (Now being rolled out across all our geographies)
You work in an environment that respects diversity
Veolia expects everybody to respect other people and their differences. Our social commitments include promoting gender equality in the workplace, diversity and inclusiveness, and combatting all forms of discrimination. We do everything we can, at every level and in every area of business, to make sure that diversity is respected, promoting gender equality, employment and return to employment for people living with disability, a fair chance for everybody, etc.
3,200employees are members of Veolia's WEDO community. They work day in day out to promote gender diversity and equality in the workplace, and grow the number of women working in our businesses.
3rdof december 2022 was the day Veolia signed the International Labour Organization's Global Business and Disability Charter, a further statement of its firm commitment to people living with disability.
81%of employees feel Veolia has a strong culture of diversity and inclusion.
According to the annual engagement survey run in partnership with Ipsos.
Did you know?
By signing the ILO's Global Business and Disability Charter, Veolia is making 10 commitments in favor of: promoting and respecting people's rights, non-discrimination, equal treatment and equal opportunities, progressively making its premises accessible, making sure that people living with disability can retain or return to their job, etc.