The challenge
---
Fresh water produced by seawater desalination currently meets about 1% of global requirements (source: International Water Association). And in the Mediterranean basin, California, the Gulf countries, Australia, South Africa, etc. the supply of fresh water to nearly 300 million people depends on it. For these regions where water is scarce, desalination represents a challenge in terms of public health, territorial dynamism and economic development.
Customer objective
Kuwait is facing a significant increase in its water and electricity consumption, driven by economic growth. With one of the world's greatest water stress ratios with per capita water availability ratio of 5m3 per year*, Kuwait is exploiting the seawater desalination sector to meet consumption that is 34 times higher than its natural supplies. In 2017, the Kuwaiti authorities reaffirmed their commitment to increasing the seawater desalination infrastructure – and in a sustainable way with the use of solar energy.
Veolia's solution
---
For the Az Zour North plant, delivered in 2016, Veolia chose thermal desalination, a process also known as multi-effect distillation (MED). The unit is capable of producing 486,500 m3 of desalinated water per day.
For the Az Zour South plant, opened in 2015, Veolia opted for reverse osmosis membrane desalination. The unit has a capacity of 136,000 m3 of water per day. The desalinated water comes from the cooling water in the adjacent power plant, creating a local circular economy loop. 
Innovation
The Az Zour South plant has a re-carbonation unit including a carbon dioxide generation and dosing system, a carbon dioxide absorption system and limestone dissolution filters to add minerals to drinking water standards. The reverse osmosis production water is then blended with that from the existing multi-stage flash distillation in the Az Zour North Desalination plant.
136 600 m3/day
The installed capacity of Az Zour South makes it the second largest reverse osmosis desalination plant in Kuwait
15°C à 40°C
Seawater temperature difference entering and discharged from the plant
20 %
The percentage of installed capacity for Kuwait that the Az Zour North plant should eventually represent
Technologies
• For the Az Zour North plant, Veolia chose thermal desalination, or multi-effect distillation (MED). The salt is separated from the water by evaporation in a distillation system. This process reuses the energy produced by the condensation of the steam, reducing the energy consumption needed to heat the water. With a portfolio of more than 250 projects representing over 80% of the global market, Veolia is the undisputed leader in thermal desalination.
• For the Az Zour South plant, thanks to reverse osmosis desalination plants located on the Arabian Gulf coast in Kuwait, fresh water is produced from seawater previously used for cooling the neighbouring power station.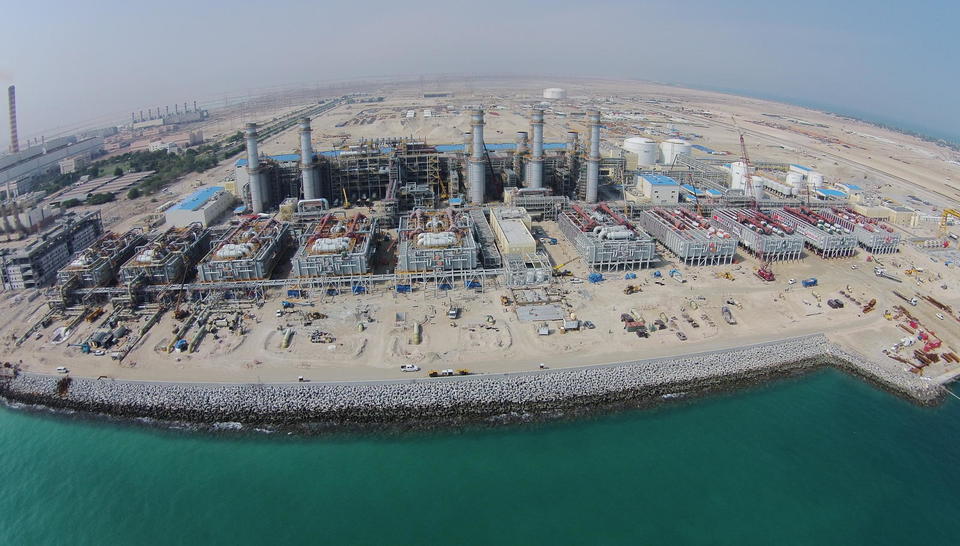 Au Koweït, plus de 90 % de la demande en eau est comblée par l'eau de mer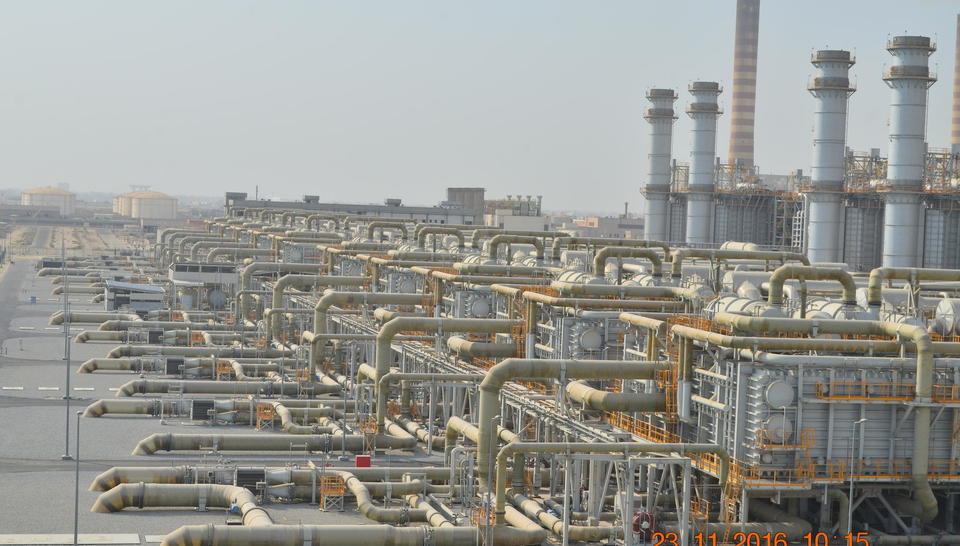 Au Koweït, plus de 90 % de la demande en eau est comblée par l'eau de mer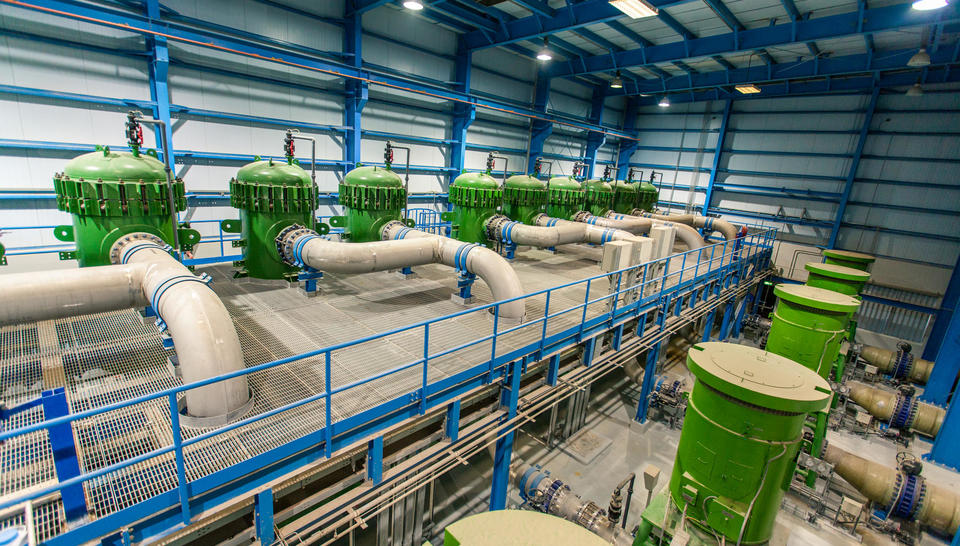 Au Koweït, plus de 90 % de la demande en eau est comblée par l'eau de mer
Customer benefits
---
Environmental performance 
The MED technology chosen for Az Zour North has to adapt to variations in water demand over time. It is also one of the most energy efficient and reliable desalination technologies on the market and therefore the most economically efficient.
Economic performance 
• The Az Zour South plant has a special feature: seawater is preheated thanks to the waste energy from a nearby power plant, which saves a lot of electricity on the site.
• For 40 years all the electricity and water produced at the Az Zour North plant will be purchased by the Kuwaiti state.
Societal performance 
Awarded to a Franco-Japanese-Kuwaiti consortium, including Veolia, the construction of the Az Zour North plant is the first public-private partnership for an independent water and power project (IWPP) in the country. This project is part of the long-term development plans for electric power and water production capacity in Kuwait.
* HSBC "Fragile planet, scoring climate risks around the world" - April 2018
Scope of the contract
Location: State of Kuwait
Population: 4.5 million (2017), including 1.4 million nationals
Facilities: 2 seawater desalination plants
Contract signature
Az Zour Sud : 2011
Az Zour Nord : 2014
Sector of activity
Industrial/Municipal
---
Expertise
• With a total treatment capacity of approximately 13 million m3 of water per day on more than 2,300 sites worldwide in 108 countries, Veolia is the world leader in desalination.
• Veolia meets the needs of specific markets - construction of desalination plants and brackish water or units of all sizes - and can use four types of solutions: multi-effect distillation (MED), multi-stage flash (MSF), reverse osmosis desalination (RO) and hybrid desalination combining thermal and membrane desalination.
Planet
• Veolia - "Water & Energy Exchange (WEX) Desalination Award" 2014
• At the Abu Dhabi International Water Summit (2017), the State of Kuwait has stated that it aims to increase its desalination capacity by 100% by 2035.
People
• Since the 1960s, thanks to the financial returns on the oil resources, the subsidized prices of drinking water had not increased and this stagnation in prices favoured a shift to a sedentary lifestyle as well as a level of water consumption per capita that is among the highest in the world.
• In order to rationalize its population's water consumption, the government increased the price per 1,000 imperial gallons of water from 0.8 KWD to 2 KWD in August 2017 (1,000 imperial gallons = 4.546 m3) and could increase this price to 4 KWD. As part of "Vision 2035" and to ensure sustainable resource management, Kuwait is continuing its planning efforts.
• Currently, the desalination capacity is 1.65 million m3 / day, of which 1.47 million m3 / day by multistage flash distillation (MSF) and 0.17 million m3 by reverse osmosis (RO). In the medium-to-long term, the predicted increase in the population will require greater diversification in the processes used for water production for human consumption and for industrial or agricultural uses, in particular by promoting wastewater treatment, now accessible to private stakeholders.