Today, Veolia has announced strong growth in its results for the 1st quarter of 2019, continuing the progress of previous quarters.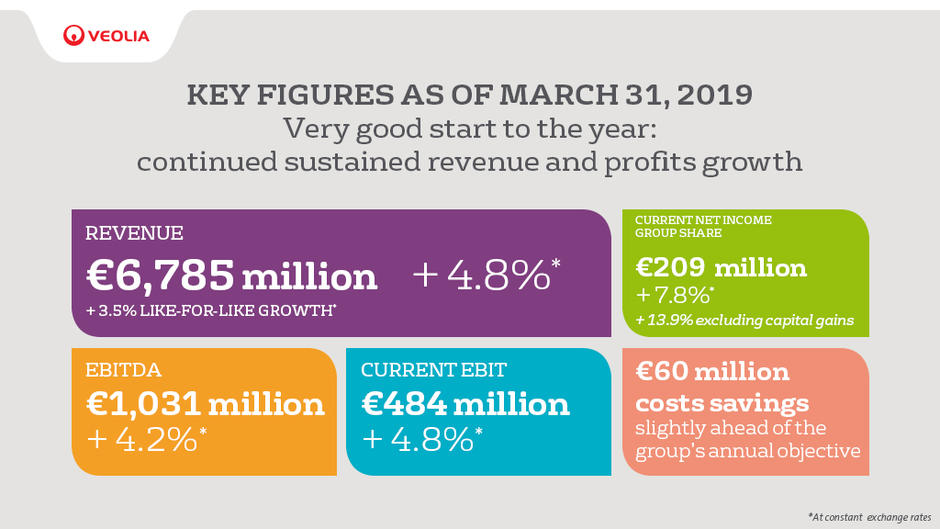 Revenue was €6,785 million, up by 4.8%1 at constant exchange rates and by 3.5%1 on a like-for-like basis, compared to the 1st quarter of 2018.
The business showed good momentum in the majority of geographical areas (data provided at constant exchange rates):

In France, the business grew by 2.8%
Revenue in Europe (excluding France) increased by 4.7%: +8.5% in Southern Europe; +5.6% in the United Kingdom; +4.6% in Central and Eastern Europe; +2.7% in Northern Europe
The rest of the world grew by 6.6%: Latin America recorded revenue growth of 29.2%; Asia 7.1%; the Pacific region 8.9%; Africa-Middle East 2.9%
Global Business was up by 4.7%

EBITDA grew by 4.2%2 to €1,031 million
Current EBIT was €484 million, an increase of 4.8%2
Current net income group share was €209 million, up by 7.8%3
Cost savings reached €60 million, in advance of the annual target of at least €220 million.
This very good start to the year 2019 fully confirms the annual forecasts.
Antoine Frérot, Veolia's Chairman and CEO indicated: "We have accomplished a very good start of the year. The Group has continued to enjoy a sustained progression of activity, despite an unfavorable weather for our heating business, supported by good commercial momentum in all geographies, particularly in the new high value activities we have developed, such as hazardous waste, plastic recycling or industrial utilities and onsite services. Results also progressed at a very good rhythm, driven by sales growth and by cost reduction efforts. The performance accomplished in the first quarter allows us to be very confident in the achievement of our full year objectives: 2019, the last year of our 2016-2019 strategic plan should be another very satisfactory year".
1 Variation vs. 1Q2018 restated for IFRS5 and at constant forex. At current exchange rates, revenue rose by 5.4%
2 Variation vs. 1Q2018 restated for IFRS5, at constant forex and excluding IFRS16 impact. At current exchange rates EBITDA grow by 4%, and Current EBIT by 4.6%
3 Variation vs. 1Q2018 restated for IFRS5 and at constant forex. At current exchange rates, Current net profit attributable to group was up 7%, and up 13.8% excluding capital gains
More