Veolia is committed to encouraging each employee's professional development and engagement
Our employees' engagement is a major asset. That is why we prioritize skills and career development, recognition of our employees and their performance, and respect for diversity. In concrete terms, this means that we pay attention to each and every employee's preferred career choices while ensuring that each position is filled by the most qualified person. The goal is to encourage individual and collective efficiency and productivity.

We have therefore implemented an ambitious training and HR development policy. The policy has three objectives: develop and adapt skills in all business lines, support Veolia's performance and business development, and contribute to the development of our corporate culture.

Alongside this policy, we have set up a program specially designed for our managers to get them more personally involved in implementing our strategy.
---
Development and engagement: what are our responsibilities?
---
Development and engagement: our aims, our answers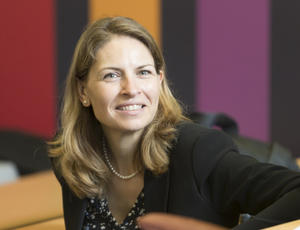 Bénédicte
Le Deley 
Former General Secretary, ANDRH
 
"What is Veolia doing to take care of all the women and men who work for it and to meet the challenges of the modern workplace revolution that is sweeping through every level of the Group?"
"In practical terms, Veolia is determined to be attentive to everybody's career development plans while also making sure that the best person is appointed to every position, with the aim of bolstering efficiency and collective and individual productivity."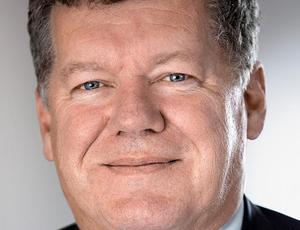 Jean-Marie
Lambert
Group Senior Executive Vice-President, Human Resources and Professional Development sponsor on the Executive Committee
MY TARGET 2020
Deliver training to over 75% of our employees annually
Maintain the rate of engagement among managers at over 80%
Action plans

IDENTIFY AND DEVELOP
all our employees' skills to facilitate job mobility and provide career support.
 

ASSIST
our managers in their supervisory functions by giving them a shared framework of values and involving them in the decision-making process.

Frameworks and tools
Veolia offers its people a wide range of tools for developing their skills and managing their career path within the company, including:
an international network of 14 Campuses and training centers in ten  countries issuing diplomas, certifications and accreditations 
definition of a Veolia leadership model based on innovative forms of collaboration and creating shared value with stakeholders (communities, industries, cities, etc.)
engagement survey of 5,000 key managers around the world, followed up by country-based action plans
a shared framework applied to the entire Group for annual performance and skills identification reviews for each employee
working group with trade union and personnel representatives focusing on skills assessment
work-study and induction programs for new recruits (Pangeo, Summer School)
international training programs
forward-looking analysis methodology applied to business lines and shared skills in collaboration with countries to adapt training courses and recruitment mechanisms.
---
2019 development and engagement performance: where are we now?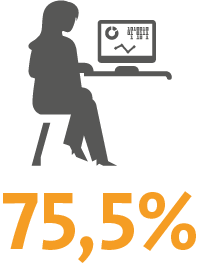 of our employees received training during the year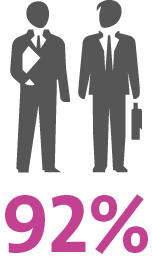 he rate of engagement among managers was 86% in 2018
Delivering on our commitment to stakeholders
Concrete actions for responsible behavior