Safety and reliability
Dealing with major health challenges, hospitals must be able to ensure continuity of care and services for their patients under all circumstances: this forces them to be almost completely independent of energy and water providers - for example with electricity and heat cogeneration plants and integrated air and water purification treatment plants. Veolia secures the energy supply for the polyclinic in Milan, Italy, the Leighton Hospital in the United Kingdom and San João hospital in Portugal.
Energy-intensive infrastructures
With an annual spending of nearly $8.5 billion, according to the World Health Organization health infrastructure is the second most energy-consuming sector in the United States. In order to meet the needs of patients and comply with regulatory constraints in terms of performance guarantees, hospitals consume twice as much energy per square meter as other buildings. Veolia supports many hospitals around the world, including the Erasme Hospital in Brussels and the Westmead Hospital in Sydney, by helping them to reduce their energy consumption.
One tonne of waste per hospital bed per year
Hospitals are also large waste producers – much of which is infectious clinical waste. In France, health facilities generate 700,000 tonnes of waste per year, or more than one tonne per bed, equivalent to 3.5% of the national waste production. Wastewater contains effluent loaded with harmful substances (solvents, heavy metals, radioactive materials) which require specific treatment. In 2014, Paris Public Hospitals (AP-HP) chose Veolia to collect and treat the waste from its 39 establishments.  
In a general context of budget constraint, Veolia offers reliable solutions enabling healthcare facilities to achieve a high level of economic and environmental performance.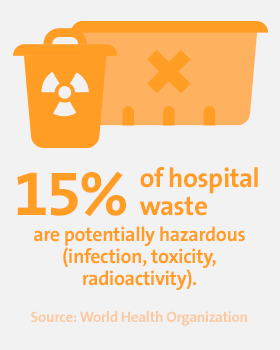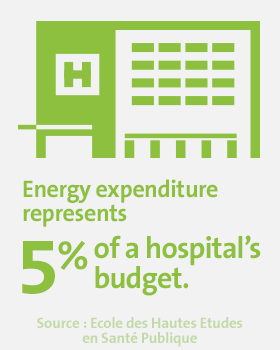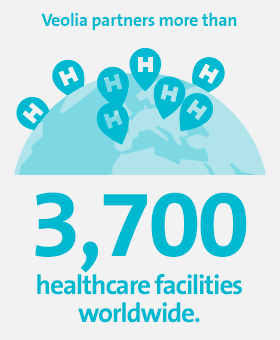 Veolia's know-how for the healthcare sector
Modernizing our air conditioning system saved us 2,462 MWh per year, a 28% reduction in our electricity consumption for cooling our spaces. A figure that could rise with the optimization of our overall air conditioning system. Veolia has been both responsive and committed in the long term to identifying and solving our problems.
Our solutions in the healthcare sector