Today, Veolia announced its annual results for 2019, in which the Group enjoyed solid growth as in previous years, with revenue of €27,189 million, up 4.3% at constant exchange rates. It was also the final year of the Group's current strategic plan, which exceeded its targets. Today, Veolia presented the details of its new strategic program for the period from 2020 to 2023, "IMPACT 2023".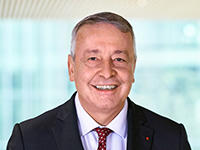 Antoine Frérot, Veolia's Chairman & CEO commented, «2019 is another year of solid revenue and profit growth. Our targets have all been surpassed. Revenue growth of 4.3% is an evidence of the pertinence of our choices towards the most valuable segments of our businesses. Top line growth has translated into strong profit growth, thanks to continued strict cost control discipline, where we have again surpassed our annual target for savings. Veolia has also generated in 2019 a very significant net free cash flow of €868 million which allows us to benefit from a very solid balance sheet, and to be ideally positioned to seize opportunities in the years ahead. The success of our strategy is therefore confirmed year after year. Veolia, a global leader in the ecological transition fully benefits from rising demand from both industrial and municipal clients for value added services to prepare for a better and more sustainable future. 2020 is the first year of this 4-year strategic program, IMPACT 2023, which will enable us to increase our leadership to service our ambition: resourcing the world. This objective will translate into clearer cut investment choices and a 20% asset rotation of capital employed. We will maintain the cost control discipline which has prevailed over the past 8 years. Over the 2020-2023 period, €1bn of savings will be realized to reinforce our competitiveness and to finance our ambitious development plan. In2023, our target is to reach an EBITDA between €4.7bn and €4.9bn and a current net  income group share of €1bn.»
2019: another year of solid revenue and profit growth
►2019 revenue reached €27,189 million compared with €25,951 million in 2018 represented, up 4.8% at current exchange rates, 4.3% at constant exchange rates and 3.2% at constant scope and exchange rates.
- Revenue growth benefited from solid commercial momentum, good volumes in our 3 businesses, Water, Waste and Energy (€380 million, or 1.5%) and favorable and improving price effects of €332 million, 1.3% (vs 1% in 2018).
- By geography and at constant exchange rates, the evolution was as follows:
In France, activity was up 2.0%.

Europe excluding France grew by 4.1% at constant forex. All the areas exhibited growth. Central and Eastern Europe grew by 4.5% (8.6% restated for the SCVK contract evolution in Czech Republic). The UK (including Ireland) was up by 4.0%. Germany exhibited a moderate growth of 1.1%. Netherlands and Belgium performed well (5.5% increase) as well as Southern Europe (11.0% increase).

Rest of the World continued to exhibit the strongest growth of the Group (8.7%). Asia continued its strong growth (16.2% after 16.9% in 2018), Latin America posted strong growth of 16.0%, North America grew by 1.2%, while the Pacific region grew by 7.9%. Africa Middle-East grew by 5.5% and the Global Business progressed 0.9%.
►EBIDTA, above target, improved to €4,022 million, up 4.5% at constant exchange rates.
►Cost savings of €248 million were made in 2019, above the annual objective of €220 million.
►Current EBIT was up 5.0% (at constant exchange rates), to €1,730 million compared with €1,644 million in 2018 represented.
►Current net income - group share rose to €760 million, representing an increase of 13.5% at constant exchange rates and 8.8% excluding capital gains.
►Net income - group share is up sharply by 41.8% at €625 million (compared with €441 million in 2018 represented) and +36.8% at constant forex.
►Net free cash flow rosed strongly to €868 million (compared with €536 million in 2018 represented)
►Proposal to increase the dividend by 8.7%, to €1 per share
 
The Group's new strategic plan: IMPACT 2023
►2020 guidance: sustained organic revenue growth, and EBIDTA of around €4.1 billion (at end-2019 exchange rates)
►2023 objectives (at end-2019 exchange rates, at constant IFRS and in an economic environment without major change):
 Continued solid revenue growth
 Cost savings of €1 billion over 2020-2023
 EBITDA between €4.7 billion and €4.9 billion
 Current net income, Group share of around €1 billion in 2023
 Leverage ratio below 3 throughout the plan
 Dividend of €1.30 per share in 2023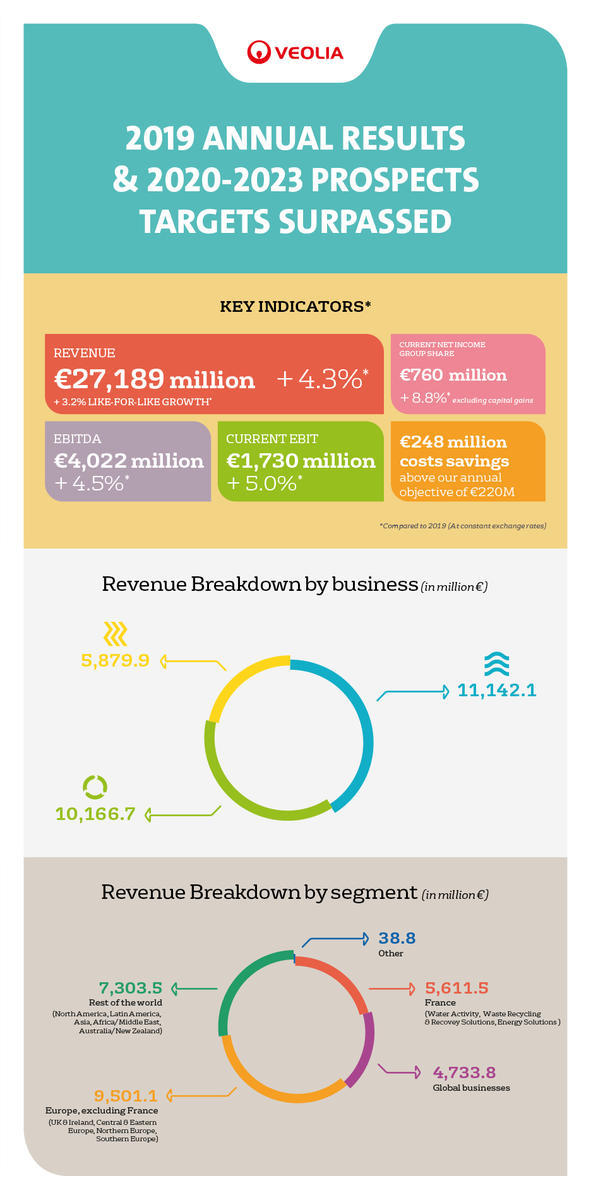 > Press release, Paris 28 February 2020