Our regions are all mobilized:

Solidarity is at the heart of Veolia's values and, in this period of crisis, is more meaningful than ever. Everywhere Veolia operates, numerous initiatives have been rolled out by the Group, the Veolia Foundation and employees to fight Covid-19 and limit its impact. Since the beginning of the health crisis, beyond their usual mission, the Group and its employees have spontaneously mobilized to provide local populations with personal assistance, technical and material support, and even free services.

Delivering health and food kits, assisting health establishments and local communities, supplying masks and health equipment, providing accommodation for the most disadvantaged, deploying free services such as hazardous waste treatment and access to water... This round-the-world tour demonstrates the multiplicity and diversity of Veolia's local commitments and their positive impacts during the Covid-19 crisis.
Global mobilization that supports the most vulnerable people
In all the countries impacted by the health crisis, the most affected are the vulnerable groups who are particularly exposed to the virus as a result of difficulties accessing water and hygiene products. To help them, Veolia has mobilized at all levels.

• In France, the Veolia Foundation, in partnership with Croix-Rouge Insertion and Solidarité Internationale, has distributed hygiene kits to the homeless and in camps, squats and shantytowns to help them protect themselves against Covid-19 in Paris and the Île-de-France region. The Jonage site, one of the four training campuses in France, has provided 55 individual housing units for vulnerable people in order to give them access to the basic hygiene conditions essential in preventing the spread of Covid-19.

• In Colombia, 5,000 m3 of drinking water has already been distributed free of charge in hard-to-reach housing areas. Veolia is delivering hygiene kits and food baskets as part of the "Recuperador Amigo" program.
Support for local authorities and health institutions
The Group's local presence puts it on the front line in identifying the difficulties faced by local authorities and healthcare institutions dealing with Covid-19 and its consequences. To help them, Veolia has set up free services and provided free protective equipment for healthcare personnel:

• In Ecuador, in Guayaquil, 150,000 families have benefited from 3,000 m3 of free water per day as part of the Sinai Water Project. Veolia is also providing free collection of hazardous hospital waste. It is treating hazardous waste from a 300-bed field hospital free of charge and has already distributed 1,500 food baskets to the most destitute families.

• In Hungary, Veolia donated medical equipment - IV pumps, bronchoscopy and electrocardiogram machine - to the Szeged city clinic, which has benefited 400 patients.

• In Cameroon, the Veolia Foundation supported the municipality of Bangangté in the fight against Covid-19. The program has facilitated access to water for the local population, strengthened hospital equipment and staffing, supported local farmers, provided food baskets, and offered unemployed young people the opportunity to work in soap manufacturing.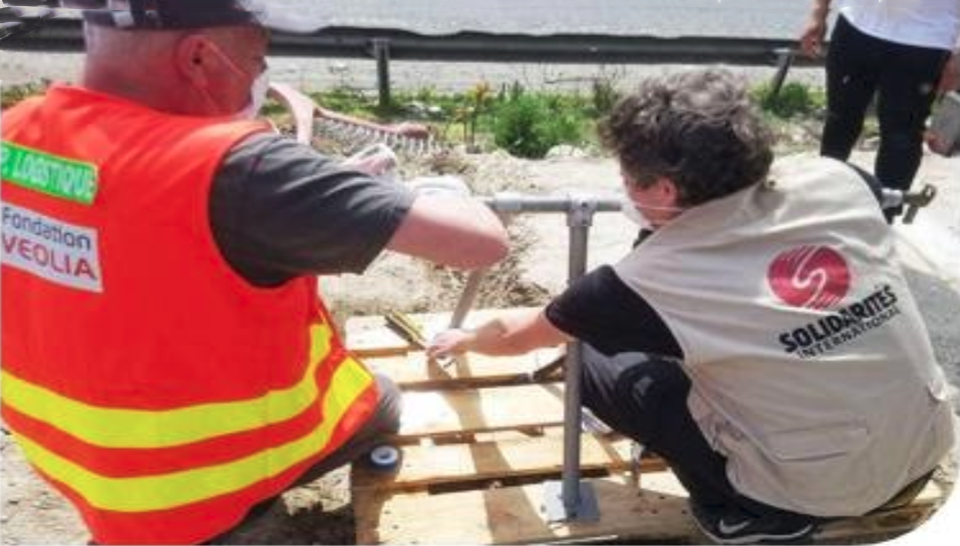 France: the Foundation and Solidarités International install access to water for the homeless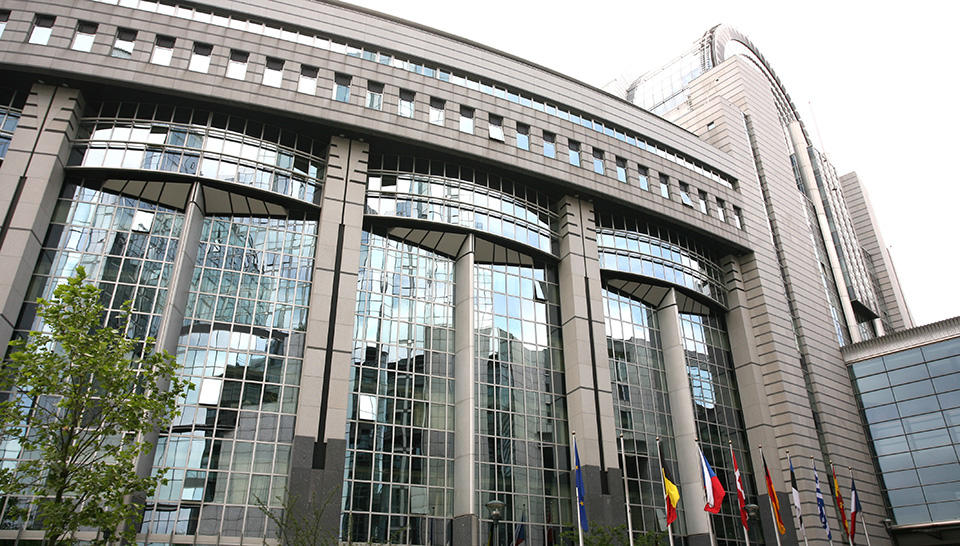 Belgium: a building of the European Parliament in Brussels transformed into a reception center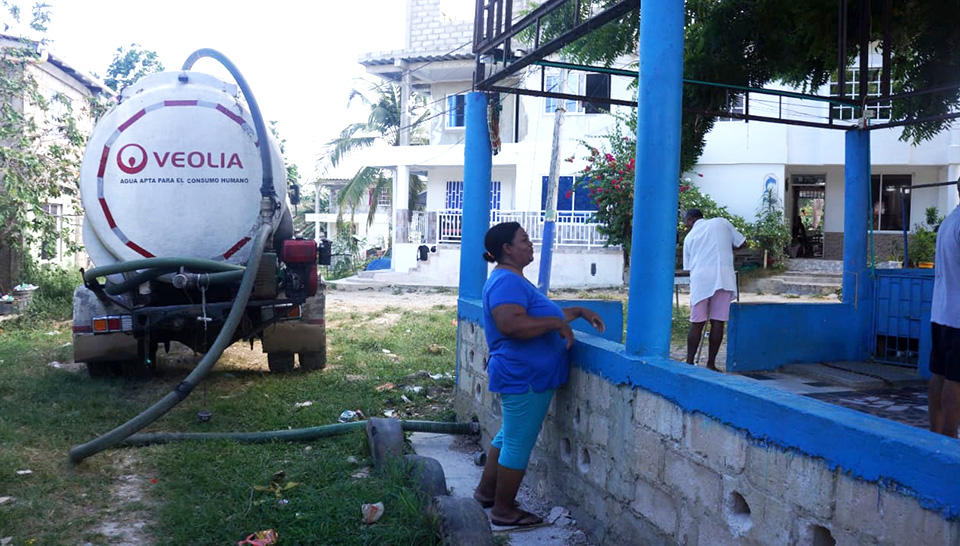 Colombia: free drinking water distributed in areas with difficult access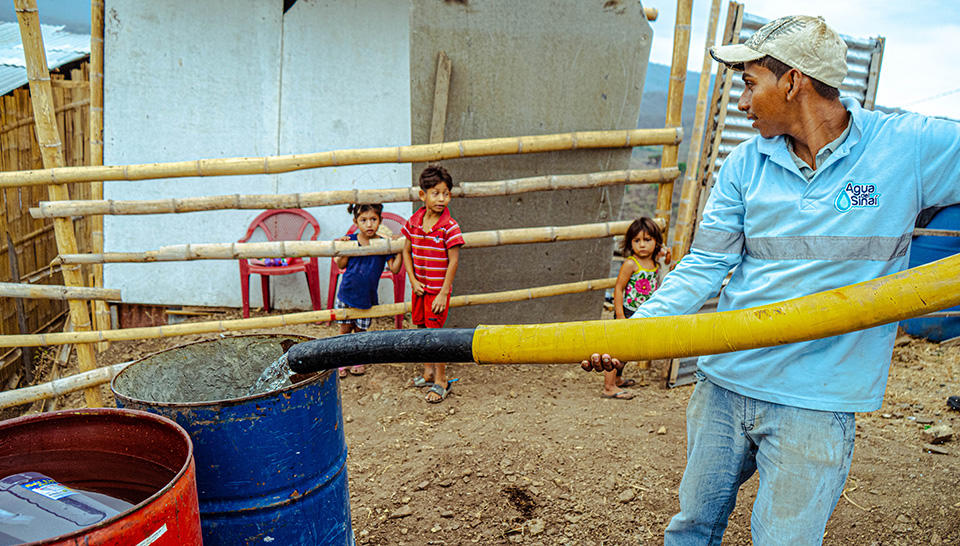 Ecuador: free distribution of drinking water in the slum of Monte Sinai in Guayaquil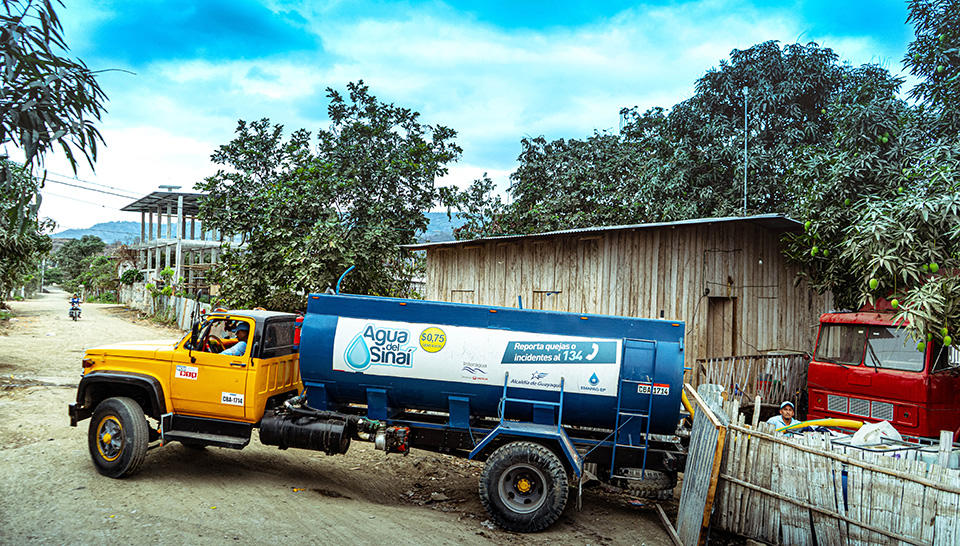 Ecuador: free distribution of drinking water in Guayaquil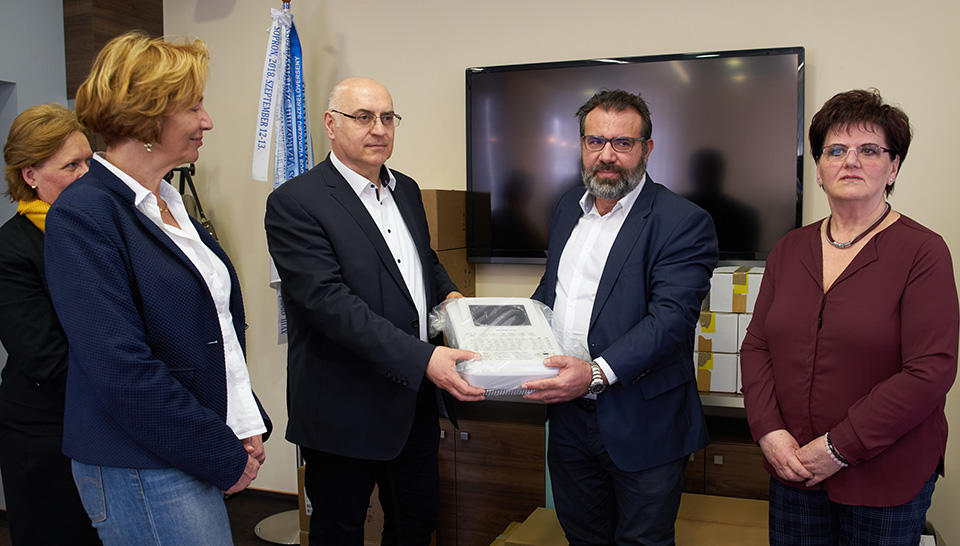 Hungary: donation of medical equipment to the clinic in the city of Szeged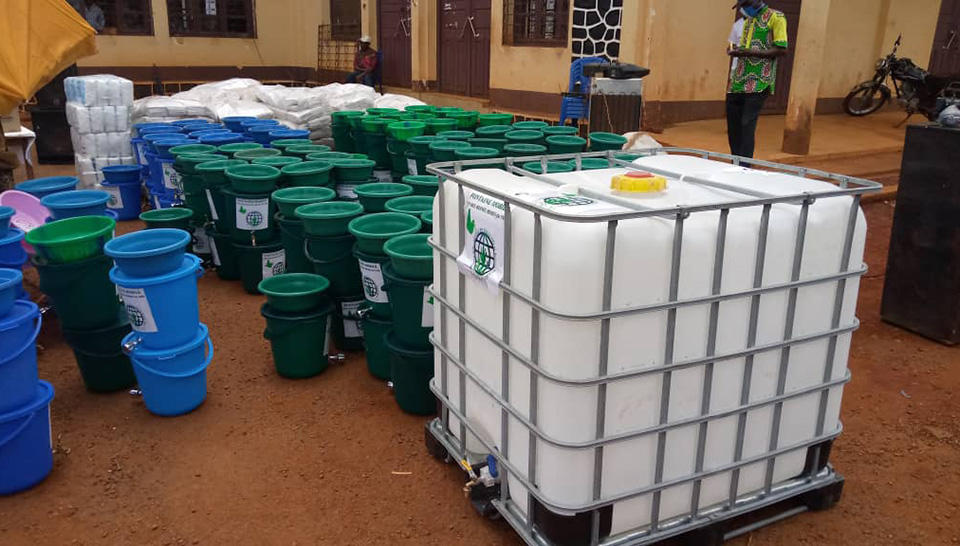 Cameroon: Foundation water access program in Bangangté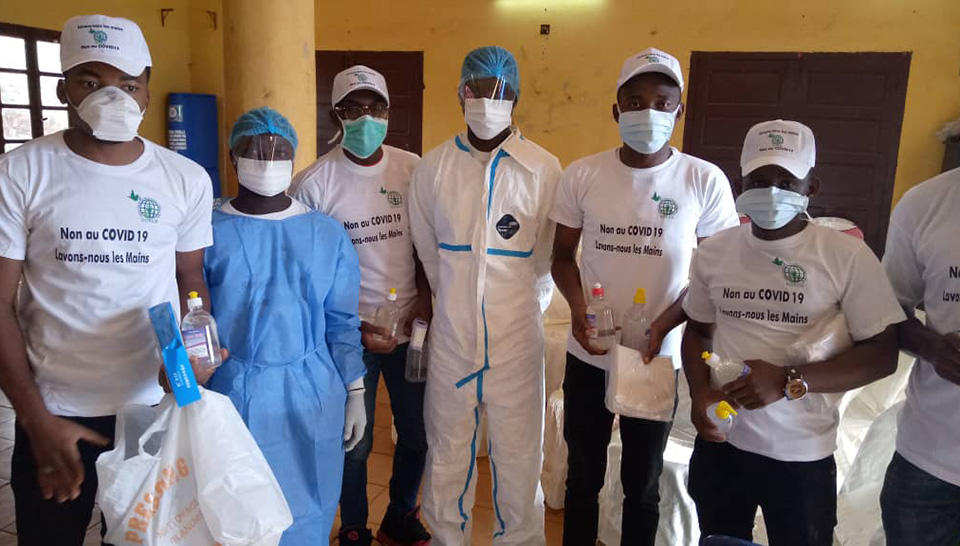 Cameroon: supply of equipment for staff at Bangangté hospitals
Overview of some initiatives rolled out across the world
 • Latin America
 Iu Brazil, Veolia supplied 114 food baskets to NGOs for the inhabitants of Guarulhos, in the Sao Paulo region. In Argentina, employees are manufacturing disinfectant gel and delivering sanitation kits in Buenos Aires. In Chile, Veolia has distributed free disinfection equipment in the town of Joaquín Olivares, near Santiago.
 
 • Asia
 In China, Veolia employees contributed to a hotline to support the families of medical personnel and the police by answering questions about water, waste, etc. Volunteers took the temperature of people entering certain urban areas. Veolia delivered agricultural products to rural villages that were no longer receiving supplies due to the lockdown. In Tianjin, Veolia designed an online health and safety training platform that was followed by nearly 500 employees. In South Korea, Veolia supplied 2,000 masks to the city of Daegu via the Communauté Française des Affaires. In Japan, Veolia supplied 1,000 masks to Japan's occupational health and safety organization and to the country's Rôsai Hoken occupational accident and disease hospitals. Where schools were closed, Veolia lent computers to its employees so their children could continue studying at home. In India, Veolia contributed to the Prime Minister's relief fund for the Bharuch district in Gujarat. It provided 644 soaps for the village of Suva, 100 food kits in Vadla and Dahej, and 300 surgical masks and 60 litres of disinfectants to the Deputy Magistrate's office in Ankleshwar.
 
• Africa – Middle East
In Namibia, Veolia teams have helped produce hand washing disinfectants. In Morocco, Veolia employees contributed to the special Covid-19 fund by donating 3 days' salary from April to June. In the Sultanate of Oman, Veolia donated 10,000 rials (€20,000) to distribute medical supplies to the people living in the Sour region.
• North America
 In the United State, Veolia provided PPE (personal protective equipment) for the city of North Salt Lake, and Tyvek suits and medical waste containers for public hospitals in Utah. 1,200 masks were donated to the firefighters and the MetroWest Medical Center in Framingham. Veolia provided protective equipment to doctors and firefighters in Pennsylvania. Teams from New Jersey and New York helped their customers disinfect offices, warehouses and industrial buildings. In Canada, teams designed ear protection to limit irritation caused by surgical masks worn in hospitals. In Quebec, with the help of Veolia's teams, teachers in the Shawinigan area of Quebec have been spreading messages of solidarity and hope to students and their families.
 • Europe
MIN, an urban micro farm in Lille, France, and BIGH, an aquaponic farm in Brussels, Belgium, both developed by Veolia, offer their surplus production of vegetables and fish to solidarity associations: ANDES, the association of solidarity grocery stores in France, and the Food Bank of Brussels. In Cork, Ireland, Veolia supplied 11,500 pairs of gloves and glasses to hospitals, nurses and volunteers. In the United Kingdom, via 1,350 McDonald's restaurants that maintained a delivery service, Veolia distributed surplus food to the National Health Service (NHS) and 400 charities. In the Netherlands, Veolia distributed bottled water to various companies to encourage employees in the field. In the Czech Republic in Prague, Veolia employees distributed lunches to elderly people and hospitals. The Group provided 15,000 pieces of protective equipment to hospitals and homes for the elderly. Employees sewed 4,500 protective masks. In Poland, the Veolia Foundation provided 500 protective masks to the municipality of Paslek. In Italy, Veolia donated 5,600 masks to the Cattinara hospital in Trieste. In France Veolia collected and treated hazardous waste free of charge from a pharmacy in Paris producing hydroalcoholic solutions. Veolia is supporting the fundraising efforts of the start-up Unisoap - as part of its partnership with the Ulule crowdfunding platform - to recycle hotel soaps and provide access to hygiene for the most vulnerable groups of people. In Marseille, Veolia provided access to drinking water to the city's squats and shantytowns. And in Toulouse, thanks to the #SolidaritésToulouse platform, which brings together businesses, individuals and associations, Veolia delivered 1,500 bottles of water to the city's food bank.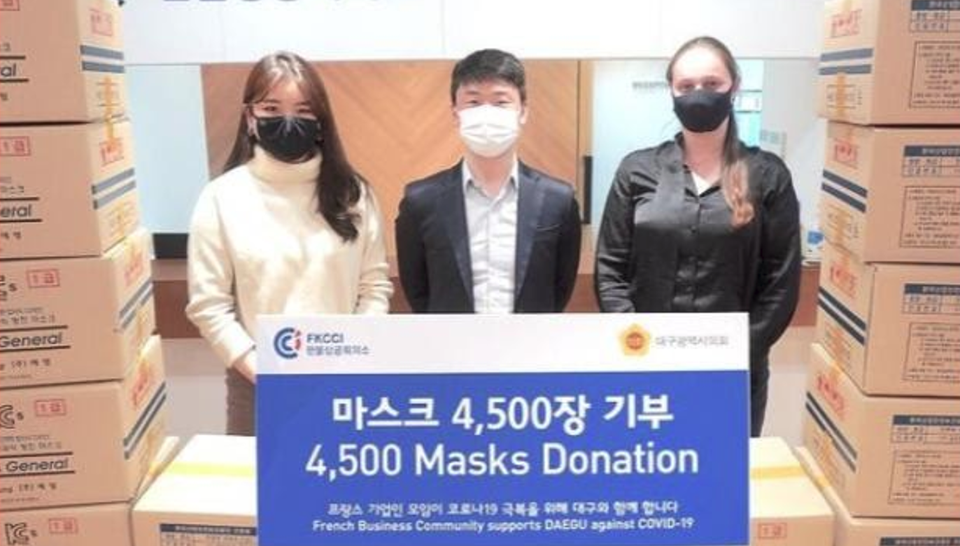 South Korea: donation of masks via the French Community of Daegu
India: supply of hygiene products and food kits for the Bharuch district of Gujarat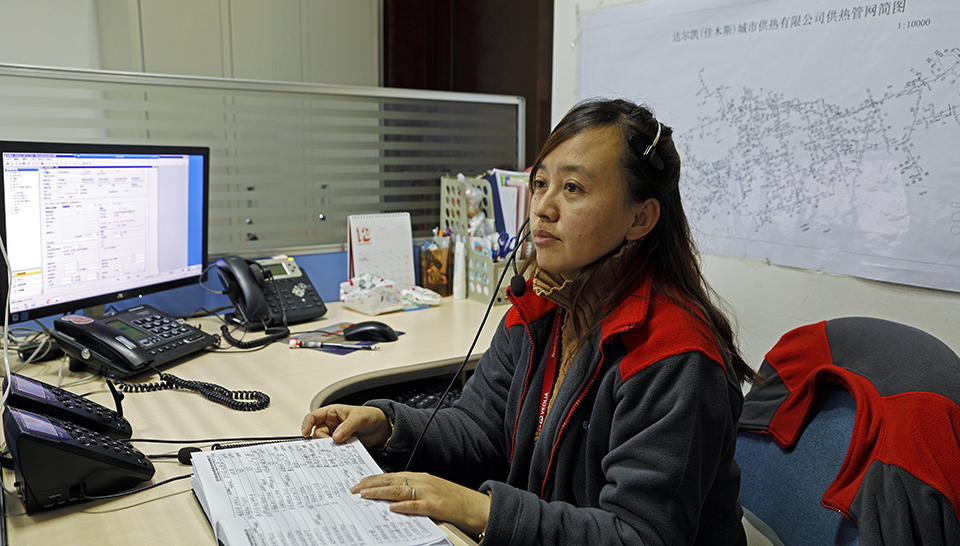 China: setting up a hotline to support the families of medical personnel and the police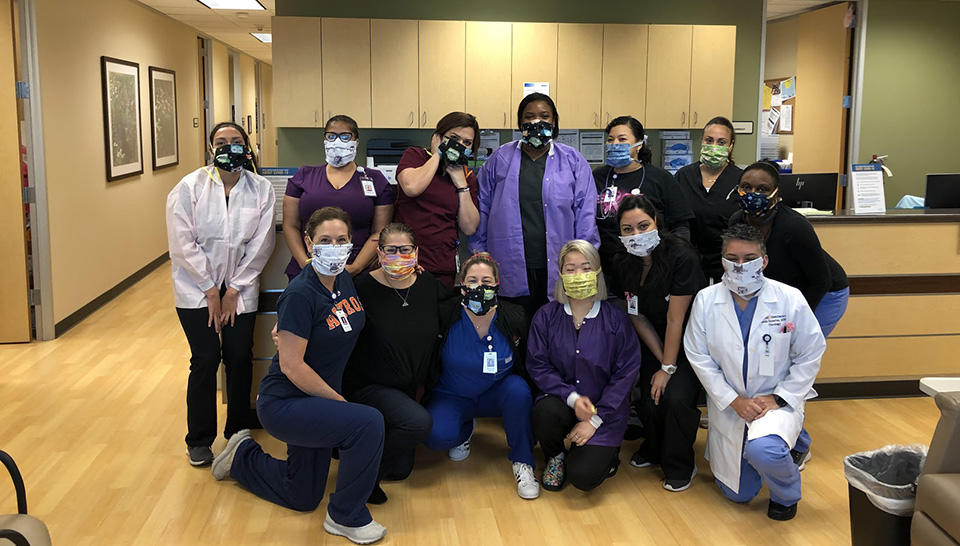 United States: supply of personal protective equipment for the community of North Salt Lake