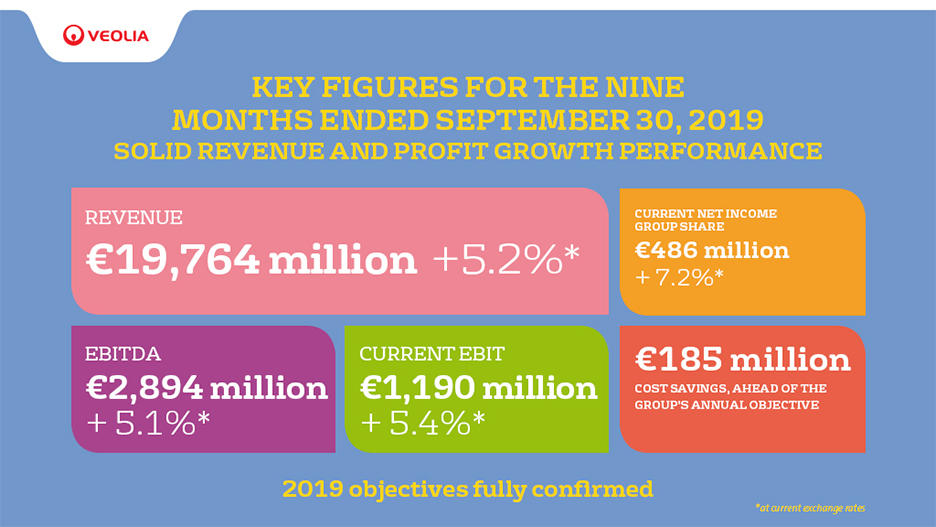 Veolia delivered very solid earnings from the first nine months of the year, fully confirming its objectives for FY 2019. The Group also announced it would present its strategic plan 2020-2023 on February 27, 2020.
►Group consolidated revenue continued to increase, reaching €19,764M compared with €18,788M represented in the first nine months of 2018, equivalent to growth of 5.2% at current exchange rates, 5.0% at constant exchange rates, and 3.8% at constant scope and exchange rates
At constant exchange rates, the variances for the first nine months are as follows:
In France, activity increased by 2.7%

Europe excluding France grew by 5.3%, with all regions exhibiting growth: 4.5% in UK/Ireland, 6% in Central and Eastern Europe and 2.5% in Northern Europe

The Rest of the World continued to grow strongly with an increase of 8.2%: 21% in Latin America, 12.6% in Asia, 4.3% in Africa and Middle-East and 5.9% in the Pacific Zone

Global Businesses revenue increased by 2.3%.
►EBITDA was up by 5.1% at current (and constant) exchange rates. It rose to €2,894M compared with €2,754M for represented September 30, 2018.
►Current EBIT increased by 5.4% at current exchange rates. It reached €1,190M compared with €1,129M for represented September 30, 2018. (5.5% growth at constant exchange rates).
►Current Net Income Group Share was €486M, up 7.2% at current exchange rates, compared with €453M for September 30, 2018 represented results (and up 7.7% at constant exchange rates and excluding capital gains).
►The Group made €185M in cost savings over the first nine months of the year, ahead of its annual objective.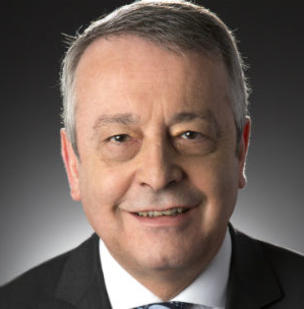 With revenue and EBITDA growth of more than 5%, and current net income up by more than 7%, Veolia is clearly heading towards the upper range of the 2019 guidance. Revenue and profit growth were the key milestones of our current strategic plan, which is ending in 2019, and for which all targets will have been fully achieved. The choices we have made in recent years in terms of strategic priorities, innovation and renewed service offerings, as well as strict cost control, are bearing fruit and are putting us in a strong position for the 2020-2023 strategic plan. More than ever, Veolia reaffirms its leadership for meeting the key challenges of the ecological transition for businesses, municipalities and citizens.