Veolia and Francofil - a company specializing in the production of technical filaments for 3D printing - join forces to manufacture filaments from recycled plastic. Although the techniques for manufacturing 3D filaments are generally restricted to recycled resins such as PET, PS and black ABS, Veolia and Francofil are innovating by manufacturing filaments made from recycled polypropylene (PP) and coloured ABS.
3D printing is used in various sectors. For example, the automotive, electronics, aeronautics, biomedical and architectural industries use 3D printing to produce their prototypes: vehicle rims, medical prostheses or models. 3D printers' main consumable is plastic filaments because they are cheaper, flexible, resistant, and come in a wide variety of colours.
Under the partnership, Veolia is supplying recycled resins to Francofil, which produces the filaments for 3D printers. The new filaments made from recycled polypropylene and coloured ABS are high quality to ensure perfect printing. e.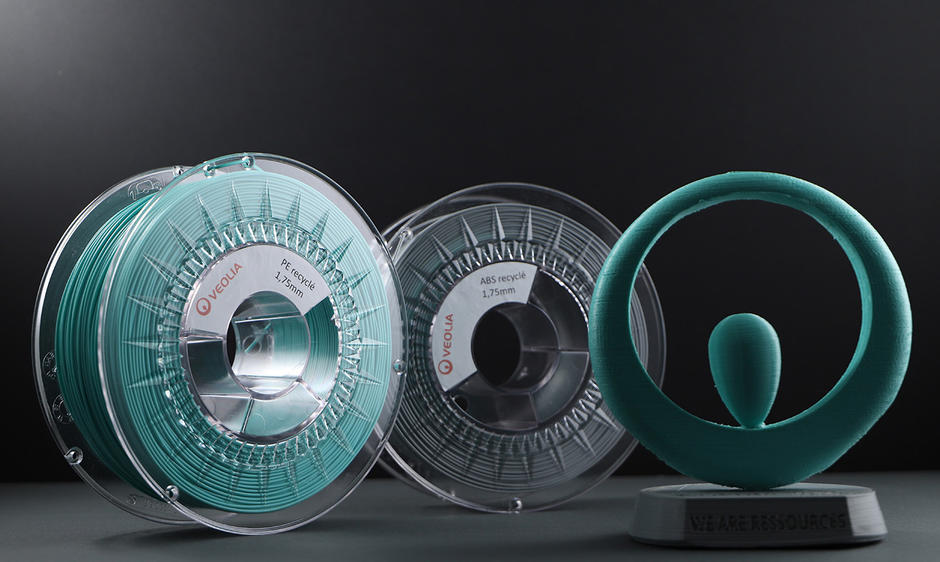 "Plastics from recycling are resources that meet the demands of industry. The innovation here is the result of the collaboration between our teams and Francofil's teams. Veolia's expertise ensures the characteristics of the filament and those of the recycled plastics are in line," explains Marc-Antoine Belthé, Director of Development of Veolia's Waste Recycling and Recovery business in France.
"Veolia provides us with a variety of high quality and consistent recycled plastics that are essential for producing 3D printing filaments. We can now offer our customers recycled material instead of virgin material for state-of-the-art materials," adds Florent Port, CEO of Francofil.
3D printing global figures for the industry of the future
A report from the IDC (International Data Corporation) published in 2019 predicted growth in 3D printing of 19% per year until 2022, mainly for various manufacturers: 
2021: 30% of printed circuit board manufacturing; 100% of sports equipment manufacturers 

2022: 20% of 3D printer manufacturers will offer printing "as a service" 

2023: 50% of the industrial sector with artificial intelligence

2023: Up to 80% of the world's health care spending

2024: Blockchain will protect 35% of 3D print files to reduce costs.
3D printing is one of the key technologies in the fourth industrial revolution, alongside artificial intelligence, robotics and blockchain technology. Combined with artificial intelligence and robotics, it will enable 800 of the world's largest factories to reduce raw material waste by 25%