Every minute, 20 tonnes of plastic waste is dumped into the oceans. Given this reality, Plastic Odyssey - a 40-meter-long vessel that transforms plastic waste into energy on board - will set off on a round-the-world expedition lasting from 2020 to 2023: it will be an ambassador for recycling plastics and reducing their use. At each of its 33 ports of call, existing and new recycling systems will be developed with local stakeholders. Veolia supports this project: a conference on December 18 at the Group's headquarters brought together the Plastic Odyssey team, Veolia experts, the managers of Veolia's water business in France, who have mobilized more than 170,000 of the Group's customers to support this adventure, and representatives of the Veolia Foundation.
A global partnership
For Plastic Odyssey, Veolia has brought together the commitment of both its employees' and consumers with the support of its Foundation to help fight plastic pollution in the oceans. In 2020, the Plastic Odyssey will set sail from Marseille in France for a three-year round-the-world tour of the Mediterranean coasts, then on to West Africa, Latin America, Asia-Pacific and Southeast Africa.
"Wherever dumping waste in the oceans is stopped, life returns. So we have to act before the plastic gets into the oceans. If we limit plastic consumption to 1.7 kg per day per capita, we can reduce total waste by 25%. And in the 20 countries that pollute the most, halving the amount of waste they throw away would reduce pollution by 40%. Recycling must therefore be deployed locally, for example by making recycled plastic tiles in Burkina Faso [see video]. Since the poorest countries do not have access to traditional recycling and recovery solutions, the Plastic Odyssey project will therefore create small low-tech recycling centres by adapting them to the individual local context," explained Simon Bernard, president of Plastic Odyssey Expedition and Plastic Odyssey Community.
To achieve this, the 40-metre vessel is equipped with a recycling and waste reduction laboratory. A "community" team will gather information to identify the solutions best suited to local social specificities. The ship will make around thirty three-week stopovers in order to create a global low-tech and low-cost recycling network.
"In this skills partnership, we together drew up the specifications for the pyrolysis and built a pilot. Then, 9 months of testing on a 6-metre catamaran enabled us to validate the pyrolysis project for the final vessel," explained Olivier Bellynck, project, research and innovation engineer with the Veolia subsidiary Sarp Industries.
"Thanks to the know-how of the Sarpi-Veolia teams, we learned how to control pyrolysis and acquired valuable knowledge about plastic waste in general for our project. At the various Sarpi sites, a skills network of 15 experts was created by adopting our collaborative approach," added Bob Vrignaud, Technical Director for the Plastic Odyssey Expedition.
"Apart from the vessel's technological prowess, what fascinated us was the seriousness of the Plastic Odyssey project, whose values are in line with those of Veolia. We wanted to offer our consumers the opportunity to take part: for each subscription to electronic billing, Veolia Eau France donated €1 to the Plastic Odyssey project... More than 170,000 consumers signed up for the initiative. The family that won the draw to visit the Plastic Odyssey site in Marseille was really enthusiastic about the project," explained Laure Simon, Marketing Director, Consumer Division of Veolia's water business in France.
Concluding the conference, Anne du Crest, Consumer Director of Veolia's water business in France, presented the Plastic Odyssey team with a symbolic cheque for the amount collected and congratulated its members on their commitment and collaborative approach. The Veolia Foundation also awarded a grant of €50,000 to the Plastic Odyssey project in 2018.
Pyrolysis, transforming plastic into energy
Pyrolysis will convert the non-recyclable plastic on board the ship into energy to navigate to the next port of call. One kilogram of processed plastic produces one litre of fuel. All innovations developed by Plastic Odyssey will be open source, frugal (low tech) and low cost to ensure they are accessible to as many people as possible with plans and tutorials available online.
 
The three objectives of the Plastic Odyssey project:
- Environmental: Plastic Odyssey helps reduce plastic pollution in the oceans and recycles plastic waste by improving the sanitary conditions in coastal urban areas.
-Social: low-cost, easy-to-use recycling technologies will help create jobs in disadvantaged communities.
-Economic: the machines developed by Plastic Odyssey will locally manufacture recycled plastic products for the building and urban development sectors.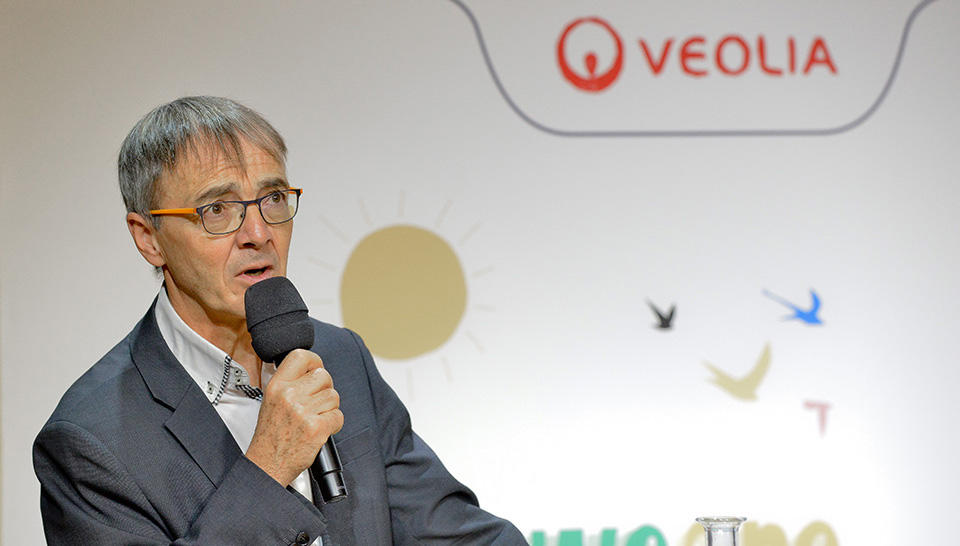 Thierry Gosset, technical and innovation director at Sarp Industrie
Bob Vrignaud (see video); (center) J-H Hermant and Laure Simon, Veolia Eau France; O. Bellynck (right)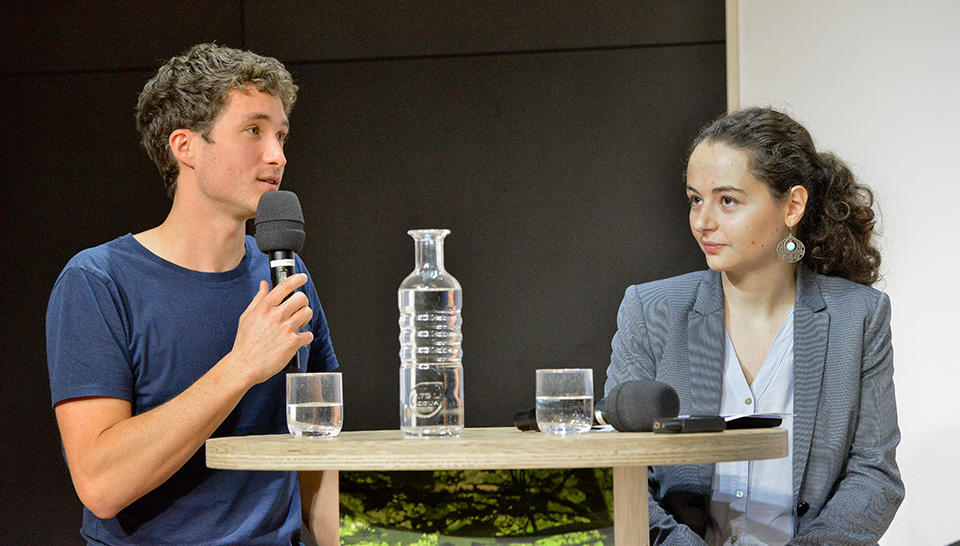 Simon Bernard (Plastic Odyssey) and Clara Bercovici (Veolia Foundation)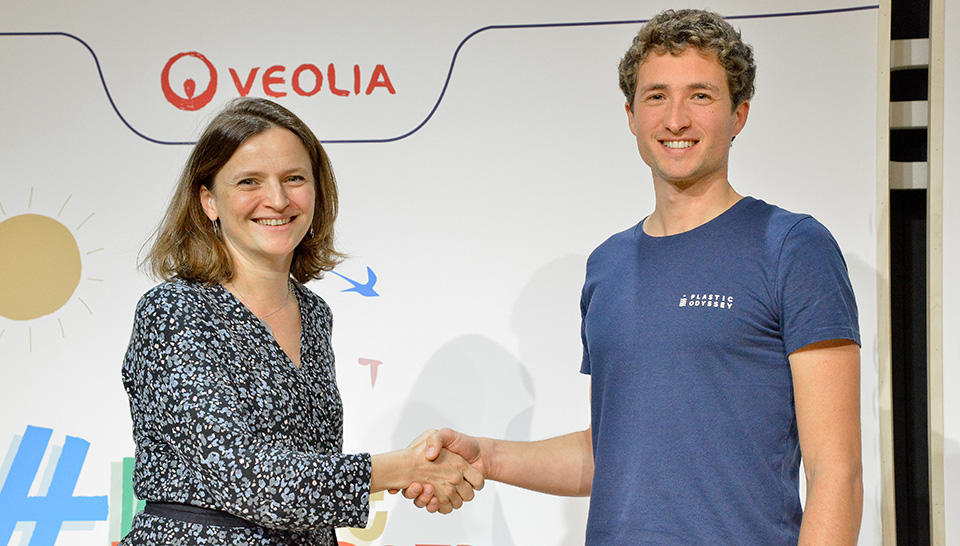 Anne du Crest (Veolia Eau France) congratulates Simon Bernard for his engagement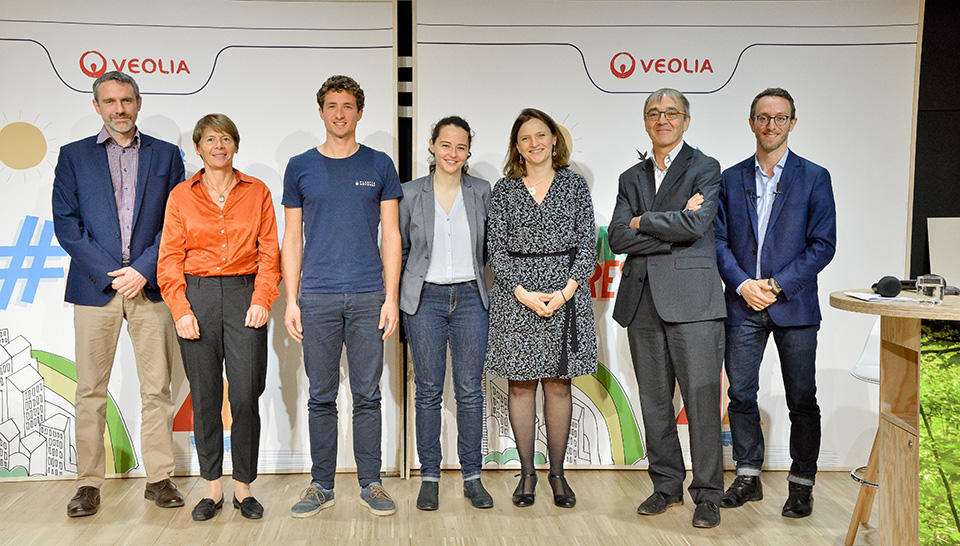 The participants in the Veolia conference on the partnership with Plastic Odyssey