In 2014, following a request from FAO, the United Nations General Assembly officially designated 5 December as World Soil Day. This year, the theme is soil erosion and is supported by the campaign "Stop Soil Erosion, Save our Future". It aims not only to give more visibility to the issue and raise awareness about soil protection, but also to encourage governments to take action. To mark the event Veolia takes a look at its soil remediation and conservation solutions. 
A challenging finding...
Soil can be degraded in just a few minutes, but regeneration can take tens of thousands of years. According to the FAO, "it can take up to 1000 years just to produce 2 to 3 cm of soil" and "about 33% of the world's soils are degraded". Not always the focus of attention, soils are nevertheless one of our plane's pillars and play a strategic role in various fields: food, biodiversity conservation, global warming, the water cycle, etc. What then is at the root of their fragility and degradation? 
Erosion and climate change combined with human activities (industrialization, agriculture, etc.) affect soil quality, along with population growth and significant urbanization - the UN predict two out of three people will be living in cities by 2050. There are a number of consequences: strong demand for buildings, less land available for agriculture, soil availability and soil pollution (by heavy metals, hydrocarbons, etc.). And yet we have never before needed as much land and soil in good health. 
... but a variety of solutions
However, the situation has possibilities for improvement. For example, large areas of abandoned industrial wasteland may be unusable their current state because of heavy-duty buildings and equipment often coupled with pollution. Rehabilitation and remediation offers a second life and the possibility of new urban development projects (construction of new industries, building sites, urban agriculture, etc.). This solution protects agricultural land from urban constructions, "makes something new from old" by not wasting space, and recovers materials from the site (concrete, scrap, wood, etc.).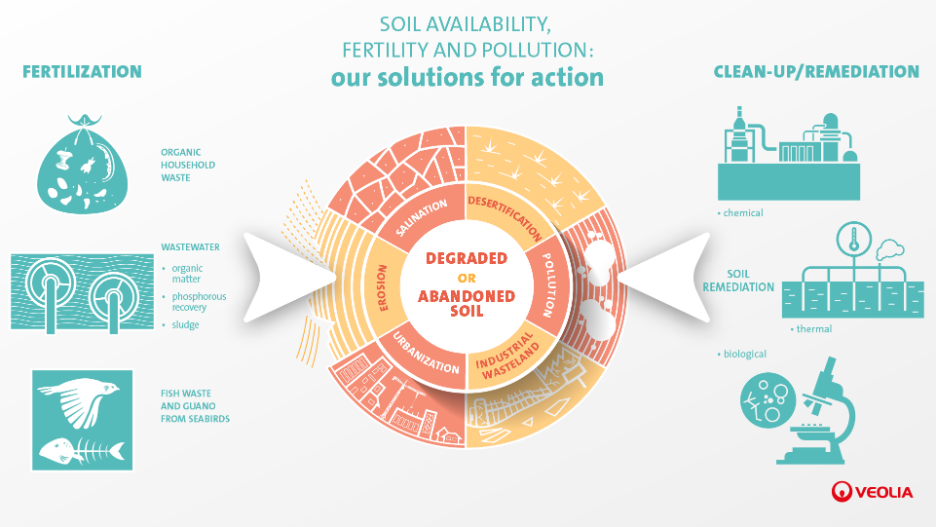 Through its subsidiary specializing in the treatment of special waste, SARP Industries, and its subsidiaries working on polluted site and soil treatment -GRS Valtech and EOD-EX - Veolia offers its expertise in soil rehabilitation and remediation : 
Remediation of contaminated sites after the relocation of an industry
Emergency rehabilitation on sites polluted by accidents
Remediation of contaminated industrial sites in operation
Environmental restoration of rivers 
Environmental restoration of mining areas
Explosives decontamination (diagnosis, search, extraction and treatment of explosive devices in the ground, such as unexploded bombs and ammunition cases containing toxic compounds)
For example, Veolia is currently involved in the remediation project for the Grand Paris Express, responsible for excavating, decontaminating and recovering some of the excavated spoil.
Ecological solutions that maintain soil quality and regenerate soils
Thanks to its water and waste treatment expertise, Veolia is able to use sewage sludge and organic waste to produce fertilizers and organic amendments. Rich in humus, they help fight soil erosion, act as fertilizer, improve the resistance of soils and crops and are environmentally friendly. The result is Pro-Grow, a peat-free compost made from green household waste (grass, leaves, etc.) in the United Kingdom; Nutri-Pel, an alternative chemical fertilizer in Canada; and the Struvia solution, which allows phosphorus to be recovered from wastewater for use as fertilizer. In addition, the subsidiaries Angibaud Derome & Spécialitiés, focusing on alternative fertilizers, and SEDE Environnement, which specializes in the collection, treatment and recovery of sewage sludge and organic waste, devote all their expertise, or a large part of it, to looking for solutions for soils (composting, fertilizer production, etc.).
The Group also enjoys the benefits of using treated wastewater for watering agricultural soils, as in Tarbes, France, where it helps produce maize and barley. This closed circuit protects water resources and also feeds and fertilizes the soil thanks to the nutrients (nitrogen, etc.) contained in the wastewater.  
 
Circular economy: from soil to soil - biomass converted into green energy and then into fertilizer for the soil
In Pécs (Hungary), Veolia's biomass cogeneration plant supplies the city's heating network and sends electricity to the national grid. Its particularity is that the power plant is fed by straw and wood chips; it produces 70 MW of thermal energy and 35 MW of electricity by burning 160,000 tonnes of straw in bales and 50,000 tonnes of agricultural by-products each year. Heavy ash (18,000 tonnes) and fly ash (3,000 tonnes) are then used as fertilizer for the soil thanks to their potassium, phosphorus, micronutrient content, and their pH. Since 2019, a new ash storage building has made it possible to avoid the use of big bags (42 tonnes of plastic packaging waste avoided per year) and save the water in the ash (3,000 m3 of water). 
Veolia thus achieves a circular straw economy: purchased from farmers, it produces 100% heat and green electricity, following which the ash is returned to local farmers to fertilize their fields. 
Long-term contracts, signed with 50 farmers in south western Hungary and forest or sawmill operators secure the supply for the power plant. 170 permanent jobs were created in the power plant's straw sector and 300 in the wood sector. In addition, there are 200 local seasonal farming jobs. With a predominantly agricultural and forested territory, Hungary has a large amount of resources with which to produce biomass energy, and at the same time secures its food supply.