Co-created by Empow'Her and Veolia – through its subsidiary SEEN (Société d'Exploitation des Eaux du Niger) – and with the support of the Veolia Foundation, L'Oasis in Niamey is inspired by La Recyclerie in Paris, a place in which Veolia has been the main partner since it opened in 2014.
 
L'Oasis' two missions
L'Oasis promotes the integration of women in the economy through entrepreneurship by strengthening their capacity to create businesses in the areas of the environment and maternal health. It also raises citizens' awareness of sustainable development issues.
 
L'Oasis has been developed using eco-friendly methods, recycled and recovered materials, and vegetation. Designed by local entrepreneurs, including the artist Diassibo Tchiombiano and the "Young Volunteers for the Environment", this 1,000 m2 incubator includes training and collaborative work spaces that can accommodate up to 40 entrepreneurs in residence, a projection room, library and an ecological kitchen garden to raise awareness about sustainable agriculture.
 
"The success of the REcyclerie in Paris is worth adapting to other regions and really comes into its own in Niger. Together, Veolia and Empow'Her have co-built this project with our partners to ensure that the actions of L'Oasis are principally focused on environmental awareness and training for women," said Martine Vullierme, Director of L'Oasis and Senior Vice President Veolia Africa Middle East Zone.
"We are very happy to extend Empow'Her's activities to Niger. Women in this country have extraordinary creative potential, and it is absolutely essential to support them and allow them to develop their creativity and their entrepreneurial spirit. Having co-developed this project with Veolia is a real opportunity for us to provide our expertise in assisting a unique project with its focus on both women and the environment," said Soazig Barthélémy, founder of Empow'Her and director of L'Oasis.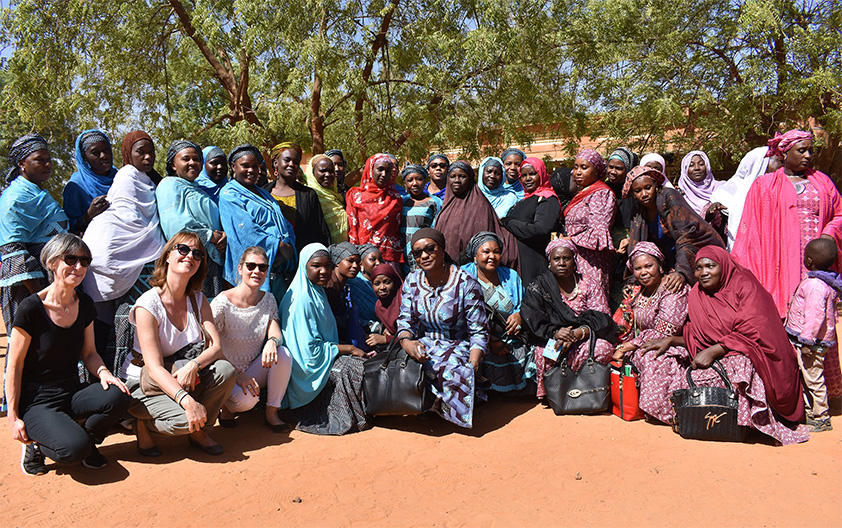 The objectives of L'Oasis
Train 10,000 women in 3 years by developing their leadership and facilitating their economic and social empowerment.
Educate 3,000 visitors to L'Oasis every year by creating partnerships with some 50 civil society organizations and enabling the public to learn about sustainable development issues.
Support 15 female social entrepreneurs per year and help them maximize the social and environmental impact of their projects.
For Veolia it is also about being connected to an ecosystem of dynamic and committed actors in Niamey and having a place for meetings and exchanges with the local population, associations, institutions, and businesses. This dialogue is at the heart of the company's challenges to better meet the expectations of all its stakeholders.
 
Empow'her has been supporting women entrepreneurs around the world since 2011 by co-creating training programs tailored to each local context. The organization works in France, Peru, Morocco, Senegal, Ivory Coast, Burkina Faso, Burma, Thailand, and Niger.
More : 
> An Oasis for women, entrepreneurs and protectors of the environment, a project supported by the Veolia foundation
> Press release: Paris and Niamey, January 19, 2018 - Empow'Her and Veolia have committed to a unique partnership to promote the emancipation of women and protect the environment in Niger