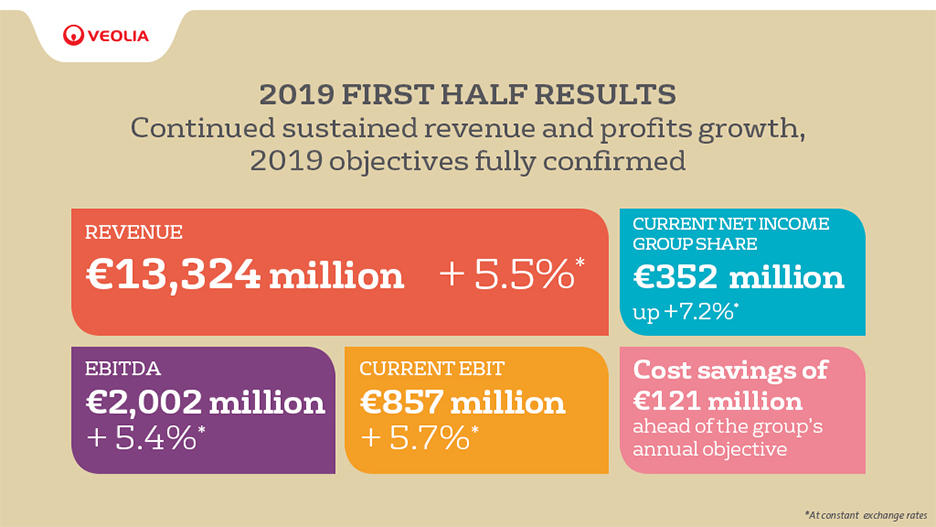 Veolia today announced very solid results for the first half of 2019, marked by sustained business growth at a strong pace, driven by very robust commercial momentum, together with an increase in EBITDA.
• Revenue continued sustained growth, coming in at €13,324 million, up 5.5% at constant exchange rates compared with the first half of 2018, with acceleration in the second quarter.
Revenue growth was driven by a continued robust commercial momentum, good volumes, in both waste and water, and price increases (with a positive impact of +1.4% on top-line growth, vs +0.9% in the first half of 2018). Activity levels saw strong gains in most geographic regions (at constant exchange rates):
In France, activity was up +3.9%.

In Europe excluding France, all the areas exhibited growth. Revenue in this region grew by 5.9% overall: +7.8% in Central and Eastern Europe; +4.3% in United Kingdom/Ireland; +2.7% in Northern Europe; +11.5% in Southern Europe.

Rest of the world also recorded growth, rising by +7.8%: +23.9% in Latin America; +10.6% in Asia; +7.0% in the Pacific zone; +4.1% in Africa Middle East.

Global businesses increased by 3.6%.
• EBITDA improved by 5.4% at constant exchange rates to €2,002 million, compared to represented €1,900 million in H1 2018, in particular due to sustained activity combined with cost savings.
• Cost savings reached €121 million, ahead of the annual objective of more than €220 million.
• Current EBIT was up 5.7% at constant exchange rates to reach €857 million, as against €813 million in the first half of 2018.
• Current Net Income Group share totaled €352 million, an increase of 7.2% at constant exchange rates as against €328 million for the first half of 2018 ().
• Net financial debt was €12,478 million as of June 30, 2019, almost stable relative to the year-earlier figure (€12,398 million).
• On July 31, 2019, the Group signed the divestiture of its district energy activities in the United States for a total consideration of €1.25 billion, thus a 2019e EV/EBITDA multiple of 14.2x.
In light of these very strong first half results, Veolia fully confirms its 2019 objectives.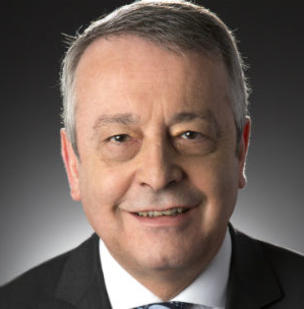 The first half of 2019 activity and results are fully in line with our sustained and profitable growth trajectory. Veolia has achieved strong revenue growth in all of its geographies, an evidence of the pertinence and coherence of our choices, of our capacity to capture the best opportunities for profitable growth. The commercial momentum has remained very solid. Growth of our new businesses has been very strong, particularly hazardous waste, up 13%, as well as plastic recycling, up 30%. Results also progressed at a very good rhythm, driven by sales growth and by cost reduction efforts achieved in the first semester, ahead of the annual objective, thanks to numerous operational efficiency and synergy actions. These strong first half results allow us to confirm all our objectives for the full year and to prepare our new 2020-2023 strategic plan, with a great confidence in the Group's capacity to continue to achieve a solid, profitable and sustainable growth.