Issue
---
At the time of the Greater Paris project and reflection on the pooling of resources and the streamlining of production tools, Syndicat des Eaux d'Île-de-France (SEDIF), the largest public utility in France, focuses on customer satisfaction and the sustainability of management combining transparency and performance for cost effectiveness.
The customer's objectives
Even though it is at its first Climate Water Energy Plan, Sedif intends to reduce the energy consumption of its equipment and its greenhouse gas emissions and better preserve the resource.
Veolia's solution
---
Make innovation a priority in all areas from production optimisation, network maintenance and emergency call-outs, management of customer responses to risk management. At the heart of the system, ServO - a hypervision and remote control centre equipped with artificial intelligence - was developed by Veolia Eau Île-de-France, a Veolia subsidiary.
Innovation
Servo, the data of which is stored in a data centre, was created in 2011 by Veolia Eau Île-de-France which has been SEDIF's service manager for almost a century. Fully operational since 2016, ServO - also known as a hypervisor, a virtual platform that allows multiple operating systems to work together at the same time - provides a 360° view of the network.
762 000 m3
Average volume of drinking water supplied every day
10 %
Leak rate target for 2020 (against 12.5 in 2016)
1.250 billion
Volume of data processed in real time by ServO
Technologies
- The ServO hypervisor receives all the technical data from SEDIF's three main plants located in Méry-sur-Oise, Choisy-le-Roi, and Neuilly-sur-Marne as well as secondary sites, such as reservoirs and water towers. Equipped with artificial intelligence, it recovers, calculates, and crosses nearly 1.250 billion bytes of real-time data, from the river up to customer homes. As it is connected to water production, transportation, storage, and supply locations, it can instantly detect dysfunctions. It can also detect deteriorations in water quality, altered by an unsuitable temperature or pressure or by the presence of chemicals. This is made possible by 200 sensors positioned in risk areas in the Oise, Seine, and Marne.
- ServO also uses a thousand other sensors to locate water leaks in the pipes which cannot be detected by a person.
- ServO mobilises a hundred people: field operators in charge of repairing water cuts, heads of equipment maintenance stations, and technicians in charge of the various PLCs. All of the data can be viewed by each operator on a computer, tablet, or smartphone.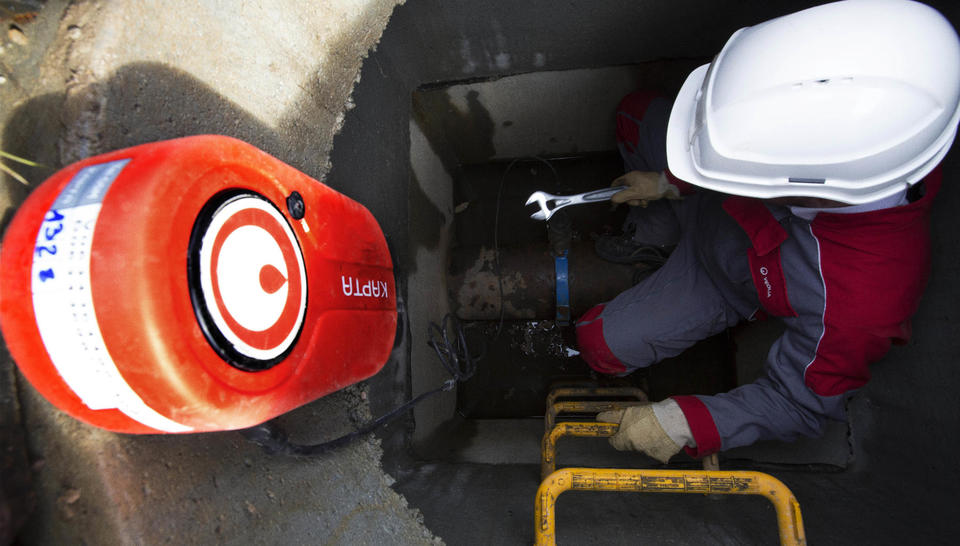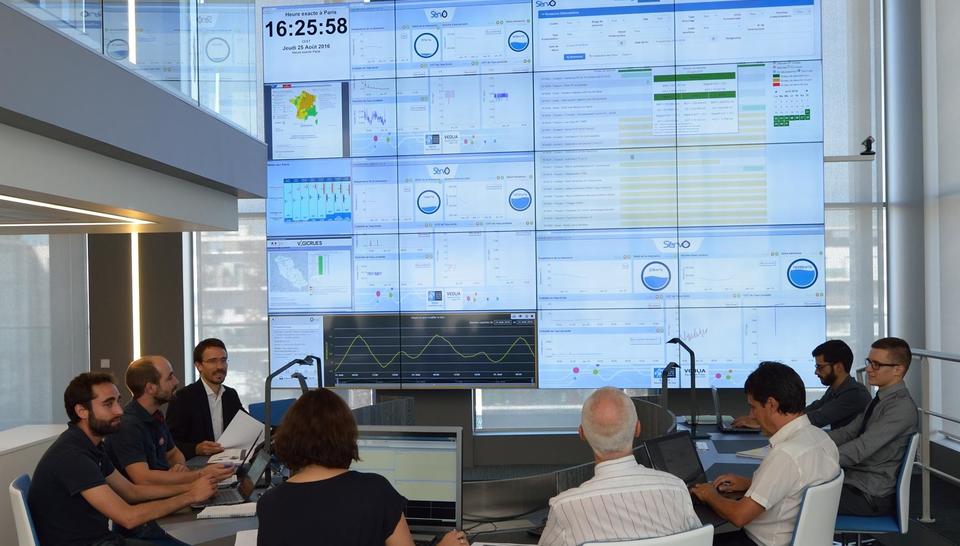 Customer benefits
---
Environment
• With the implementation of extremely complex treatment processes to guarantee a high level of quality, water is safe and reliable, and its quality exceeds European drinking water standards.
• The Integrated Management System meets various certifications: ISO 9001, ISO 14001, HACCP, OHSAS 18001, ISO 22000.
Savings
The drinking water network has an excellent efficiency rate which is close to 90 %.
Social/Societal
• The customer relationship has been innovated and modernised through the use of several tools:
the Clario brand strives to develop and strengthen customer-focused activities and clarify its customer policy;

the first Customer Relationship Centre NF Service-certified water service has over 560 000 customers;

over 90 % of consumers are satisfied with their water (source: observatory on public water of SEDIF).
• 59 % apprenticeship contracts signed (contractual objectives: 20 %).
• 3.7 % employees trained every year.
• Veolia proposed to SEDIF the implementation of a comprehensive scheme accessible to all residents - L'Eau solidaire - whether they are direct customers of the service or not. The scheme provides emergency assistance to pay bills or charges related to the water service, assistance solutions to help resolve difficult situations (squats, planned home improvement operations, and damage to co-owned property) and prevention solutions to raise the population's awareness, with the help of partner associations, on reasonable water use and how to control their budget.
Each year, Veolia devotes 1 % of the revenue from the sale of water to solidarity actions with the population served by SEDIF. This will represent 25 million euros over the duration of the contract.
Contract scope
Site: 150 municipalities in 7 departments in the Paris area
Population: 4.6 million customers
Equipment: ServO hypervisor
Contract term
Renewed in 2011 for 12 years
Business sector
Municipal
---
Expertise
• Management of major urban water services.
• Design of the ServO control centre.
• Management of three drinking water production plants.
Planet
The sustainable development charter, which associated SEDIF and its contractor Veolia Eau Île-de-France in December 2011, reflects a clear and ambitious commitment to combating climate change, making SEDIF the first carbon-neutral water service in the world: energy saving, use of green energies, offsetting emissions that cannot be avoided by reforestation.
Committed to a dual approach of mitigation and adaptation, SEDIF has formalised all of its actions in its Climate Water Energy Plan (2017).
People
12 % of the population in Île-de-France live below the poverty line. SEDIF is the first water union in France to implement a large-scale scheme to help customers who have difficulty paying their water bills. Veolia Eau Île-de-France manages this scheme.
In addition, since 1 January 2017, direct assistance in paying water bills called Aide Eau Solidaire, which has been available to private customers since 2011, is now extended, as part of the experiment under the Brottes law, to all users, including non-customer occupants of multi-unit residential buildings who have difficulty in paying their water utility bills.