Estelle Brachlianoff spoke at the fifth edition of the Rencontre des entrepreneurs de France (REF), held on August 28 and 29 at the Hippodrome ParisLongchamp under the slogan "Tomorrow never dies!". A motto that was well-suited to the words of Veolia's CEO, for whom taking action is the most urgent priority.
"Draw me the world"
For 60% of the French population, inaction will cost more than action. The majority of companies, employees, consumers and voters are in favor of taking action, but as Estelle Brachlianoff points out, "people are ready to change, but they're not sure they understand the world we're moving towards and the choices available to them." 
This is why, in her opinion, ecological transformation will be achieved by providing evidence and concrete solutions. And that is Veolia's business: the ecology of solutions, which show the field of possibilities through concrete examples. Estelle Brachlianoff explained, "In Lille, for example, we are committed to saving 10% of water without changing anything other than everyday practices. Or in eastern France, we're about to open a recycling plant for electric vehicle batteries." When one considers that nickel, cobalt and lithium are highly strategic metals for the energy transition, the possibility of reusing them in new production cycles makes perfect sense.
To move towards a sustainable world, it is essential that it is also desirable and beneficial to all. "A city with electric vehicles is a silent city. Instead of talking about what's wrong, let's talk about solutions that are a real asset for health, and make undesirable what, for the good of all, is no longer sustainable", she added. It's true that today, using single-use plastics such as straws, bags and bottles seems irresponsible. Not so 5 years ago...This shows the extent to which changes in individual and collective behavior can lead to major changes and a more sustainable world.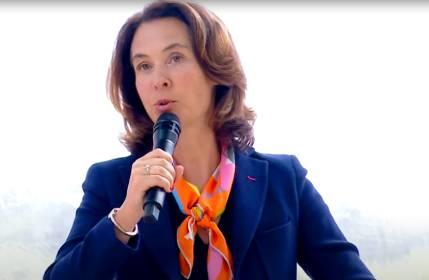 In this sense, Estelle Brachlianoff prefers the term "sufficiency" used by the IPCC to "sobriety" (sobriété), which tends towards deprivation, and more aptly appeals to the common sense of consuming only what is needed. No more.