Although the SIM card market has undergone major restructuring in recent years, notably with the optimization of the size of the card and the development of eSIM cards directly embedded into phones, the traditional card has not yet finished hitting the headlines. In fact, to connect cell phones to mobile operator networks, 4.5 billion SIM cards were produced worldwide in 2020, generating a significant amount of CO2 and plastic. A market that Thales and Veolia have decided to green together.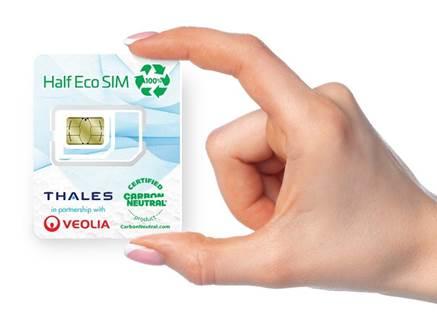 Thales, France's global high-tech leader, and Veolia have joined forces to create the first eco-designed SIM card made from recycled plastic. The plastic, which is mainly sourced from refrigerators, is transformed at Veolia's recycling plant in Froissy, in the Picardy region. Using recycled granules, Thales engineers, in collaboration with Veolia experts, have developed a new manufacturing process for SIM cards that meets industrial requirements. These eco-SIM cards, which include both the SIM card itself and its bank card format support, will avoid the production of 5,000 metric tons of virgin plastic and the emission of 15,000 metric tons of CO2. And at the end of life, the plastic used to make the cards can be recycled and used again.
A comprehensive commitment to the environment
This initiative is part of a broader Thales strategy to reduce the carbon footprint of all its products and services. With these eco-SIM cards, Thales is going even further by offsetting all the CO2 emissions associated with their manufacture and with the chip's non-recyclable electronic components through its global offset program.
With a neutral carbon footprint and a recycled-plastic design, this new product helps mobile operators in their ecological transformation and responds much more closely to their subscribers' environmental concerns.
All of our everyday objects could soon be made from recycled materials thanks to visionary, responsible companies like Thales. The example of the SIM card offers a glimpse into the vast field of possibilities opened up by eco-design. Our industrial ecology services, as this circular economy loop, enable us to support our clients' ecological transformation, said Anne le Guennec, Director of Veolia's Waste activities in France.
This innovation project with Veolia will support our telecom customers in their ecological transition by transforming waste into environmentally responsible SIM cards, said Emmanuel Unguran, Vice President, Mobile Connectivity Solutions at Thales.
This long-term commitment is an integral part of the Group's ambitious policy of sustainable development and social responsibility, and offers mobile phone operators a new opportunity to enhance their value proposition to consumers in terms of sustainability.
---