In response to the French government's calls for greater energy efficiency—a key discussion point at the round table Estelle Brachlianoff took part in yesterday as part of the ninth economic summit organized by Challenges—Veolia's Chief Executive Officer stressed that changes had to be acceptable and desirable and existing concrete solutions needed to be leveraged.
"People all around the world have realized that we all share the same destiny, and that urgent action needs to be taken. This is one of the findings of the survey we conducted in collaboration with polling institute Elabe among 25,000 people across 25 counties that account for almost two thirds of global greenhouse gas emissions," said Estelle Brachlianoff.
"There is unanimous agreement that efforts need to be made but they also need to be shared, useful and concrete. Tried-and-tested solutions are already available."
Conducted with a sample covering more than half the world's population.
Towards a strategic energy self-sufficiency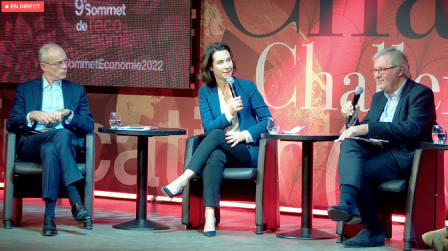 Waste and wastewater are underutilized resources that can be used to produce biogas and electricity, offering affordable and local renewable energy sources. Estelle Brachlianoff hammered home this point, emphasizing that "if all the wastewater treatment plants and landfills in France had the right equipment, we could replace 25% of Russian gaz in the next five years. If we also considered electricity generated using non-recyclable waste, we could bring this figure up to 40%. This would considerably improve our energy mix and reduce our dependency."
Energy sobriety: the way forward
In March 2022, a few months before the French government called on companies to reduce their energy consumption by 10%, Veolia launched its ReSource plan, pledging to cut its consumption and boost its production. "Over the next two years, we will be investing €150 million in equipping landfills with photovoltaic panels and, more generally, producing biogas from sludge and waste. Our aim is to achieve energy self-sufficiency in France within the next five years," explains Estelle Brachlianoff.
Greater restraint needs to be exercised. However, if the solutions deployed so far have shown us anything, it is that not only can we "make less", but also "make more with less"—in other words, produce more goods with less energy and fewer materials. It can be done. We need optimism and action.