The first edition of the Europe-Africa Forum was held in Marseille on 17 March. The time has come to review the speech delivered by Estelle Brachlianoff, Veolia's Chief Operating Officer, at the roundtable on "Women: driving the global recovery". Interview by Chiara Corazza, special advisor at the forum.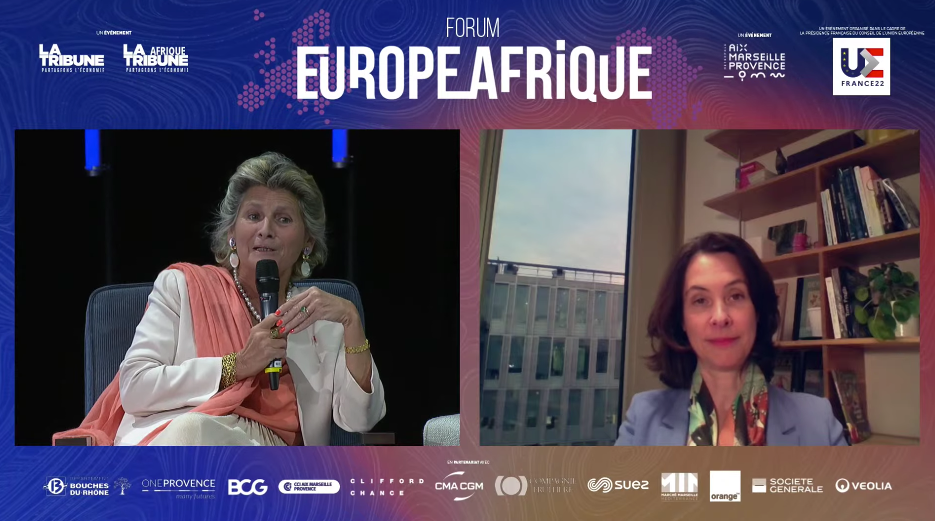 On 17 March, you presented Veolia's annual results (2021). Why are they important for implementing what you refer to as the ecological transformation?
"Championing the ecological transformation agenda is all about rolling out more solutions to help our municipal and industrial customers reduce their carbon footprint, save resources and deal with the difficult types of pollution. Empowered by these good results, "more Veolia" means ramping up our ability to develop solutions for more cities and industries in more geographical areas. "We need to pick up the pace to accelerate the ecological transformation." "
Can Africa serve as a model for Veolia's innovations?
"When it comes to Africa, we've been doing business for more than 20 years in Morocco, namely Tétouan, Tangier and Rabat. In Niamey (Niger), we've increased access to drinking water fourfold to serve four million inhabitants. In Côte d'Ivoire, we've just opened a new drinking water plant near Abidjan, and another plant will soon come online in Bouaké. Our innovative solutions in Africa can be replicated in Europe. For example, in the Namibian capital of Windhoek, which is affected by high levels of water stress, we recycle all the city's wastewater into drinking water using our unique expertise. This achievement is a global benchmark that we often present to our European customers. Water is too precious a resource to be used only once. We're also harnessing our expertise to reuse water in Africa's mines, and we'll transfer those specialist skills to our new battery recycling plants in Europe."
What will your footprint be in your future role as Veolia's CEO?
"In my eyes, there's something "fairly magical" about Veolia's business activities, because Veolia offers an ecology of solutions that does not pit the planet against our communities, or the planet against humans. In leading the ecological transformation, we're bringing them all on board with our solutions. Veolia's outlook takes account of both the global and local issues, because we've carved a strong foothold in our host regions and forged closer ties with our customers. Our ambitions are huge. One of my favourite sayings is that "we've got our head in the stars and our feet on the ground". Our ambitions are clear, because we know where we come from and the people who've helped us get there."
Roundtable on "Women: driving the global recovery".
Other participants in the discussion: Oulimata Sarr -UN Regional Director for West and Central Africa, who presented the HeforShe initiative, which features CEOs working to advance the agenda on empowering African women; Patricia Tomaino Ndam Njoya - Mayor of Foumban, who presented the improvements to wood-fired cooking practices and the impact on the health of Cameroonian women and deforestation on the edge of the Sahel; and Martine Vassal - President of the Aix-Marseille-Provence Metropolitan Area and the Bouches-du-Rhône Departmental Council, who announced the launch of a centre to attract business to the region with its One Provence label and thereby showcase the region's businesses and young start-ups from Africa.
In becoming the benchmark company for ecological transformation, Veolia is committing to accelerating and expanding the deployment of existing solutions, while simultaneously creating the solutions of tomorrow.