The ecology of solutions promoted by Veolia and presented on 29 November by Estelle Brachlianoff, Group Chief Executive Officer, and Claude Laruelle, Deputy Chief Financial Officer, at Investir Day - an event organized by Les Echos - offers concrete answers to climate change, the energy crisis and the shortage of water resources that continues to affect half of France's departments.
Concrete solutions to do better exist
Everyone agrees today: water is a precious commodity. From the north to the south of the country, all were affected this summer by the water shortage, which is still being felt in half of the departments. But if water does run out, there are proven solutions. As Estelle Brachlianoff explained :
When we see, for example, the concern of farmers who are directly affected by the water restriction directives, the issue is not the price per cubic metre but the solutions that will allow them to continue their activity. We have been working on wastewater recycling for 15 years and have now mastered the process. As proof, in Spain we currently recycle 15% of wastewater compared to 0.1% in France. So we have the means to do better, starting with stopping the irrigation of farms, watering of green spaces and cleaning of streets with drinking water.
An ecological and economic opportunity
Did you know that some economists predict that mobile phones will cost a staggering €5,000 in the near future? Far from being far-fetched, this vision is the result of a reality: the scarcity of metals such as cobalt, lithium and nickel. "The ecology of solutions makes it possible to find other types of supply," emphasised Estelle Brachlianoff. "We have been investing in R&D for over 10 years and are now able to recycle the lithium in used vehicle batteries. This solution, in addition to being virtuous for the planet, is also a huge opportunity for the strategic economy of our country by allowing the relocation of supply chains." 
Claude Laruelle also stressed the need to transform constraints into opportunities on the issue of energy sovereignty:
 We have alternative solutions in our country - such as the production of green gas from waste or wastewater - which can contribute to the competitiveness of our industry by reducing our dependence on expensive and risky external energy sources and by developing our autonomy.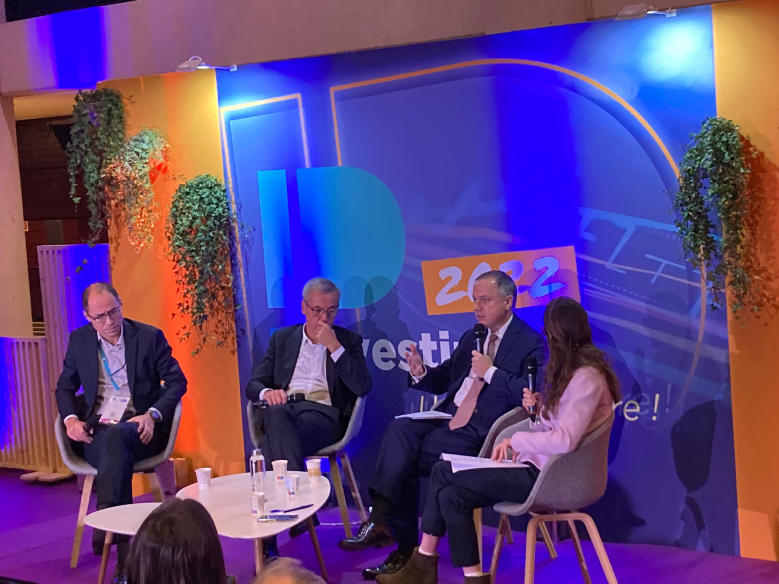 The awareness is now real and shared by all, the movement for a more circular economy is underway and Veolia, as a global benchmark, is ready to respond both ecologically and economically.
We collect, dismantle and recycle electric vehicle batteries. The challenge is to make the most of the strategic resources they contain