New name, new categories, more diversity, more applicants from abroad… The 2021 Ecological Transformation Trophies are innovating. They reward the final theses of students in their last year of training (5th year of higher education) from engineering and business schools, universities and academic establishments all over the world. A look back at the awards ceremony which took place on 6 December at Veolia's headquarters in Aubervilliers (France), in the presence of its CEO Antoine Frérot.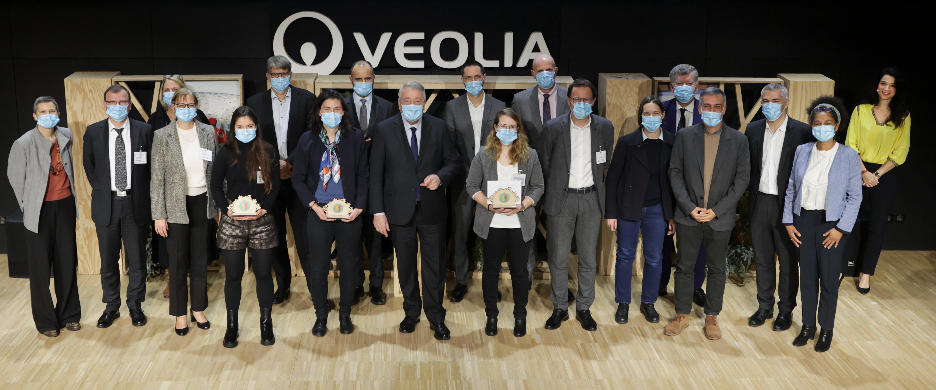 Identify talents
These Trophies - formerly Performance Trophies - this year become those for ecological transformation, echoing the evolution of Veolia's strategy. They reward the winners in 4 new categories: fight against climate change, treating pollution, optimizing resources, and improving quality of life. The students rose to the challenge, and despite a complicated global health context, the quality was there! , declared Caroline Geoffrois, Young Talents Sourcing Manager, within the Human Resources Department of Veolia, when opening the ceremony. 
In 2021, Veolia received 41 applications from candidates from 33 schools and universities, including 13 international academic establishments (i.e. more than 30% of applications). After reading the proposals, 17 finalists were selected for the final stage of presenting their work in front of juries made up of professionals and experts from the Group.
At the end of these presentations, the 4 winners were selected and received their reward on 6 December 2021 from members of the Group Executive Committee and Management Committee:
Jean-Marie Lambert, Senior Executive Vice President, Human Resources at Veolia presented the Trophy in the Improving quality of life category.
Jean-Francois Nogrette, Senior Executive Vice President Veolia Technologies and Contracting at Veolia, presented the Trophy in the Fight against climate change category.
Severine Dinghem, Director of Business Support and Performance at Veolia, presented the Trophy in the Treating pollution category.
Antoine Frérot, Chairman and CEO of Veolia, presented the Trophy in the Optimizing resources category, thus closing the ceremony.
As well as the recognition of Veolia and its experts, they won an electric bike and all its equipment for a value of €2200 that they will be able to order within the international network of partner stores of Zenride, and their academic establishment will receive an endowment of €3000 in the form of the apprenticeship tax.
 
The 4 winners in 2021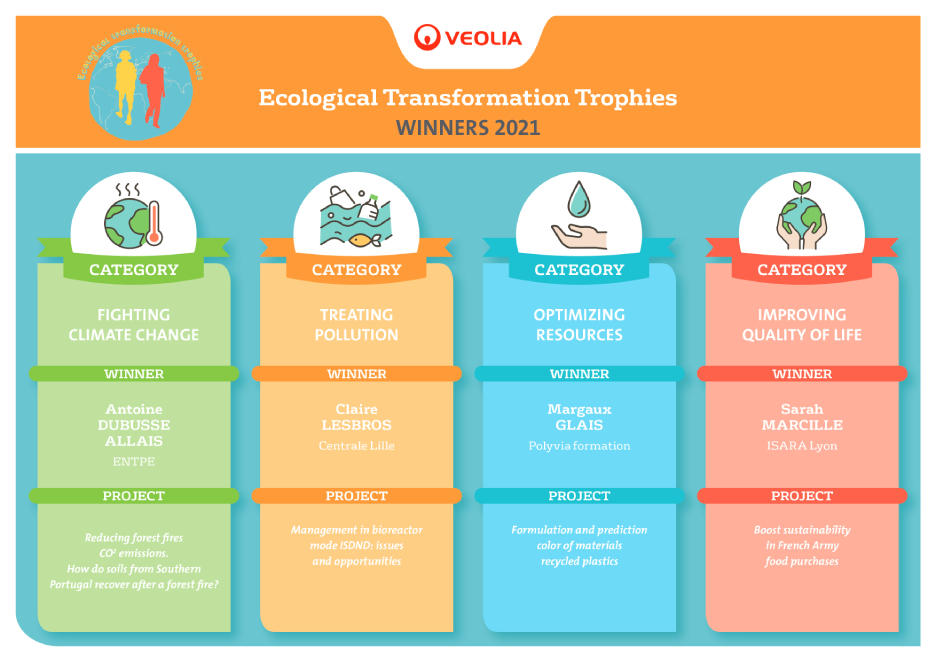 Category "Improving the quality of life"

President of the jury: Guillaume Wallaert, Group Marketing Director, Veolia
Sarah MARCILLE - Isara-Lyon (France) - Work-study student at the Military Commissary in Pantin, France
Project: Boost sustainability in food purchases by the French Army
How can a sustainable food purchasing policy reduce the overall carbon impact of the French Army? Starting from the need to respect the EGalim law*, which requires menus made up of 50% of SIQO products (official signs of quality and origin) including 20% organic products from 2022, Sarah Marcille raised awareness among all stakeholders in the food supply chain to go beyond of what the law requires, to favour local and seasonal products, and to change the eating habits of the customers of military restaurants by balancing their menus more. This approach, driven by Sarah and supported by her management, also highlighted the environmental commitments and the will to innovate of the Ministry of the Armed Forces.
« The military commissary is not yet proactive in terms of sustainable development, which is why my work has helped them to better take into account the EGalim law*. » Sarah MARCILLE. 
*Law for the balance of commercial relations in the agricultural and food sector and healthy, sustainable and accessible food for all.
Category "Fight against climate change"

President of the jury: Murat Isikveren, Marketing Director - industrial services, Veolia
Antoine DUBUSSE ALLAIS - Ecole Nationale des Travaux Publics de l'Etat (ENTPE) in Lyon, France - Instituto Superior de Agronomia, in Lisbon, Portugal
Project: Reduce the CO2 emissions of forest fires. How do the soils of southern Portugal recover after a fire?
Forest fires emit 8% of greenhouse gases each year. This study participates in the REMAS project which aims to improve the carbon storage capacity of soils through new forestry practices. It generated a database to study the regeneration capacity of the earth after the fires of 2004 and 2012 in the Serra do Caldeirão in southern Portugal.
In the absence of Antoine Dubusse, Nadine Sulzer, Deputy Director of Development,
Continuous training and International of ENTPE received the Trophy for him and explained: 
« Antoine Dubusse's daring choice on soil rehabilitation after a forest fire illustrates the new motivations of our students to fight against global warming ».
Category "Treating pollution"

President of the jury: Sarah Hercule Bobroff, Health & New Pollutants Products Owner Manager
Claire LESBROS - Ecole Centrale de Lille, France - Work-study at Veolia Recycling and Waste Recovery, Technical department and storage performance
Project: Management in bioreactor mode of non-hazardous waste (ISDND): issues and opportunities
Management in bioreactor mode of facilities for the storage of non-hazardous waste (ISDND) aims to produce biogas and stabilize this waste. Tests performed at the Granges waste recovery center (Saône-et-Loire) made it possible to quantify the opportunities of the bioreactor, by reinjecting leachate (liquid residues produced during the fermentation of waste). These tests were carried out on 4 aspects (volume, flow, frequency, temperature) for maximize production of biogas and optimize benefits environmental and economic.
« My project on the recirculation of leachate in ISDND waste bio-reactors allowed me to demonstrate that we can combine environmental and economic performance. » Claire LESBROS
 
Category "Optimising resources" 

President of the jury: Cedric Mebarki, Deputy Director of Operations, Department of Scientific and Technological Expertise, Veolia
Margaux GLAIS - Ecole Polyvia Formation (higher institute of plastics) in Alençon, France and IMT Lille-Douai, France - Work-study at the Scientific & Technological Expertise Department of Veolia, in Limay, France
Project: Formulation and prediction of the colour of recycled plastics
The colour of a plastic product contributes to the image conveyed by its brand. The colouring of recycled plastic is a particular challenge, especially since the dyes traditionally used are not recyclable and are harmful to the environment. Margaux's work has made it possible to evaluate the properties of mineral pigments from construction waste, in particular building bricks, and to develop a predictive tool in order to identify, within a palette of colours from this waste, which to use in order to obtain the desired final colour. A comprehensive approach, which is part of a complete and virtuous circular economy. 
« When you mix all the colours, recycled plastics turn grey. During my three years of work-study, I developed a tool to be able to put colour in these recycled plastics, using natural materials from recycling. I also explored a new idea which is to use decarbonisation waste from wastewater to develop new pigments.» Margaux GLAIS
The CEO of Veolia Antoine Frérot concluded the ceremony:
Like every year, I thank you and congratulate you for all your work which is important to Veolia. Our company aims to become the champion of ecological transformation and to make a mark in this promising sector which opens its doors to you. Regarding work-study courses, I would like to underline that, for 25 years, Veolia recruits a majority of its employees through this route. And we find that those who make this effort often integrate more quickly and adopt the values and culture of Veolia more easily.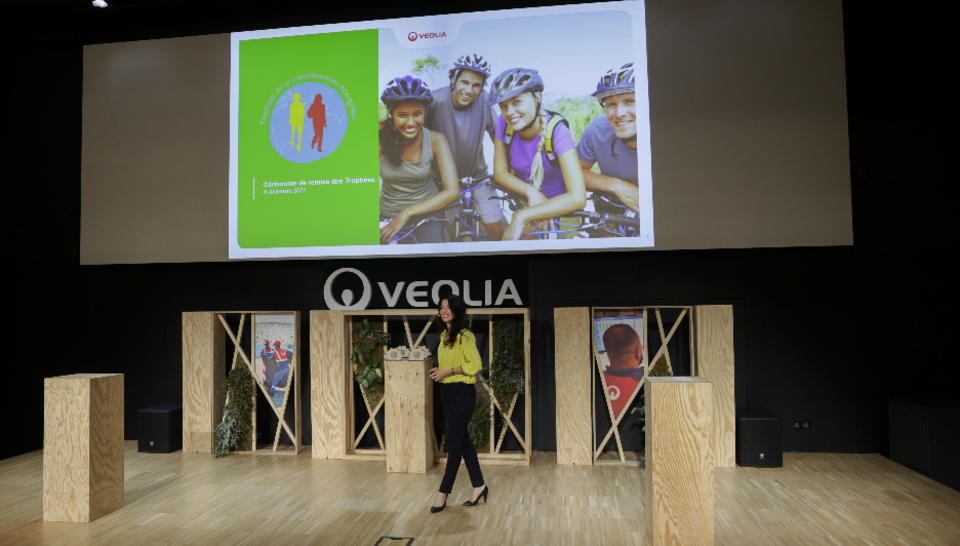 Caroline Geoffrois, Young Talents Sourcing Manager at Veolia, presents the new format of the Trophies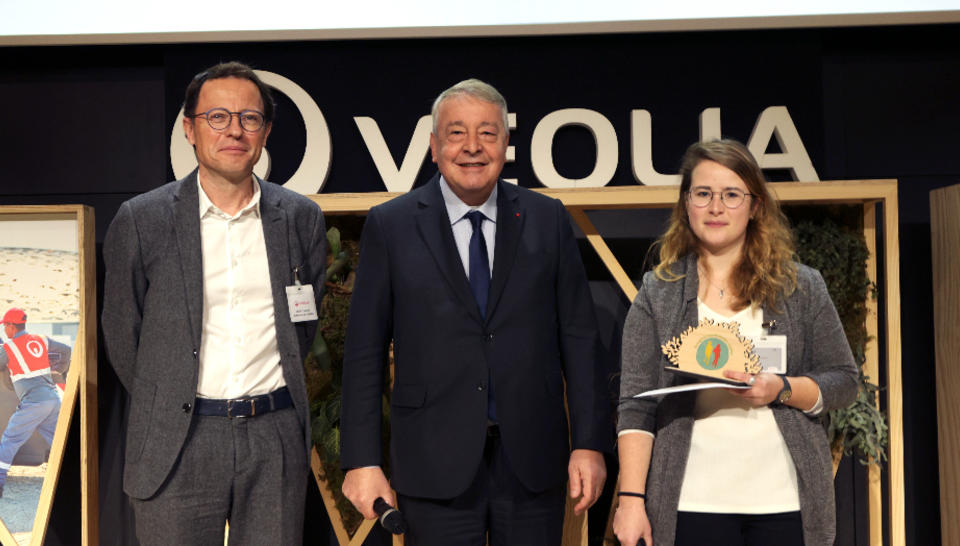 Margaux Glais, Optimizing resources category, alongside Antoine Frérot and the representative of her university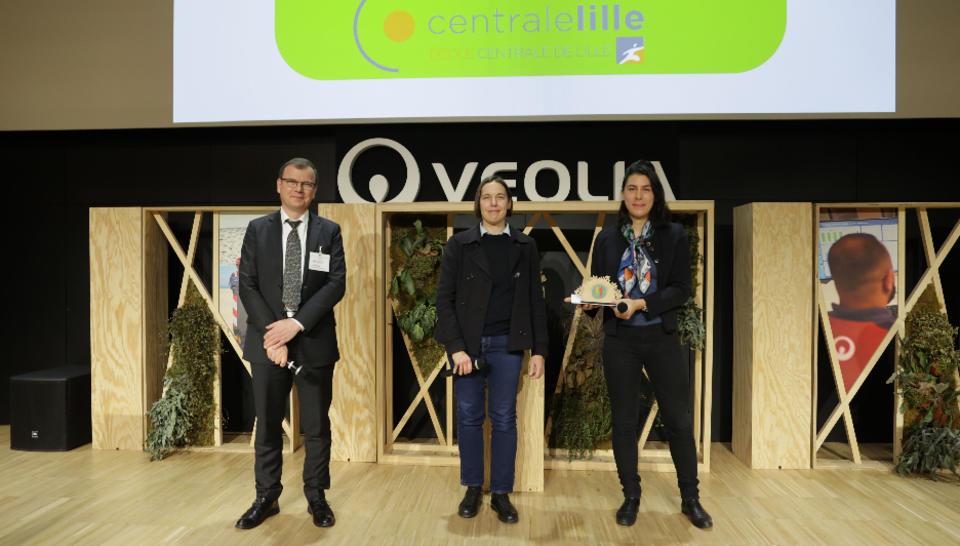 Claire LESBROS, Treating pollution category, alongside representatives of Veolia and her university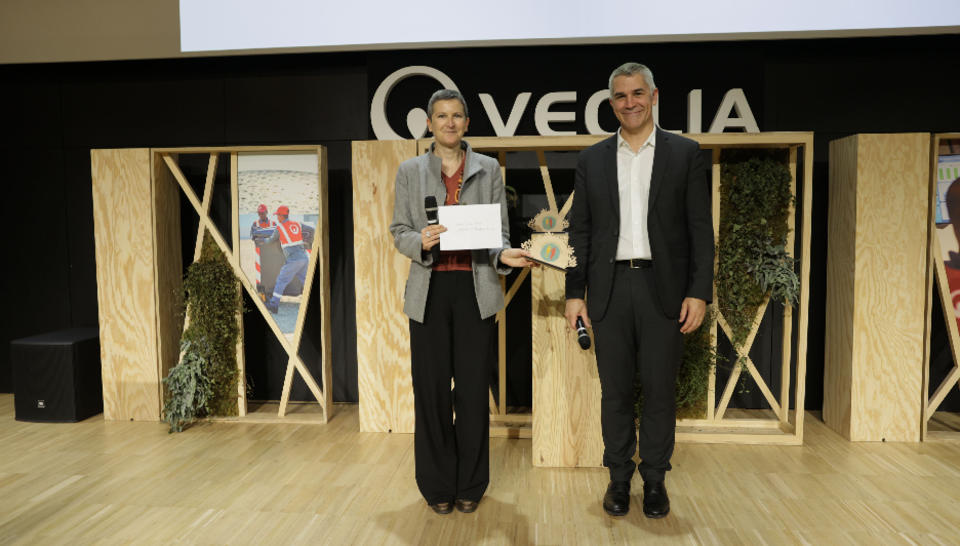 JF Nogrette, Senior Executive Vice President Veolia Technologies and Contracting at Veolia, with the representative of the university of Antoine DUBUSSE ALLAIS, Fight against climate change category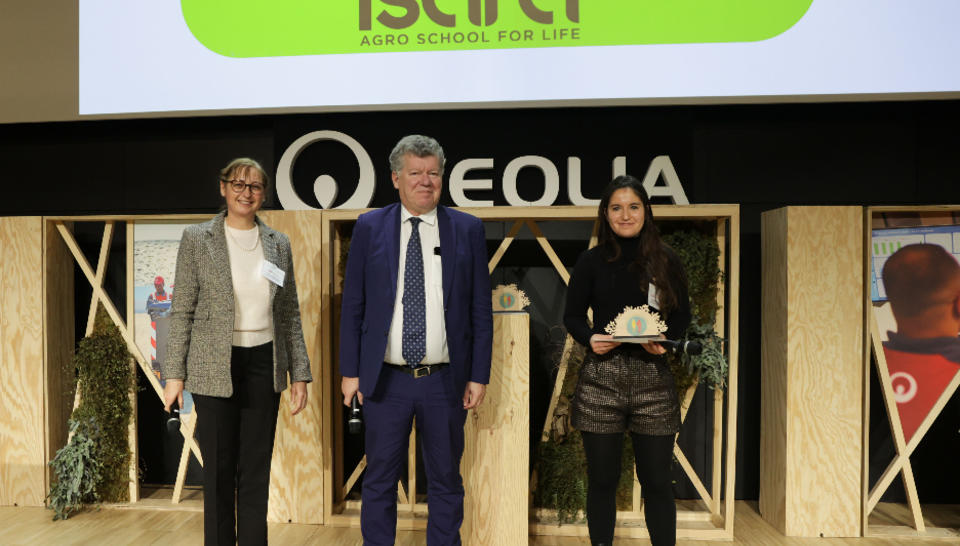 Sarah MARCILLE, Improving quality of life category, alongside JM Lambert, HR Senior Executive Vice President of Veolia, and the representative of her university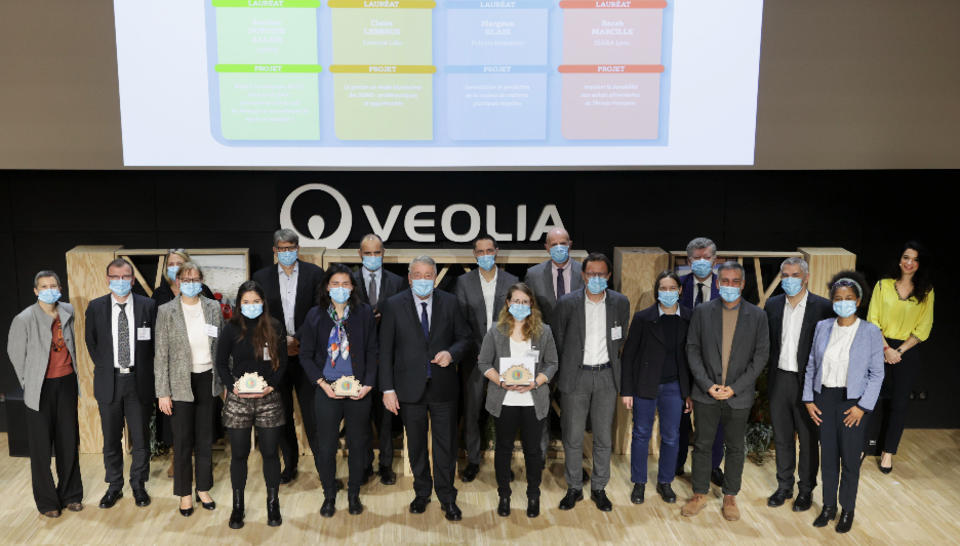 The winners, the representatives of their universities, and the members of Veolia's Executive Committee and Management Committee