Veolia's crystallization technology was chosen to produce potassium fertilizer from Lake Way in Western Australia.
Issue at stake:  Expertise and technology required to crystallize sulphate of potassium.
Objective: Crystallize solution into a commercial product.
Veolia solution: Be the technology provider that produces the finished fertilizer.
Lake Way in Western Australia has a very high potassium content. The brine soaks into trenches and ends up in ponds where the contaminant minerals are removed. After evaporation, only potassium remains, which can be crystallized as sulphate of potassium (SOP). 
Following a highly competitive tender process, Veolia's HPD® crystallization technology was selected for the crystallization plant. Already used in 30 countries, it turns the brine into a water-soluble crystal product that is ready for bagging and sale.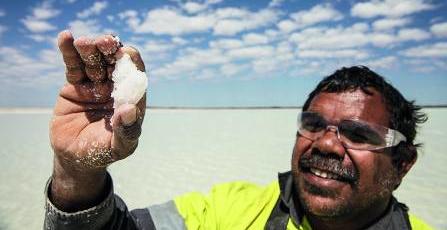 To convert the harvest salts to premium grade SOP, Veolia designed two HPD® crystallizers. One crystallizer to grow and purify potassium sulfate crystals, and a second crystallizer to produce secondary Schoenite salts recovered from the recycled SOP mother liquor, in other words, the liquid remaining after crystallization. These salts are then recycled and combined with Primary Schoenite salts and fed to the SOP crystallizer to maximize potassium yield, explains Jim Brown, Executive Vice President of Veolia Water Technologies Americas.
The goal is to deliver 245,000 metric tonnes of SOP per annum, with 92% exported to 60 countries.
Once the Lake Way project is finished, the plan is to apply the crystallization technology to other lakes in the Goldfields region, which will become known globally as a provider of high-quality SOP.