A kitchen countertop 100% recycled and recyclable
Castorama is constantly looking to stock new products that are ecofriendly and will enhance our homes as well.  As a result, Castorama started in the spring of 2013 a collaboration with Veolia to recycle wood waste from its stores into a secondary raw material. This innovative partnership has resulted in the production of a new kitchen countertop, made up of 35% wood and 65% fully recycled plastic.
Fully in line with the circular economy model, Veolia contributes to the creation of new raw materials, so-called secondary raw materials.  They compensate for the increasingly scarcity of natural resources.
 
A manufacturing partnership rooted in co-development
Castorama's and Veolia's teams worked closely together to combine a high quality final product, secure supply chain, the smallest possible environmental footprint and to ensure that the wood flour could be worked industrially by "extruders". 
From Castorama's perspective, the resulting product offers some real benefits for customers:
Enhanced water resistance, thanks to the use of composite wood;
A finished product that's 40% lighter in weight, for easier handling, transportation and installation;
A completely recycled and recyclable product that's 100% Made in France.
Satisfied by this first collaboration, Castorama is thinking of new products using this new secondary raw material.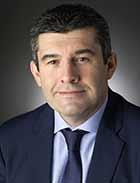 Bernard Harambillet
CEO Waste Solutions for Veolia in France
"Our business is changing from that of a service provider to that a of a producer of renewable resources" states Bernard Harambillet, CEO Waste Solutions for Veolia in France.  "As a result, we are committed to offering solutions to save even more resources and to develop the circular economy."
Key figures
1,000 metric tons of secondary raw materials produced annually, for 5 years
 
Customer benefits
A smaller environmental footprint
A secondary raw material that is 40% lighter and more water-resistant
Solution
Waste conversion and production of secondary raw materials
Learn how Veolia is resourcing the world
> how we're transforming waste into secondary raw materials
100%
recyclé et
recyclable
1 000 tonnes
de matières premières
secondaires
produites par an