The collection of recyclable materials - by truck, at waste disposal centres or at voluntary collection points - contributes to sustainable waste management, as required under European regulations. Once collected, optimizing waste sorting is key to improving the subsequent recycling.
---
Sorting errors are frequent when collecting or depositing recyclable materials – either through users' lack of care, or through a lack of information. 
According to Eco-Emballages, the body responsible for recycling household packaging in France, 50% of plastic bottles and bottles are sorted and recycled.
This is the best-sorted packaging, but represents only 23% of all waste plastic packaging.
Solutions capable of optimizing the recycling and recovery of this waste must therefore be put in place.
---
Who are our customers ?
Local authorities and inter-municipal structures 
---
The Veolia Solution

Using SALTO – an automated sorting system - Veolia has developed smart sorting for packaging. 
Employing a sorting algorithm and optical separators, the SALTO solution identifies up to 14 different materials on the same sorting belt and is even able to distinguish the colours of these materials.
 
This remote-controlled, continuous-operation technology is fully scalable. Eventually, it will, for example, be able to sort different kinds of plastics, which at present are not covered by recycling regulations.
In addition, since operators no longer have to handle waste, it provides a safe working environment.
Finally, SALTO results in more efficient recovery of sorted materials - and consequently optimizes their resale. It meets the requirements of environmental standards for sorting used packaging.
Benefits for our customers
Scalability of the solution depending on the regulatory context
Focus Innovation
A calculation algorithm at the heart of the SALTO system
At the heart of Veolia's SALTO system, an algorithm analyses waste going through an optical separator. This system, remotely controlled by a digital control panel monitored by an operator, sorts each item of waste on the basis of its composition - and even its colour. 
---
​They chose this solution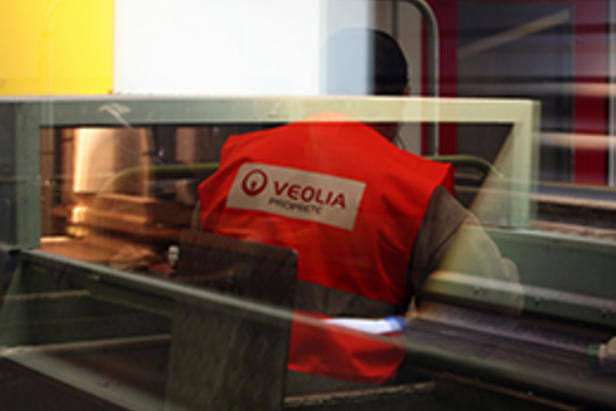 Salto - a sorting solution for improving productivity
The material recovery facility operated by Veolia in Laluque in the Landes region of France processes 23,000 metric tons of waste per year. The SALTO technology has significantly improved material sorting and offers the plant significant operational flexibility with a 15% improvement in its operators' productivity compared to the old sorting line.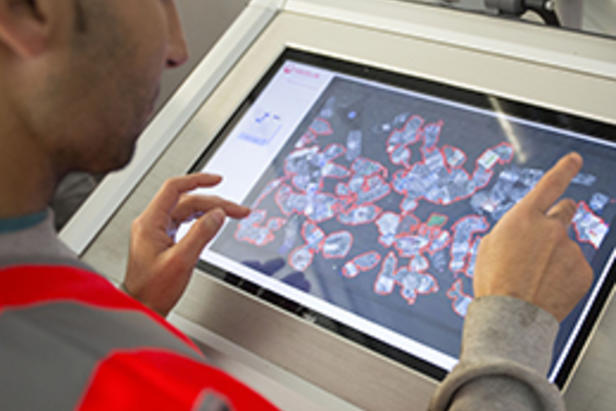 Remotely operated sorting in Amiens - sorting without touching


At the sorting centre in Amiens, the operator selects any non-recoverable waste on a touch screen. These items are then automatically ejected from the sorting line by air jets. The operator is no longer in direct contact with the waste, which is a real advance in terms of safety. With this innovation, an additional 6% of household packaging is recovered in the form of secondary raw materials and the Amiens site sorts almost 2.5 times more waste per hour than conventional facilities.