In a world where there are numerous threats to water resources, it is increasingly difficult for municipalities to deliver high-quality drinking water to their users and customers. Sensor technology combined with efficient data management enables them to secure the drinking water networks for which they are responsible.
---
Industrial pollution, micro-pollution, scarcity of resources, climate and terrorism risks –there are now numerous threats to water resources.
According to the World Economic Forum's Global Risk Report published in 2016, water appears for the first time in the top 5 of the major global risks - behind climate change and weapons of mass destruction, but ahead of forced migration and soaring energy prices. Beyond the obvious links with environmental pollution and infectious diseases, it is also the first time that direct or indirect links have been made between water and governance, the collapse of the state and political crises.
Only real-time monitoring of water availability, water quality and the networks will allow operators and policy makers to protect themselves from such risks and act quickly to reduce the consequences. 
---
Who are our customers ?
Cities, local authorities, and inter-municipal structures
Organizers of major events
---
The Veolia Solution

Veolia has deployed intelligent monitoring solutions to protect drinking water networks.
One of these solutions, focusing on securing the resource, is based on two complementary technologies:
→ Kapta ™ 3000-AC4 sensors, installed directly at strategic points in the network, collect accurate physico-chemical data (conductivity, pressure, temperature, chlorine); these key water quality parameters are sent to a monitoring centre
→ The Kaptaview ™ real-time data analysis system operated from the centre provides alerts if there are any changes in water quality caused by leaks, pipe corrosion, clogging or the presence of contaminants.
This system provides network managers with almost instantaneous decision-making assistance and therefore improves response times if intervention is required on the network.
Benefits for our customers
Focus Innovation
Waternamics - digitalizing water services
By collecting and analysing millions of pieces of data, Waternamics provides a global real-time view of the functioning of the water infrastructure and improves the transparency of services. Developed with IBM, the tool is used in particular on the Lyon and Lille contracts in France.
Water distribution in Rambouillet is monitored in real time by Veolia's Kapta™ probes
Veolia has managed a 108 km drinking water distribution network serving 25,000 inhabitants in Rambouillet, near Paris since 2010. To analyse the quality of the water supplied, the Group has installed 32 Kapta™ 3000-AC4 probes - all connected to a Kaptaview™ central server. The municipality consequently benefits from a high quality service and a secure water supply at optimal cost. 
Prague - a smart city thanks to Veolia's SWiM

In Prague, in the Czech Republic, Veolia has set up SWiM (Smart Water Integrated Management) - a system for managing and monitoring the entire water network. SWiM contributes to better communication with the inhabitants, continuity of service, reduced losses due to leaks, a service that is maintained even during extreme climatic events, and a sharp fall in operating costs.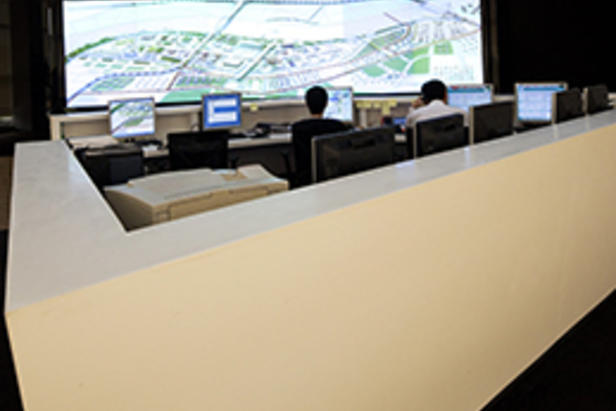 Innovative and intelligent technologies in Shanghai Pudong
Veolia opened a modern water control centre during World Expo 2010 in the Pudong district of Shanghai. Various proprietary technologies provide real-time monitoring of the 496 million m3 of water distributed annually to 3.6 million inhabitants. This centre has made it possible to improve network management with tools such as SCADA™ for the supervision and control of the processes, GIS for reducing losses, MOSARE for simplifying decision-making and PDA for network maintenance.