Produced from recovered waste, SRF (Solid Recovered Fuel) - or RDF (Refuse Derived Fuel) - is a high-yield source of energy for producing heat and electricity, as well as being an interesting waste disposal alternative. Its use is fully in line with the approach encouraged by the authorities of reducing the amount of fossil fuel in the energy mix.
---
SRF offers a means of recovering a significant proportion of ordinary household and industrial waste. 
It is made up of dry, non-hazardous waste which can be recovered through incineration on municipal sites (household waste incinerators) or on high capacity industrial plants (cement plants).
There are about 100 SRF producers in Europe, some 20 of which are in France.
At present, 30% of non-mineral, non-hazardous waste goes to landfill, which represents a SRF production potential in Europe of almost 70 million metric tons per year.
SRF consumption is high in a number of European countries including England, the Netherlands, and Germany. Industrial demand in this respect is growing.
---
Who are our customers ?
Cities, local authorities, and inter-municipal structures 
---
The Veolia Solution

As an integrated waste management specialist and a long-standing partner of local authorities, Veolia has developed solutions for its municipal customers that produce and use Solid Recovered Fuel (SRF).
The Group offers its customers services including the design, construction, and operation of Solid Recovered Fuel preparation and incineration facilities.
SRF preparation is usually carried out directly on waste sorting and recovery sites, for which it represents a complementary activity that in addition creates jobs.
The SRF preparation lines are deployed to treat the waste in a 5-step process: crushing, drying, sorting, second crushing, pelletizing.
The SRF produced can then be recovered on site as heat or energy, or be resold for use in urban heating networks in particular.
Benefits for our customers
Reducing the environmental footprint
Diversifying the energy mix
Sustainable alternative to landfill
Focus Innovation
Recovery of waste materials in Ludres, in France
Veolia recycles used upholstered furniture (steel, aluminium, wood) in Ludres. Foam, plastic, fabric, and complex materials that cannot be recycled produce SRF for a cement manufacturer 10 km from the site.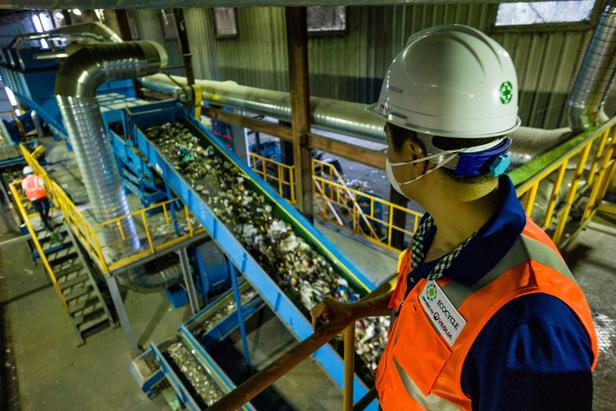 Hampshire
—
United Kingdom
SRF contributes to environmental excellence in Hampshire
Veolia manages SRF production and incineration facilities in Hampshire, England. Bulky waste is processed to extract residual metals. In addition it produces SRF which is recovered on site. Consequently, 94% of the county's waste no longer goes to landfill. It is the highest rate in the country.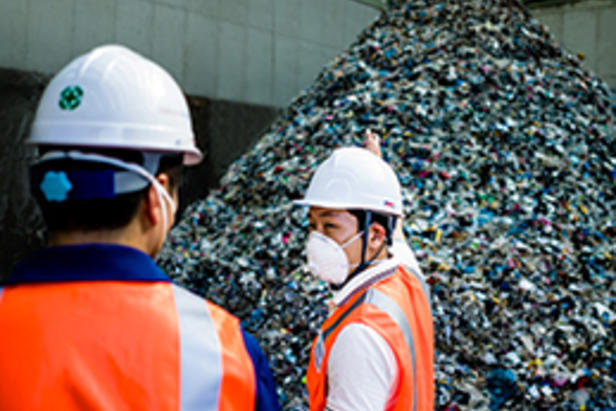 Veolia manages the country's first SRF plant in Yeoju
On the Yeoju Ecocycle site - the first large-scale SRF production plant in Korea - 70,000 metric tons of commercial and industrial waste is processed every year by Veolia to produce 60,000 metric tons / year of solid recovered fuel (SRF).