The development of digital and new technologies has taken us into what many people call "the fourth industrial revolution". Dominated by robotics, neurotechnologies, 3D printing and the Internet of Things, it is nevertheless something else that people are talking about because of its multiple facets: artificial intelligence. Its very definition unclear and the subject of debate. What is intelligence, a concept seen as subjective, and what in particular is "artificial" intelligence?
---
If we were to define artificial intelligence - or AI - it would be as a form of intelligence attributed to machines to allow them to be autonomous and adopt human, or even superhuman, behaviours by means of algorithms. AI is able to understand the information submitted, memorize it and use its experience on previous actions to adapt to new situations. It can be found in a large number of sectors and objects (robots, autonomous cars, virtual assistants, software, smartphones, etc.) and it is therefore important to find right balance between ethics, protecting privacy and humanity and simplifying our day to day lives. At Veolia, the use of artificial intelligence is growing, supporting our employees and our activities and serving our businesses.
---
Who are our customers?
Industry, tertiary and cities
---
Veolia solution

At Veolia, artificial intelligence acts at several levels:
→ Optimizing waste sorting
→ Monitoring and optimizing water consumption
→ Managing water networks
→ Detecting and anticipating events and anomalies on infrastructures
→ Remotely and continuously managing and monitoring facilities
It is therefore used in a wide range of tools, such as the Hubgrade control centres that enable Veolia teams to remotely and continuously manage the facilities of all activities, connected sensors to intelligently monitor water consumption, the Bob assistant unit capable of analysing the vibrations of industrial machines to better detect anomalies, and robots such as Max AI® and Portik that make 4.0 sorting centres possible.
At the crossroads of the Group's businesses, artificial intelligence helps optimize activities and simplify operations.
Benefits for our customers
Improved working conditions and quality of life
Optimized costs and resources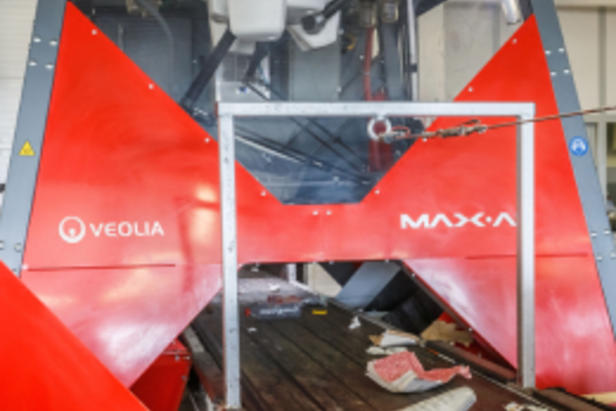 Amiens, Nantes, Bordeaux
—
France
Deployment of Max AI®, a smart sorting robot

A human operator performs around 2,200 sorting actions per hour, but Max AI® is capable of performing around 3,600 - 1.5 times more. Thanks to its two optical cameras and its knowledge of different types of materials and waste, it detects those that are undesirable and can thus remove them using its articulated arm. It helps improve sorting performance and the comfort of the operators, also allowing them to improve their skills on quality control missions.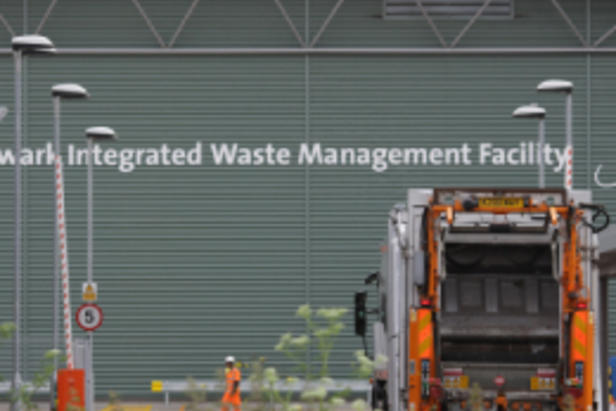 Londres, Southwark
—
United Kingdom
Installation of Portik, an intelligent real-time waste stream analysis system

Thanks to its colour matrix camera that stores images in a centralized database, Portik, developed by Veolia's Research & Innovation department, continuously analyses the composition of waste streams and aluminium waste purity changes using algorithms. Transportable, it can be positioned anywhere on the sorting chain, for example at the end where it measures the quality of the sorted waste or at the beginning where it characterizes incoming waste.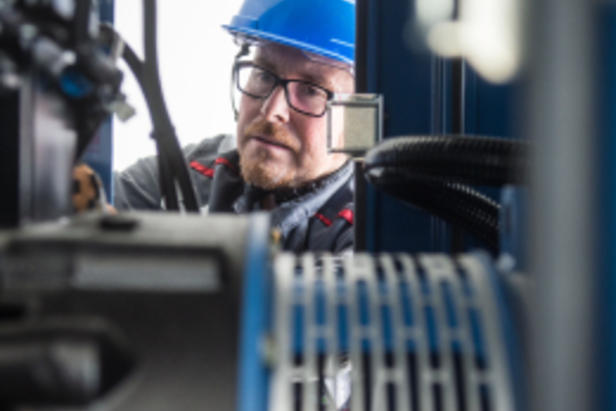 Bob assistant, a connected predictive maintenance unit, fitted at the Angers wastewater treatment plant
A dozen Bob sensors continuously monitor the treatment plant facilities on which they are installed. Using artificial intelligence, they analyse abnormal vibrations and detect anomalies. As required, the maintenance teams are therefore able to intervene both efficiently and in advance.