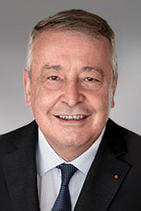 "We overcame the exceptional context imposed on us by the coronavirus pandemic with an exceptional project: Our merger with Suez."
Accelerating the ecological transformation
The environmental emergency has never been more serious. Having even been taken into account in the recovery plans of several States, it remains a source of growth. This is a historic opportunity to create a global champion of ecological transformation.
+20 cm increase in the sea level since 1901; +1m by 2100 in the worst-case scenario
50%of the World's coral reefs have disappeared since 1950
x2 in annual extraction of raw materials by 2050
33% of the Planet's soil is degraded
45% of young people say that climate anxiety negatively affects their daily lives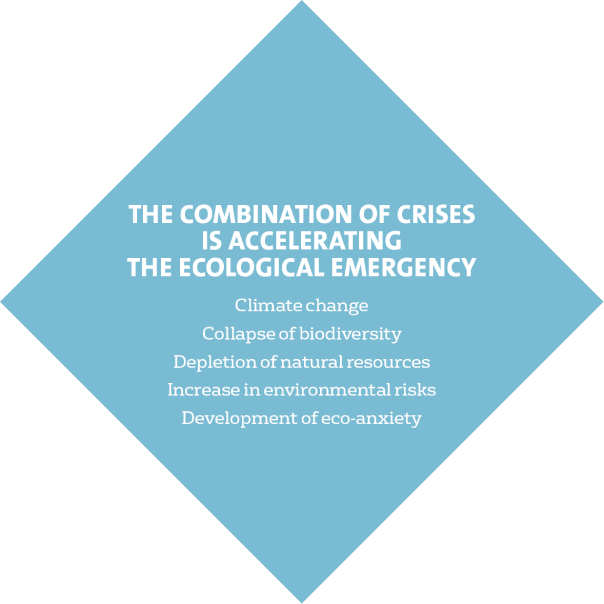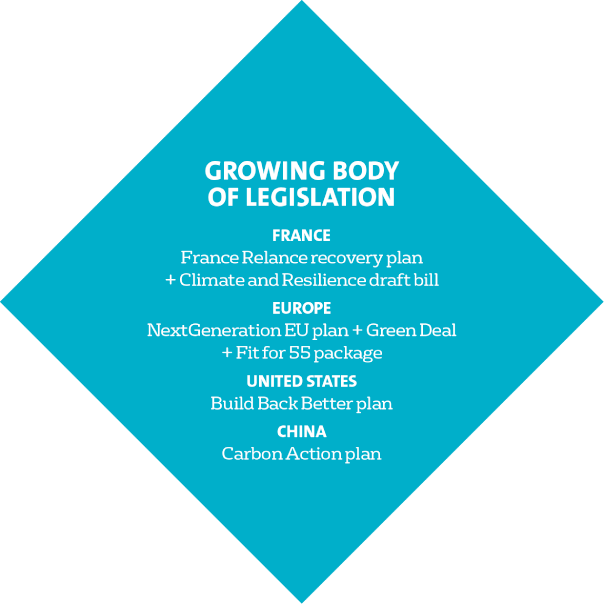 What are your takeaways from 2021, a particularly eventful year? 
Estelle Brachlianoff It was also an opportunity to prove that, behind this merger project, there was a team that believed in it and was ready to give their all to make it a reality. Then there was a complete sameness about 2020 and 2021: The pandemic has shown how solid and united we are as a group in the face of adversity. Seeing that teams throughout the Group were holding the bar so firmly freed up energy to fight the next battle – the Suez takeover – when the opportunity arose. We knew we could do it, without fearing any internal turmoil.
For my part, what I will remember about 2021 are my first discussions with the Suez teams who were going to join us: I had the feeling that we quickly understood each other and, I hope, also won each other over a little. We found that we spoke the same language, that we had the same vision of the business and that we could achieve a lot together.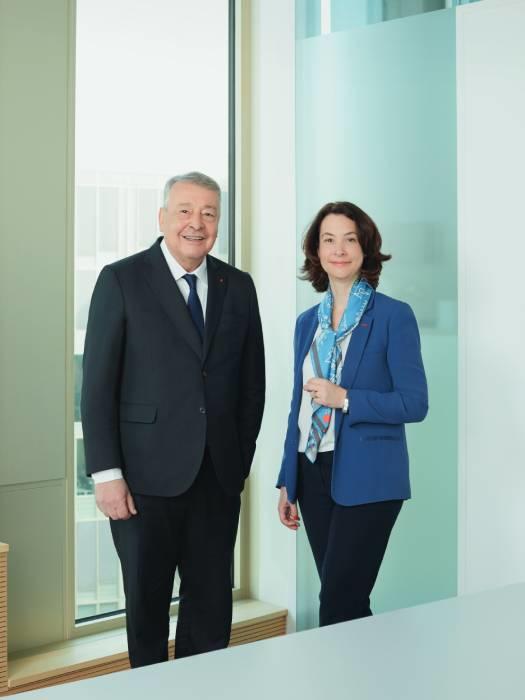 Antoine Frérot You could say that 2021 was an abnormal year – and of course it was – but, for Veolia, it was above all a historic and exceptional year. How can we define a normal year when the abnormal reoccurs every year? In a way, we overcame the exceptional context imposed on us by the coronavirus pandemic with an exceptional project: Our merger with Suez, an operation of a size and scope that Veolia had never experienced before.
One of the things I will remember about this year is the great public discussion on the ecological transformation that we conducted in the middle of the legal and financial battle to buy Suez. This discussion meant we were finally able to demonstrate the major advantages of this industrial project, to discuss it seriously with our stakeholders: employees, elected officials, industrial clients, representatives of civil society... and to convince them.
 Veolia's success is also due to the excellent shape the Group is in, more than twelve years after you took the helm. 
A.F. Yes, our Group is doing well. There are several reasons for this: The relevance of its strategy and the quality of its implementation, the strong involvement of its teams, and their expertise and capacity for innovation. But there is another reason: Veolia has given itself a purpose. As a result, it knows why, for whom and how it wants to be useful to its stakeholders; it knows where its ambitions will take it and can concentrate its forces in such a way as to achieve its goals. In the end, this is also what is important for delivering good results in the long term. From this point of view, 2021 was an excellent year: Our revenue was €28.5 billion, up 9.6% on the previous year, and 6.5% on 2019, which was already a record year. The same trend can be seen in our EBITDA, which grew by 16% to €4.2 billion. Over the years, we have focused our business model on the most buoyant sectors; we have made our organization more agile and responsive; and we have incorporated more added value into our products and services. The results are there, as again in 2021 we achieved many commercial successes. For example, the €13 billion contract to operate and maintain the heating network for the city of Tashkent in Uzbekistan; the concession to supply water to 2 million people in Miyagi, Japan, with a cumulative revenue of nearly €800 million; the management of the second largest oil refinery in South Africa (Engen); the ten-year contract to operate the sulfuric acid recycling facility at the Talara refinery in Peru; and the fifteen-year energy efficiency contract with the University of Parma, Italy.
These achievements show that our Group is running at full speed and has maintained its commercial momentum, while actively preparing for the merger with Suez.
E.B. That Veolia has a purpose is first and foremost thanks to you, Antoine. No one knows better than you the determination it took to push this issue forward, first with the Board of Directors, the Executive Committee, and the Critical Friends committee, and then throughout the company. With our purpose, you have launched a profound intellectual, strategic, and managerial revolution. Our purpose is very important, especially for the young people who join us. When they find out about it, they say to themselves: "This company has a soul; it's worth committing to it."
 As Antoine Frérot is preparing to hand you the reins, is your commitment also spurred on by these results, Estelle? 
A. F. Let me just add that these results are also down to Estelle, who has been assisting me for almost three and a half years as Chief Operating Officer.
E. B. You must admit that you've set the bar very high. As I take over from you, I look back at the work that has been accomplished over the past twelve years, so that I can draw inspiration from it to write the new page in Veolia's history that is about to begin: That of the creation of the world champion of ecological transformation. It is a stronger, prouder, more inventive, and more profitable Veolia that Antoine and all his staff have gradually built with great confidence and intuition. I have watched it grow, and all of us with it. This tells you how attached I am to it and how committed I will be to making it grow further still. But, beyond that, I am convinced that the greatest asset that you are leaving us is to have consolidated an enthusiastic and united group behind Veolia. Not only internally, but also outside the company. One of my missions will be to maintain this collective and to keep it alive, in the face of the challenges to be met and according to the aspirations of our partners. If we want Veolia to continue to lead the way in its field, we must be ever more aware of the times and anticipate the expectations of our stakeholders. This is one of the projects we will be launching to develop our next strategic program.
>   Read the full joint interview with Antoine Frérot and Estelle Brachlianoff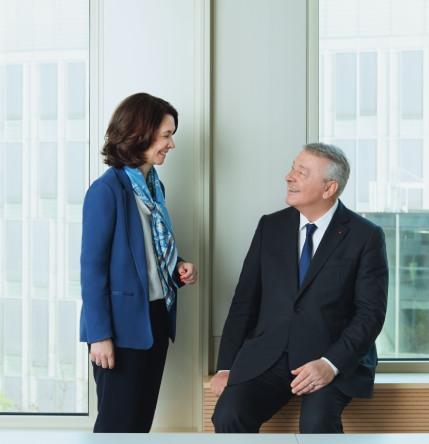 Delivering multifaceted performance
Veolia's commitment to multifaceted performance is a driver for in-depth transformation, based on a balance between economic, social, and environmental imperatives. This concept is at the heart of the company's organization and operations.
HUMAN RESOURCES PERFORMANCE
LAURENT OBADIA,
Chief Stakeholders and Communications Officer, Chairman's advisor; Engagement Sponsor on the ExCom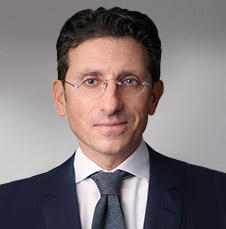 "The ambition to contribute to the global champion of ecological transformation is a source of significant engagement for all."
COMMERCIAL PERFORMANCE
JEAN-FRANÇOIS NOGRETTE,
Senior Executive Vice President, France and special waste Europe, Liquid and Hazardous Waste Sponsor on the ExCom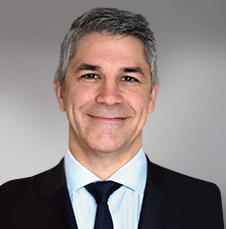 "Differentiating through innovative solutions, especially in recycling."
ECONOMIC AND FINANCIAL PERFORMANCE
CLAUDE LARUELLE,
Chief Financial Officer, Economic and Financial Performance Sponsor on the ExCom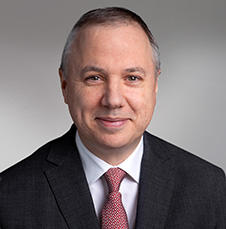 "When the momentum is there, the results usually follow."
SOCIAL PERFORMANCE
HELMAN LE PAS DE SÉCHEVAL, 
General Counsel of Veolia, Wealth Creation and Employment in the Regions Sponsor on the ExCom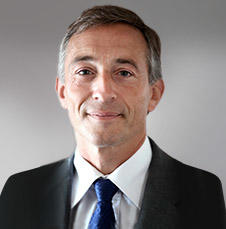 "Complementarity will create additional wealth in many regions."
ENVIRONNEMENTAL PERFORMANCE
FRÉDÉRIC VAN HEEMS,
Senior Executive Vice President, North America, Climate Sponsor on the ExCom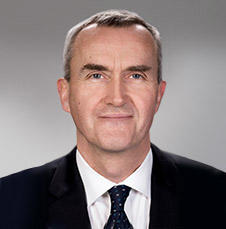 "The ecological transformation imperative is intimately linked to the need to reduce the impact of climate change."