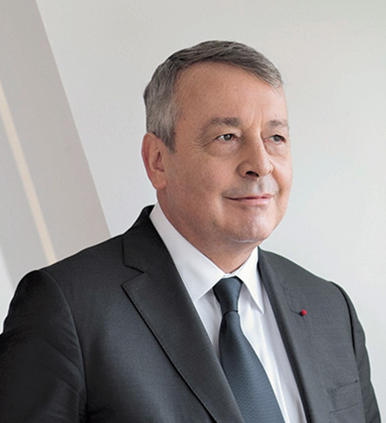 Antoine Frérot
Chairman and Chief Executive Officer of Veolia
2017 was notable for a marked upturn in growth.
Our revenue rose 4.9% at constant exchange rates to €25.1 billion.

2017 was the second year of Veolia's plan for growth. What progress was made?
Antoine Frérot: 2017 was an intense, successful year where we saw a marked upturn in business, robust and profitable growth, and results that outstripped targets. Above all, the year saw a sharp rise in growth, as our revenue climbed 4.9% to a total of €25.1 billion at constant exchange rates. Expectations were high around this, and Veolia has shown that its efforts to expand and renew its service offerings, while boosting its sales and marketing resources, have clearly paid off.
Our highest growth regions were Latin America, Asia, North America, and central and eastern Europe. But in all the regions where Veolia operates, we achieved some magnificent successes with both industrial and municipal clients, whether in our long-standing market segments or at the leading edge of environmental business. Advanced activities are part of our growth strategy to target buoyant markets, create new areas of growth, and find a more equal balance in our contract portfolio between our different business sectors and geographic regions.
How are the measures taken in 2017 reflected in the year's financial figures?
A. F.: In the satisfactory results! The main financial indicators show just how much our operational performance has improved, together with the upswing in our profitability, control over our debt and the excellent application of capital employed. Our EBITDA comes in at €3.3 billion, which represents a rise of 2.7% at constant exchange rates.
Current net income is €623 million, a 6.1% improvement at constant exchange rates.
Our €255 million cost savings are on target.
These results are all the more outstanding given that at the start of 2017, the economic environment appeared unfavorable for our business. The initial difficulties were quickly circumvented and then offset, which clearly reflects our vitality and responsiveness.
And all the more, our growth was achieved on the back of constant capital employed and steady debt. Undeniably, 2017 will go down as a good year!
 
What is the outlook for Veolia in 2018 and 2019?
A. F.: Overall, it looks favorable and we have confirmed all the Group's commitments. The positive outcome for 2017 has undoubtedly put us in an excellent position to meet our 2018 targets. Those targets are to ensure sustained revenue growth, achieve €300 million in cost savings and grow our EBITDA at a faster pace than in 2017. For 2019, we're targeting EBITDA of between €3.5 billion and €3.7 billion. In short, we will continue down the same path, applying our growth plan pragmatically and with determination. There are two parts to this plan.
One is an organic growth drive coupled with carefully selected small and medium acquisitions. In 2017, 70% of our revenue growth came from organic growth and 30% from acquisitions. The other aspect is an efficiency drive based around our operational performance improvement and cost containment programs, which will be useful for countering certain headwinds that we will undoubtedly encounter as we progress through the year.
2017 was a year of transition, but 2018 will be one of confirmation: confirmed growth, profitability and innovations. It will be an important year, because it will allow us to fully embed our current positive trajectory for the future. Few businesses are evolving as fast as ours with the far-reaching changes affecting cities and companies. This is why our businesses will continue to deliver growth for many years to come. 
Few businesses are evolving as fast as ours with the far-reaching changes affecting cities and companies.

How does Veolia capitalize on its range of expertise and the profusion of new technology?
A. F.: Veolia is at the crossroads of three businesses – water, waste and energy – each of which is decisive in the future of cities and industry. So we enjoy a unique, unrivaled position that we strive to use to maximum potential. Our strategy involves blending skills to develop new high-value-added services, and to extend our lead over competitors unable to leverage a depth of expertise as broad as ours.
One particular success that illustrates this interconnection between our different businesses is Birdz, a company that combines our long-standing expertise with the most advanced telecommunications and information technology. Initially created to industrialize remote water meter reading, in just a few short years this subsidiary has become one of France's leaders in connected objects for urban networks, energy efficiency and city buildings. Today, with more than 10 million connected objects worldwide – of which 4 million in France – Veolia has become a major player in the environmental Internet of Things.
Our clients expect us to be close to them locally, but also that, whether in Toulouse, Mexico City or Dubai, we deliver innovations that we have developed in Prague, Shanghai or New York. That's why we focus on rolling out our technological progress wherever we operate, as soon as it offers a solution to a real and solvable need. We cultivate the advantages derived from the diversity of our geographic locations and of our immense breadth of technical experience to create the environmental services of the future.
The plastics recycling market is experiencing rapid growth.
What goals does Veolia have for this market?
A. F.: By 2050, plastics production is set to quadruple worldwide. Given this, and that the recycling rate is currently stuck at 9% globally, Veolia aims to create a wellstructured plastics recovery and recycling industry to offer a viable alternative to new plastic materials. We expect to increase revenue in this business fivefold by 2025, to €1 billion. The current marketplace is conducive to recycling plastics: in France, the government has recently taken steps that will lead to all plastic being recycled by 2025. Similarly, China's recent decision to limit the importation of plastic waste will create opportunities for Veolia, both in China – to develop recycling in its domestic market – and in Europe for the repatriation of part of the processing industry for waste plastic previously exported to Asia.
Whether recycling plastics and batteries or precious metals in computers, Veolia's strategy is to closely explore the market for converting waste into resources and carefully position itself on the most profitable segments, where its expertise provides it with the ability to become a leader.
 
Over the past few years, Veolia has moved into a series of new businesses. Why?
A. F.: There's nothing new about this policy to extend our expertise. That's how we've always operated to expand the range of what we offer clients. Look at what we have achieved in the treatment of hazardous industrial waste. This business requires a huge command of technical expertise, which we started to acquire 40 years ago. We're now the world leader in this field. We want to try to repeat a similar pattern in fields such as facility end-of-life decommissioning, treatment of low-level radioactive waste, rare earth recycling, air quality, and so on. Our businesses are keyed into cycles that run for several decades. Today, we're sowing the seeds of businesses that will only reach maturity in 10 or 20 years. All our successes, today's and yesterday's, are the result of investment in the long term.
 
2018 will be a year of confirmation.
Confirmed growth, profitability and innovations.

What other innovations is Veolia targeting for the longer-term renewal of its businesses?
A. F.: Agriculture is probably the most original of the fields for which we're developing solutions. That may seem surprising, but this choice is actually very logical, as the sector sits at the crossroads between our three areas of excellence – water, waste and energy – and demand for agriculture is exploding. Looking ahead to 2040, one of the major challenges we will face will be how to produce enough food to feed some 9 billion people, given the growing scarcity of fertile land, water and energy.
How will we respond to this challenge?
Our current practices actually provide us with some interesting aspects to the solution. We already help the farming sector to use its resources more efficiently and boost farming yields. For example, we produce alternative fertilizers from organic waste in northwestern France and from wastewater treatment sludge in the United States; we recycle wastewater for market gardens in Abu Dhabi or in Queensland, Australia; we produce green energy for aquaculture in Hamamatsu, Japan, and to heat glasshouses in Lapouyade, France; and we're helping Danone's agribusiness facilities to reduce their environmental footprint.
However, we have no intention of stopping there. We're currently working on innovations to develop an urban agriculture business. In Brussels, we're working with the BIGH start-up to operate urban aquaponic farms. With the city at its core, Veolia provides BIGH with essential services, produces alternative resources from municipal waste and manages urban energy systems. Combining these areas of expertise to support the development of agricultural activity in cities is a natural progression for us.
Culturally, our company has always sought to integrate by increasing connections between expertise and business sectors. That has proven to be crucial in helping our clients take up the 21st century's challenges and create areas of high-value-added excellence, which will extend Veolia's growth going forward. It's the role of a global leader to shoulder the risks inherent in exploring new frontiers. We're proud to be forging the way ahead.