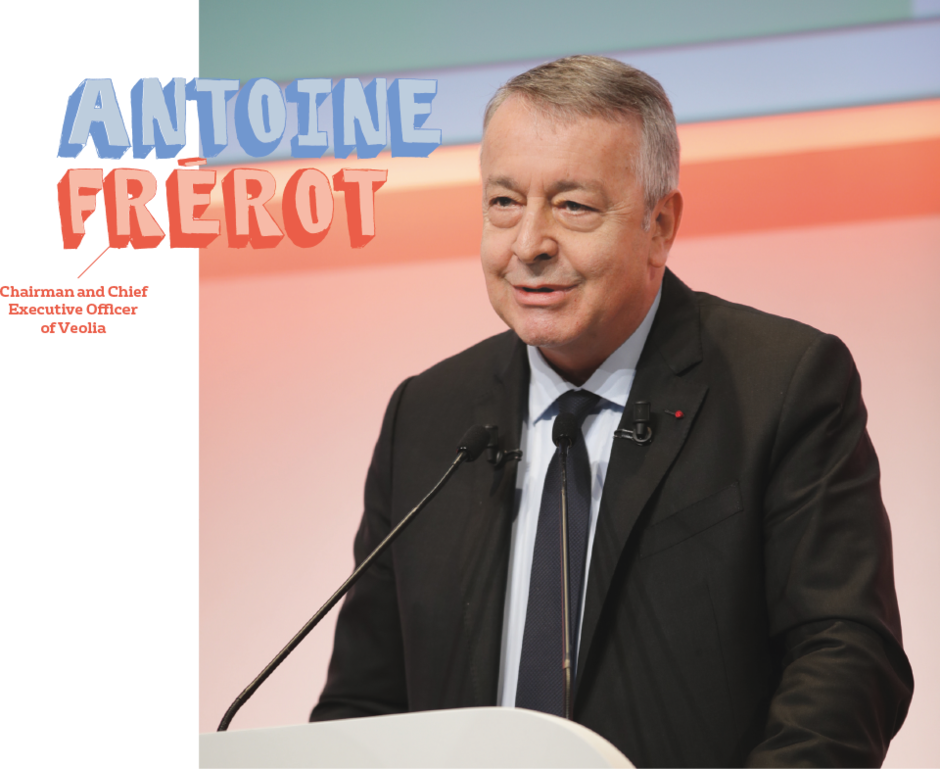 Our company is maintaining its lead because it can create expertise desperately needed for the 21st century.
What is your view of 2018, the third year of Veolia's development plan?
What stands out above all is the strong growth in our revenue. It increased 6.5% at constant exchange rates to €25.9 billion. In geographic terms, our growth was balanced between Latin America, Asia, Central Europe, Southern Europe and the United Kingdom. With regard to customers, industrial concerns accounted for 60% of our growth and municipal customers 40%. And then there are the sectors: more than one half of this growth came from new activities that we had identified as being strategic, such as the circular economy, energy efficiency, hard-to-treat pollution, management of industrial facilities at end of life, etc.
This is a very encouraging signal that we have successfully moved into these emerging markets, which will provide us with new sources of business to support Veolia's future growth.
In all our geographic regions, we achieved very fine commercial successes, which are already having or will have a positive impact on our revenue. Examples, to cite but a few, are the 18-year multi-utility contract signed with DuPont in the United States, the 25 year operation contract for the first waste-to-energy plant in Australia, or the 20-year operation contract for the Salalah desalination plant in the Sultanate of Oman.
Our excellent renewal rate for contracts nearing completion, as well as the contracts we have won in our competitors' "historical strongholds" such as management of the wastewater service in Bordeaux, France, are indicative of the quality and competitiveness of our proposals.
What conclusions do you draw from the 2018 financial statements?
Veolia's financial indicators reflect the improvement in its operational performance and its increased profitability. For example, EBITDA came to €3.4 billion, an increase of 7.3% at constant exchange rates. Cost savings totaled €302 million, which is on target with the €300 million we had set. The €675 million in current net income represented a 14.7% rise at constant exchange rates and excluding capital gains. Lastly, our net financial debt fell below the €10 billion mark as expected and is therefore under control.
2018 saw a continuation of the solid growth already seen in our results over the past few financial years. Indeed, the pace even picked up resulting in higher growth. For the past three financial years, our revenue has annually increased by 4% at constant exchange rates, EBITDA by 5% and current net income by 10%. This is proof that we are firmly set on a path of profitable and sustainable growth.
Was 2018 a year rich in innovation?
Yes, it was, and it's worth underlining that these innovations are ultimately a source of competitiveness and attractiveness.
In the final analysis, 2018 was a year of triple consolidation: growth, performance and innovation. For example, we opened the first French solar panel recycling facility. Its recovery rate exceeds 95%! Also, we developed a new generation of autonomous robots using so-called "neural network" artificial intelligence to improve waste sorting.
This is crucial, as effective waste recycling depends on the quality of the sorting. We have also signed a partnership agreement with EDF to create in Europe new, highly technical industrial streams with high value added for dismantling gas-cooled reactors and nuclear waste vitrification.
All these innovations are important because they lay the foundations for our Group's future, but they also tell us something fundamental about it. They tell us that our expertise is differentiating and that our company maintains its lead because it is able to create the expertise so desperately needed for the 21st century.
What is the 2019 outlook for Veolia?
As we exceeded our targets, our 2018 performance puts us in an excellent position to successfully conclude our 2016-2019 plan. So 2019 should be an additional year of sustained growth. As a consequence, our Group fully confirmed all the commitments made for the year: pursue revenue growth, save an additional €220 million on costs and achieve EBITDA of between €3.5 billion and €3.6 billion.
In practice, we will continue to implement – pragmatically and without haste – the dual drivers of our growth plan. The first is growth, which will be mostly organic, but will also involve a few targeted, small-scale bolt-on acquisitions; this internal and external growth will methodically build up our geographic and sector platforms and add the links that are still lacking in our value chain.
The second is our efficiency drive, based on operational performance improvement programs, stricter management of overheads and a more rigorous purchasing policy. Over the 2016-2018 period, we have achieved €802 million in cost savings. By the end of 2019, marking the end of the four years of our development plan, we will have exceeded €1 billion in savings.
What about the years beyond?
In 2020, we will begin our new strategic plan designed to act as a compass for our Group for the following four years. We began to develop it in 2018 with the participatory "Inspire" approach, which collected more than 1,600 internal contributions. In 2019, the major aspects of this plan will be detailed, costed and adjusted for each local roadmap. In addition to economic goals, this plan will include goals for our Group's organization and operation in order to improve its responsiveness, complete its digital transformation and step up synergies to capitalize better on its full growth potential.
This plan will mark the beginning of a new stage in our company's history, during which it will strengthen its positions in the most buoyant market sectors and extend its lead in environmental businesses.

How is Veolia preparing for the renewal of its business activities?
We're simultaneously looking at the short, medium and long terms. Our activities are spread over all three time frames to build additional growth relays and ensure a harmonious transition between emerging and mature activities.
Among our various activities, there are first of all those that are most developed, which I would call the "forests" to use a metaphor drawn from nature.
These are our conventional offerings, which we manage expertly and which today generate most of our revenue. We need to replicate these forests, especially in new high-growth regions with acceptable solvency.
Then, there are more recent activities that we could call the "trees". They also need to be reproduced and densified to one day become "forests".
They are, for example, energy efficiency, plastics recycling and anaerobic digestion of organic waste. Our aim is to disseminate these promising offerings in a more industrial, systematic and substantial manner.
Lastly, there is a profusion of original and emerging activities. These are the "seeds" that we are sowing and nurturing into "trees". These promising young shoots – as yet small at the scale of Veolia – are such things as microgrids, urban agriculture, air quality, and so forth. All these seeds need to be tested, carefully selected and then helped to grow. Veolia is inventing the future with them.
This year, Veolia will be defining its purpose. Why is that?
Stating the Group's purpose is tantamount to expressing the ultimate aim of its action. That is, why and how Veolia is useful to everyone who is involved in its sound operation. Our purpose derives from the mission we have given ourselves of "Resourcing the world". It will act as the goal for our strategy and all our initiatives.
It will be our collective project and shared aim to ensure that Veolia is perceived as useful, even indispensable by its customers; as prosperous and appreciative by its shareholders; and as engaged, passionate even, by its employees. And as inspirational by everyone!
What can a company like Veolia do in response to the challenges around the fight against climate change?
Concrete, tried-and-tested and complementary solutions:
energy efficiency, especially for buildings, as many of them are still energy "guzzlers";
the transition to renewable energy, such as biomass, solid recovered fuel or heat recovered from wastewater;
the circular economy, which, by converting waste into resources, drastically reduces carbon emissions;
capturing methane, which is a pollutant when released into the atmosphere but a green energy when transformed into heat.
A useful company is one that, faced with 21st century challenges, does not give up but instead does all it can to tackle them. That is our belief.
The gains to be made by the more widespread use of these solutions are huge. Take the case of lost-energy recovery. In Europe, just 1% of the by-product energy from industrial plants and cities is reused – 99% is lost.
As we operate at the heart of these issues in cities and industry, our businesses have a very promising long-term future.
This brings us back to our Group's purpose and its utility. In fact, there are few tasks that are as essential as helping overcome the major challenges facing humanity, such as climate change; water, energy and raw materials scarcity; the treatment of toxic pollution; access for everybody to essential services, to name but a few.
For the fields in which we operate, we want to take up these challenges and help our customers do likewise.
In the final analysis, isn't a useful company one that, when faced with the challenges of the 21st century, does not give up but instead does all it can to tackle them? In any case, that's what we believe at Veolia.