What with the "garbage patch" of waste plastic in the sea, production expected to quadruple by 2050, and insufficient collection and recycling systems, plastic is the source of an ecological emergency, but is also a huge market opportunity.
For Veolia, it is crucial to be a player in the transition toward the plastics circular economy, while keeping ahead of the pack to be a central driving force.

Plastics recycling industry in its infancy
Veolia is currently building up the resources it needs to create a plastics recycling industry by developing infrastructure to collect and process plastics. The Group aims to be a benchmark in this market, which is expected to undergo massive growth. It also hopes to involve all stakeholders – companies, governments, nonprofits and citizens – in a collective response to this issue.
In 2018, Veolia joined international companies in the plastics and consumer goods value chain to create the Alliance to End Plastic Waste (AEPW).
 Everyone agrees that plastic waste does not belong in our oceans or anywhere in the environment. This is a complex and serious global challenge that calls for swift action and strong leadership. This new alliance is the most comprehensive effort to date to end plastic waste in the environment.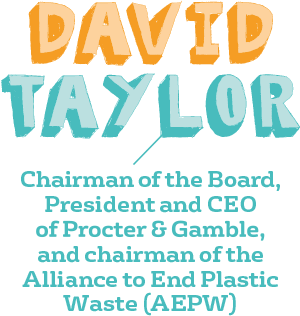 Thanks to the efforts of numerous private-sector and nonprofit stakeholders, plastics are also facing stricter regulations in several parts of the world. In 2018, the European Parliament voted a binding regulatory target of including 35% recycled plastic in bottles containing water and other beverages. At the same time, China and other Asian countries, such as Malaysia, announced they were closing their borders to plastic waste imports from other parts of the world.

A partnership approach with industry
In 2018, Unilever and Veolia signed a partnership agreement to work together on emerging technology. The aim is to create a plastics circular economy in various regions, beginning with India and Indonesia.
Under an alliance signed in 2016, Veolia is working with Danone on its climate policy, aiming to achieve zero net carbon emissions by 2050. Recycling plastics obviously plays a key role with various targets, such as the use of recycled PET (rPET) for all Evian water bottles by 2025 and a minimum of 35% in 2025 in packaging for all group brands. Veolia has in particular helped Danone shift toward new types of sustainable purchases, in particular rPET, in a bid to help achieve these targets.

New uses for food cartons…
Tetra Pak has joined forces with Veolia to enable the recycling by 2025 of all the components of waste food cartons collected in the European Union.
Most food cartons are comprised of board, plastic and sheets of aluminum. The fibers recovered from recycling can be easily converted into paper pulp and used for industrial and consumer goods, but the same is not true of the mixture of recovered polymer and aluminum (PolyAl).
Under this new partnership, PolyAl will be processed in specific facilities and converted into raw materials for use in the plastics industry. This will double the overall value of waste food cartons sent for recycling.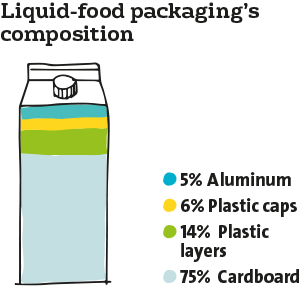 All materials from beverage cartons can be fully recycled into something new and useful. Our approach to recycling involves working with many partners along the value chain, because a chain is only as strong as its weakest link. The challenge in the EU is to achieve the economies of scale and turn PolyAl into high value secondary materials.
With this partnership, we are combining our respective areas of expertise to find sustainable solutions for PolyAl recycling.