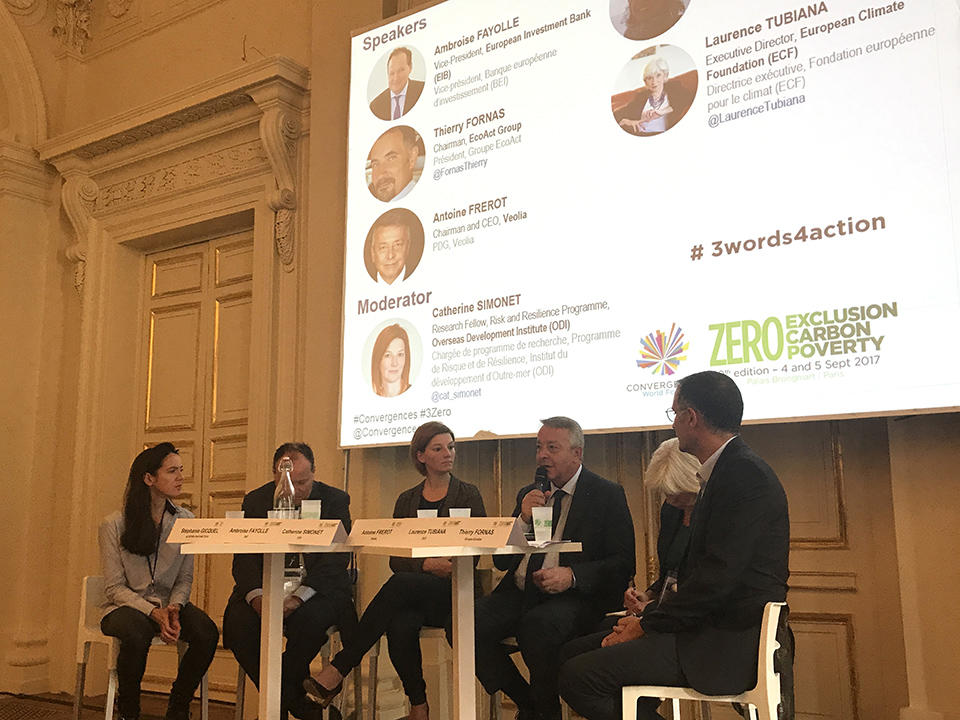 Extending the "polluter pays" principle
Since the COP21 and the Paris Climate Agreement, Veolia has promoted the introduction of a carbon tax to support the transition to a low carbon economy based on the "polluter pays" principle. 
 
"The revenues from this tax could be allocated to the development of lower emission technologies, job conversion, and combatting fuel poverty linked to rising energy prices. It would result in an effective reduction of pollution," explained Antoine Frérot.
 
Recovering methane
To achieve the -2 °C goal, Veolia promotes the transition from an economy based on the principle of "produce-consume-throw" to a circular economy which encourages the reduction of greenhouse gas emissions. 
 
For example, "Many megacities dump their waste into landfill, Veolia offers to recover the methane emitted by the waste in order to avoid greenhouse gas emissions," added Antoine Frérot.
Reminder: the global warming potential (CO2 eq) of methane is 84 times higher than that of CO2 calculated over 20 years and 28 times higher over 100 years.
 
Better quantifying the contribution of business
Businesses engaged in circular economy activities contribute to the -2 °C goal throughout their entire value chain (from design to recycling). Measuring this contribution is nevertheless complex.
 
"Veolia suggests defining the concept of avoided emissions with greater robustness in order to allow investors to finance the circular economy and the low-carbon transition with confidence", explained Antoine Frérot.
 
Concluding the opening plenary, the moderator Catherine Simonet, researcher at the British think tank Overseas Development Institute asked each speaker for a climate action motto. Antoine Frérot suggested: "Decarbonize, dehydrate, dematerialize" 
 
The 10th Convergences World Forum
This year, the Convergences Forum is focusing on 6 of the Sustainable Development Goals (SDGs): No. 5 (gender equality), No. 6 (clean water and sanitation), No. 7 (affordable and clean energy), No. 9 (innovation, industry and infrastructure), No. 12 (responsible production and consumption) and No. 17 (partnerships).
Veolia, a Forum partner, has also contributed to the preparation of the two reports published on 5 September:
"Emissions avoided. Businesses evaluate their solutions for the climate" by Enterprises for the environment (Epe)
"2017 Sustainable Solutions Barometer" by Acted
 
More