The Aube department waste authority, SDEDA, has contracted Veolia to build and operate for 25 years a new energy recovery facility for the city of Troyes and its surrounding area. The contract is worth a cumulative €240 million.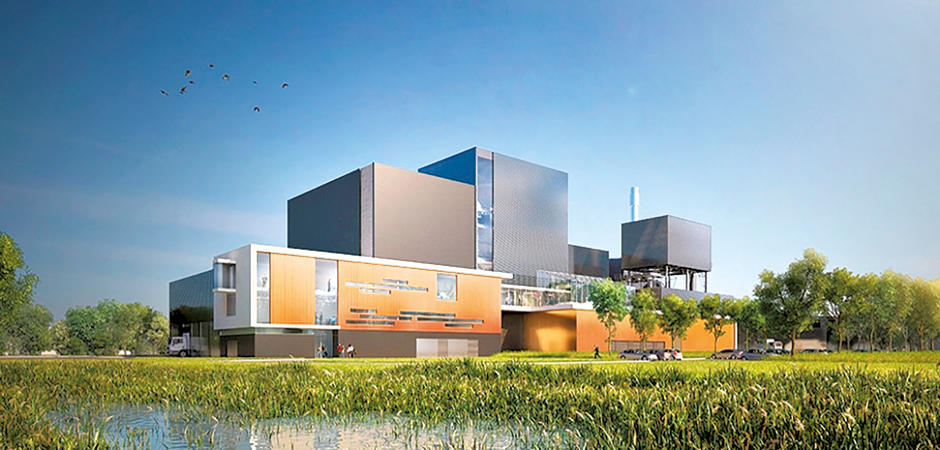 All the energy from waste
There was only one call for tenders in France in 2016 for the construction and operation of an energy recovery facility ‒ and it was awarded to Veolia.
The Valaubia project, in La Chapelle-Saint-Luc, eastern France, has a processing capacity of 60,000 metric tons a year and will produce local, sustainable energy for the residents of France's Aube department. The facility is certified ISO 50001 and meets stringent technical and environmental standards.
Equipped with an ultra-efficient treatment process (double-filtration technology and maturation unit, etc.), it will extract the full energy potential from the waste to produce 41 GWh of electricity and 60 GWh of heat.
That adds up to the equivalent electricity consumption of 50,000 people and of heating for about 8,900 people. The heat produced will be fed into the Greater Troyes district heating network and used by the neighboring Michelin plant that manufactures tires for farm machinery.
The Valaubia project falls within the remit of France's energy transition for green growth legislation, which provides for an increase of 32% in renewable energy by 2030 and a 50% reduction in the volume of waste sent to landfill by 2025. With its visitor trail for the general public and an educational hothouse, this energy recovery facility will also serve to raise the awareness of the need for waste management.
 

Contract scope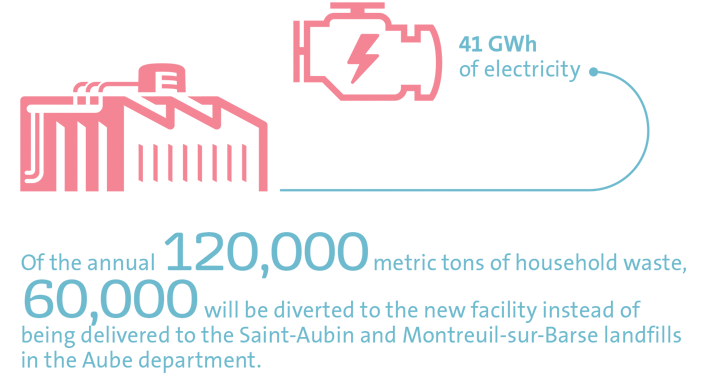 The Valaubia project
The new energy recovery facility reflects Veolia's commitment to sustainable development, in particular through the production of renewable and recovered energy. The solution ties in perfectly with France's energy transition for green growth legislation. Veolia has signed a partnership agreement with the Troyes University of Technology and its researchers to explore topics of shared interest, for example, modeling and monitoring safety systems (control, data, traceability, etc.). The ESC Troyes business school is also involved in the project through the study of bottom ash recovery solutions and the creation of an agricultural hothouse linked to the site's activity.
 
€240 M
Cumulative revenue for the construction and 20-year operation of the energy recovery facility.
20 M
Jobs created when the plant enters service around 2020.
€78 M
Initial investment to build the energy recovery facility.