In 2020, Veolia took its commitment for the planet to the next level. The aim is to go further and faster by matching its strategic vision with operational levers.
Creating value for


the planet
In 2020, Veolia renewed its support for "Act4Nature", an initiative that aims to create a strong collective dynamic for the protection of biodiversity. Reflecting its purpose, the Group established a 2020-2023 action plan. It has committed to expanding its action, in particular by deploying its various tools (Ecological management calculator, practical guide to ecological management, Green Spaces Charter, etc.), extensively at its sites and for its stakeholders. This involves implementing a biodiversity footprint tool and strengthening its action plans in seven critical countries: France, the United Kingdom, Germany, Australia, China, Poland, and the United States.
Unmatched green gas capacity in Europe
In 2020, Veolia and Waga-Energy announced the construction of a WAGABOX® at the Claye-Souilly landfill in the Greater Paris region. For a period of 15 years starting in 2022, this gas upgrading unit will recover biomethane from landfilled waste, producing 120 GWh of gas annually. This will make it the second largest project of its type in France and the largest facility for producing green gas at a non-hazardous landfill in Europe.
25,000 metrics tons
of CO2 avoided each year
20,000 households
in Greater Paris supplied with biomethane from a WAGABOX® unit starting in 2022
A second life for batteries
By 2030, the number of electric vehicles on the road worldwide is expected to increase from today's 8 million to 116 million. Currently, the components used to manufacture lithium-ion batteries are mainly imported. To promote their recycling and manufacture in France, Veolia created a circular-economy consortium in 2020 with Solvay that uses both partners' best technologies and expertise. A Veolia subsidiary, Euro Dieuze Industrie, has already developed a hydrometallurgical process for recovering precious metals from the batteries.
 

Performance recognized in several benchmark classifications  
• Inclusion in stock market indices: DJSI (Dow Jones Sustainability Index) World and Europe, FTSE4Good and Euronext Low Carbone Europe 100
• "Prime" excellence status by ISS-ESG research in December 2020, with a B rating
• An A– rating for CDP Climate Change 2020 and for CDP Water Security questionnaires
• In its role as a supplier, ranked as one of the top 3% of companies appraised by EcoVadis, an agency providing CSR assessment of the supply chain, in March 2020

Veolia's contribution is not limited to services and products supplied in the regions. Wherever the Group operates, its direct and indirect socioeconomic footprint is far greater
Creating value for


society
In 2018, Veolia commissioned Utopies to conduct a socioeconomic footprint study in France using the Local Footprint® approach(1). The study was expanded in scale in 2019 to include in the analysis 51 countries representing 98% of Veolia's revenue. In 2020, the study was repeated across this international scope. This approach is a response to heightened expectations among the regions, which want to ensure that a growing percentage of the added value created from Veolia's products and services is generated locally and therefore contributes to regional economic growth. The study provides quantified proof of the Group's local commitments that goes beyond a simple communications campaign.
(1) By reproducing in a highly realistic manner how a local economy works, Local Footprint® explains the way in which a region reacts to monetary flow, but it also identifies potential areas where the knock-on effects can be improved. (Source: Utopies 2015)
1.1 M
jobs supported worldwide by Veolia's businesses
€51 bn
in wealth created worldwide
(contribution to GDP)
30%
Veolia's direct added value
31%
of added value from household comsumption
26%
of added value from suppliers
13%
of added value through taxation
Employees
Payroll €6,192.9 M
Shareholders
Dividends €426 M
Suppliers
Purchases and other €16,658.1 M
STATES AND LOCAL AUTHORITIES
Taxes €2,302 M
Banks
Net bank charges €414.4 M
NON-PROFITS AND COMMUNITIES
Sponsorships, studies and grants €16.6 M
  

Redistribution of revenue  
Payroll, taxes, dividends paid to shareholders, purchases from local suppliers, sponsorships, etc.: the revenue generated by Veolia creates value for the regions through various redistribution mechanisms.

For Veolia, creating value above all means getting its employees onboard with the ecological transformation. It also means preparing for the future by helping upcoming generations assume their role.
Creating value for


Employees
"The employee engagement rate, one of the purpose indicators, is up 3% in 2020 at 87%."
Olivier Carlat
Director of training and Social development
 

Work-study: Keeping the most vulnerable on track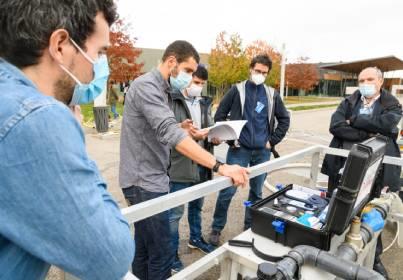 Young people were among the worst affected by the health crisis. Veolia was one of 20 leading corporations and organizations that pledged support for the "grande rentrée de l'apprentissage" (a national job dating event) in an op-ed published in late August 2020.
The Group paid particular attention at the start of the academic year last September to continuing its intake of students on work-study programs – especially the most vulnerable in terms of their curriculum or digital knowledge – in its campus network. The aim is to avoid the dropout rate seen during the first lockdown and to allow all students to continue to work on building their future career within Veolia's teams.

In a difficult context, the Veolia teams maintained, or even improved, their close ties with customers. The aim was to create lasting value for and with them.
Creating value for


Customers
To forge a closer relationship with its customers, Veolia relies on the Net Promoter Score (NPS), a method that delivers detailed information about dissatisfaction and expectations and can be used to implement short- or longer-term corrective action, if necessary. This process was initiated in 2019 by the Group's 10 main business units. Independently audited each year – like all of Veolia's multifaceted performance indicators – the campaign was further enhanced in 2020. Extended to include an additional 13 business units, its coverage now reaches 300,000 customers and 10 million consumers worldwide.
300,000 customers
included in the Net Promoter Score (NPS) process in 2020
 FOCUS: 

A Greenboard for Sanofi  
Sanofi has been one of Veolia's major customers since 2016. It all began with a call for tenders for waste management at the pharmaceutical company's French sites. At the time, they wanted to improve and simplify their complete waste management. Sanofi was looking for a provider able to manage all its waste while complying with the priorities of its environmental strategy (Planet Mobilization), based on recovering waste and significantly improving their environmental footprint.
Veolia's proposal to Sanofi was to create a "Greenboard," a set of management indicators to track and improve performance at its sites. Since then, Veolia has been entrusted with waste management at other Sanofi sites in the United States, Singapore, Mexico and elsewhere around the world, where it has likewise introduced this best practice first adopted in France. Featuring 11 KPIs aligned with the client's priorities, the Greenboard offers an easy way to report,mine and oversee data from the field, not only for contract management purposes but also to address Sanofi's HSE priorities, such as training, reporting and information.
Veolia provides very tangible support to help the pharmaceutical company achieve its environmental targets.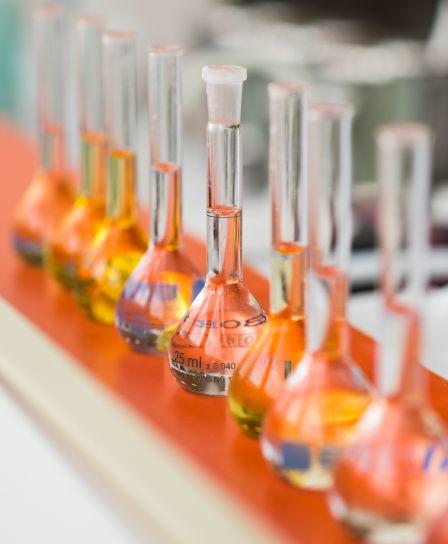 The consistency in Veolia's strategic plan, its mobilization for the ecological transformation and its multifaceted approach to performance have earned the trust of shareholders.
Creating value for


Shareholders
Connecting profit and purpose, factoring in climate risk, seeking a more sustainable form of capitalism… long-term investors are no longer satisfied today with financial return alone. They demand greater consistency from companies between their strategy and their environmental, social and governance commitments (the so-called ESG criteria). Today, CO2 emissions, employee diversity, the quality of the workplace dialogue within the company, and even transparency around executives' remuneration packages, for example, are closely examined.
Many investors, including BlackRock, State Street Global Advisors, Amundi and BNP Paribas Asset Management, are convinced that the companies that take sustainable development issues seriously will be more resilient over the longer term.
 

Growing number of employee shareholders  
Veolia has set itself the target of involving an ever-greater number of employees in its growth. Its employee share ownership plans meet with growing success each year. 51,000 employees from 31 countries subscribed to the Sequoia 2020 share plan, 22% more than in 2019. As of December 31, 2020, 4.06%(1) of the equity was owned by employees(2) , which will mean the appointment in 2022 of an employee representative director to the Board of Directors(3). Collectively, Veolia employees are their company's third largest shareholder.
51,000
employees subscribed
to the SEQUOIA 2020
(1) Direct and indirect shareholders, including via financial investment vehicles.
(2) Including former employees and retirees.
(3) French law requires the presence of a director representing the employee shareholders in all "SA" and "SCA" companies when the employees own at least 3% of the share capital.

Excerpt from the Integrated Report 2020-2021, click to read:
Discover also in the 2020 - 2021 Integrated Report: