From Ivory Coast to Brazil to Australia, we take a look at pioneering actions that have already proved their worth.
Issue at stake
Improve waste processing to strip out sources of pollution that may be a hazard to human health and the environment.
Objective
Act for energy transition around the world.
Veolia solution
Multiply solutions for transforming waste into clean energy.
65 to 70%Methane content of landfill biogas.
20,093 metric tonsVolume of methane emissions avoided per year in Brazil (i.e., more than 562,000 metric tons CO2) by capturing biogas at Veolia's waste-to-energy centers.
18 M metric tonsVolume of waste in the Akouédo landfill before it was closed.
75% Percentage of Australian voters in New South Wales who consider waste management issues to be a concern (Veolia survey in Australia, 2022).
Akouédo lies a dozen or so kilometers east of Abidjan, the Ivory Coast capital. In 2018, the national government decided to close the 90-hectare landfill site that had been operating here for the past 43 years. The number of people living nearby had quadrupled over the years, meaning the once-isolated site had become part of a peri-urban zone with housing worryingly close to stored industrial, household and medical waste.
PFO Africa, the country's leading civil engineering company, was tasked with rehabilitating the site and it turned to Veolia for specialist expertise. "A parallel economy had grown up around the site. Rag-pickers, often just kids, would rummage through the waste with all the risks that brings," recalls Philippe Bourdeaux, Veolia Senior Vice President Africa / Middle East Zone.
He goes on to explain how Akouédo, where 1 million metric tons of waste used to be dumped every year, "is a perfect illustration of the lack of infrastructure on the African continent for providing sustainable management of waste streams that are growing in volume very quickly, driven by massive urban growth."
FROM LANDFILL SITE TO A PLACE FULL OF LIFE THAT ALSO PRODUCES BIOGAS
After several studies raised the alarm about health risks to local people and ecosystems, including pollution of groundwater and the neighboring Ebrié lagoon, the decision was taken 4 years ago to carry out a major rehabilitation of the Akouédo site. Addressing the issue of water infiltration was the first task to tackle, before work started on the future urban park with its modular installations and walking trails. The goal is to prevent groundwater becoming contaminated by leachate when rainwater comes into contact with buried waste.
"Back in 2018, as soon as the landfill site closed, our teams moved quickly to begin work on a project that in many ways symbolizes the country's ecological transition," recalls Philippe Bourdeaux.
Initially, their role was to support PFO Africa during the installation of a layer of semi-permeable material on top of the waste mountain, followed by a geotextile membrane, topped off with a layer of soil. They then turned their attention to scaling and building installations to recover and treat leachate, and to recover biogas extracted via a waste fermentation process. With 80,000 cubic meters of leachate treated every year, the site will be capable of generating no less than 2 MWh of electricity from biogas. This means that the Akouédo site will avoid the emission of 76,000 metric tons of CO2 every year. Interest in the project format, and growing awareness of the importance of these issues, have led to further examples in Africa, with Veolia currently looking into the rehabilitation of landfill sites in Morocco and South Africa.
"The rehabilitation of the Akouédo site is a project that in many ways symbolizes the Ivory Coast's ecological transition."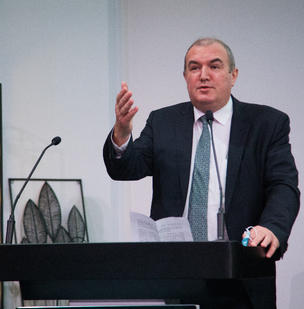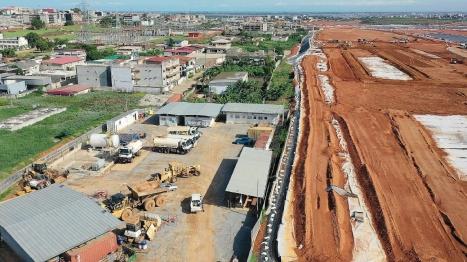 THE POTENTIAL OFFERED BY ORGANIC WASTE
The specifics may differ in other continents, but the concerns and risks are the same. Covering 8.5 million square kilometers and with a population of 214 million, Brazil generates 80 million metric tons of waste every year. Half of all this waste ends up in one of the 3,000 uncontrolled illegal landfill sites dotted across the southern hemisphere's largest country. This ecological crisis is something that Veolia's employees are constantly facing and fighting against. Their most recent response, in 2021, involves three new electricity plants in Iperó, Biguaçu and São Paulo.
"Together, these plants will generate 12,400 kW of renewable electricity using biogas produced from organic waste in landfill sites, which accounts for a very high percentage of waste in Brazil," says Gustavo Migues, CEO of Latin America Zone at Veolia. This is enough to supply power to a town with a population of around 42,000.
Further south, the 2021 partnership with agrifood company Camil Alimentos offers another illustration of this ability to deliver innovative solutions. "Working at their site, we will manage, operate and maintain a cogeneration plant that will use 95,000 metric tons of rice husks per year to fire boilers that generate electricity and steam."
Gustavo Migues is certain that Camil Alimentos' model for energy independence could also work in other industries or with other types of waste, such as sugar cane bagasse. Opportunities like this will require considerable research and development efforts.
"The plants in Iperó, Biguaçu and São Paulo will generate 12,400 kW of renewable electricity using biogas produced from organic waste in landfill sites, which accounts for a very high percentage of waste in Brazil."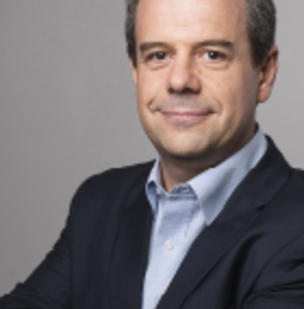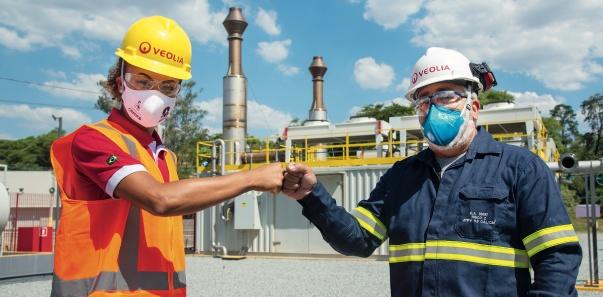 A TURNING POINT FOR AUSTRALIA
Australia relies on coal for its energy, for reasons that are as much historical as natural, but the country now stands at a crossroads. "Leaving aside the fact that many coal mines are reaching the end of their life cycles, we are also seeing widespread opposition to any plans for new mining. Recent elections also highlighted the fact that most Australians understand the need to pivot toward renewables and a broader-based energy mix," notes Richard Kirkman, CEO of Australia and New Zealand Zone at Veolia.
This new-found realism has been quickly reflected at the highest levels of government, with a proposal presented to parliament in July 2022 to give legal force to the country's greenhouse gas targets: a 43% fall on 2005 emission levels by 2030, and zero net by 2050. "We are ideally placed to play a central role in the national conversation and to support this shift," says Richard Kirkman, who also points out that Veolia is currently developing the country's first energy recovery facilities. Biomethane may well occupy an important place in the Australian energy mix of tomorrow, alongside carbon capture and hydrogen reforming. And although he predicts it will take a dozen years or more before fossil fuels' share of local energy production shrinks to tiny levels, he also believes that considerably ramping up use of renewable energy sources will take just three to five years, with Veolia again at the forefront.
What are LIPOR's innovation targets in terms of managing municipal waste in Greater Porto?
José Manuel Ribeiro: LIPOR will cease to be a waste manager in the near future, shifting to providing products and services aligned with the circular economy concept. The areas we will focus on? Agriculture, slag recovery from our waste-to-energy center, the recovery and reuse of polymers. This is why we have set up a dedicated department that aims to strengthen our vision of a changing model, and why we make such strenuous efforts to promote innovations within our organization.
This is the same expertise that will soon be showcased at your own energy recovery facility.
J.M.R.: True. It is the expertise gained over 22 years as manager and operator that today paves the way to installing a third line at our plant. The idea behind this innovative concept is to capture CO2 and combine it with hydrogen to, ultimately, produce a synthetic green fuel to help the aviation industry become more sustainable.
And what about the furnace slag you mentioned?
J.M.R.: This will be used as a secondary raw material to produce construction materials. Here again, we are counting on Veolia, our partner for nearly 25 years, to continue to give us the confidence we need to carry out our mission successfully.
*LIPOR is the organization in charge of managing, recovering and processing around 500,000 metric tons of urban waste every year produced by the 1 million residents of the Greater Porto region in Portugal.
Become an energy supplier by leveraging sites we already own
Anne Le Guennec, CEO of France Waste Recycling & Recovery Solutions at Veolia
We are determined to leverage land we already own, some 500 hectares, to massively develop production of renewable energy, supported by local authorities. Our goal is clear: ratchet up the number of photovoltaic farms so that by 2025 there are 10 times more than just the 23,000 modules currently installed at Grand'Landes, a former landfill site, that generate 7,000 MW and avoid emission of 3,618 metric tons of C02 each year. In future we want to be able to either use what we produce ourselves, or feed it into the grid for a client. It is precisely this dual role, as producer or supplier, that our teams on the ground are actively developing across France. This involves acquiring new skills but is a challenge we can meet! Inside the business there is a real desire to decarbonize our activities, and in the years ahead may well see the worldwide rollout of solutions first adopted in France.