The selection and the jury: Of the 130 candidates, 50 were selected from 46 schools; 19 of these were then asked to present their work; 14 students were from France, and the 5 others came from Belgium, Burkina Faso, Italy, Portugal and Togo. 
3 juries of professionals evaluated the 19 submissions on the basis of 4 criteria: the realism and feasibility of the proposed solutions; the innovative nature of the approach presented by the candidate; the quality of the presentation and document submitted, the reflection and reasoning; the link with Veolia's businesses. 
The 6 winners were selected in 3 categories: Performance, Industries and Cities: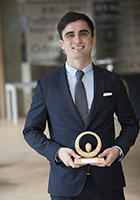 ●    Ricardo MALABARBA, from the Milan Polytechnic (Politecnico di Milano) - Performance / Internal category (working with Siram, a Veolia subsidiary)
Subject: Predictive control and optimization of complex tri-generation plants.
Open source software based on deep learning saves 25% of primary energy. It uses artificial neural networks and historical data from the tri-generation plant, which simultaneously produces 3 energies: heat, electricity and cooling. A pilot project on the power plant of a hospital complex in north eastern Italy will validate the software.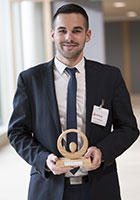 ●    Manuel CHATAIN, from ISARA-Lyon, France - Performance / External category
Subject: CSR (Corporate Social Responsibility) approach and collaborative governance in a "liberated company".  
The Ardèche agri-food SME Terre Adélice involved its employees in implementing a CSR approach. It covers: governance, working relations and conditions, the environment, customer information, involvement in local life, stakeholder awareness and collective intelligence. Result: the company has received the Bioentreprisedurable label.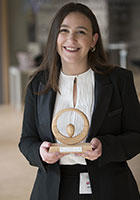 ●    Mélina NICOLAS, from Mines ParisTech – PSL Université Paris, France - Industries / Internal category (working in Veolia's Research and Innovation department)
Subject: Industrial energy digital transformation audit. 
To improve the energy performance of industrial sites, Energy Conservation Measure (ECM) audit models integrated into a Modelica platform carry out reliable energy audits to reduce the consumption of water and the electricity and gas used in industrial processes. When applied to a biomass boiler, this tool performs a reliable audit to improve its energy performance.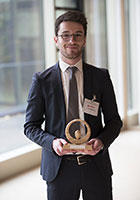 ●    Jules RYCKEBOER, from ESTP Paris, France - Industries / External category
Subject: Viliaprint® project for Groupe Action Logement in Reims
This project redefines an urban area in Reims building five housing units using 3D concrete printing: an XtreeE print head and an ABB arm produce prototypes; formwork steps are eliminated. This collaborative project is part of a circular economy approach.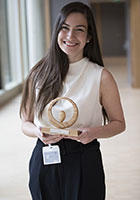 ●    Marianne del Valle SUAREZ HERMIDAS, from New Lisbon University (Universidade Nova de Lisboa), Portugal, who conducted her project in collaboration with the University of Montpellier (France) and the University of Chemistry and Technology in Prague (Czech Republic)
- Cities / Internal (working in the technical and performance department). 
Subject: Treating highly coloured surface water by ultrafiltration (UF) and nanofiltration (NF) in a context of climate change. 
In conventional wastewater treatment plants, when 50% of the raw water comes from surface water, the removal of colour requires more coagulant, which doubles the amount of sludge. 95% recovery by nanofiltration, combined with 87% ultrafiltration eliminates colour and reduces sludge.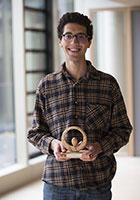 ●    Mohamed BAHLALI, from Mines ParisTech, France – Cities / External category
Subject: Modelling the atmospheric dispersion of pollutants in urban areas.
To combat the increasingly frequent peaks in pollution, cities can monitor air quality in real time by modelling the dispersion of pollutants in the atmosphere. 
A model, using Runge-Kutta-Legend's numerical methods, was developed for the business district of Milan (Italy), on an area of 81 ha and an altitude of 500 m. 
The Industry jury president 
Philippe Buchert, Sales Director in the Veolia Industries Global Solutions & Environmental Maintenance Industry & Building, explains: 
"The students demonstrate their motivation and open-mindedness by entering this competition. The quality and diversity of their work has taught me a lot technically. And given that at Veolia women and men are the Group's main assets, our openness to schools is crucial in attracting tomorrow's talents. It is always a great opportunity for these future graduates to better understand the scope of the opportunities available to them within the Group."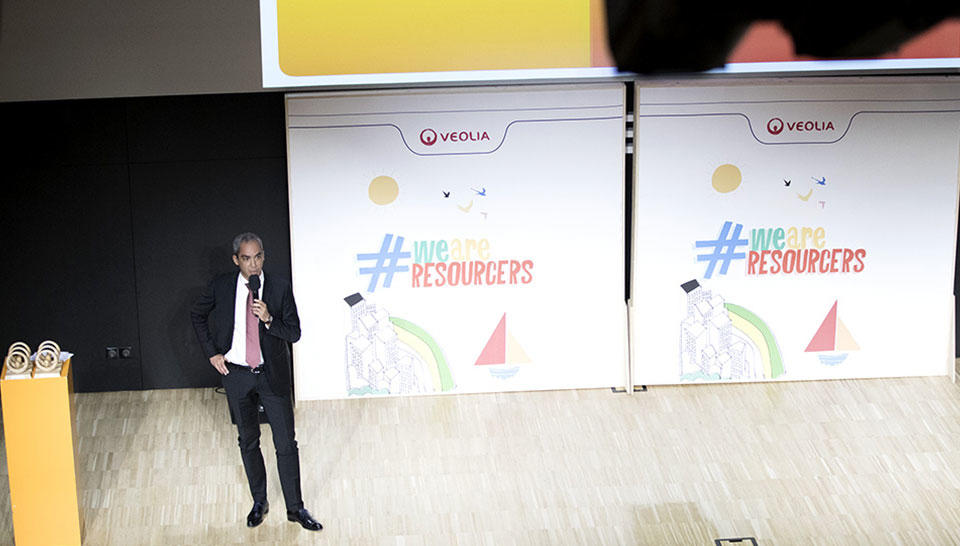 Nicolas Lecuy opens the ceremony of the 2019 Performance Awards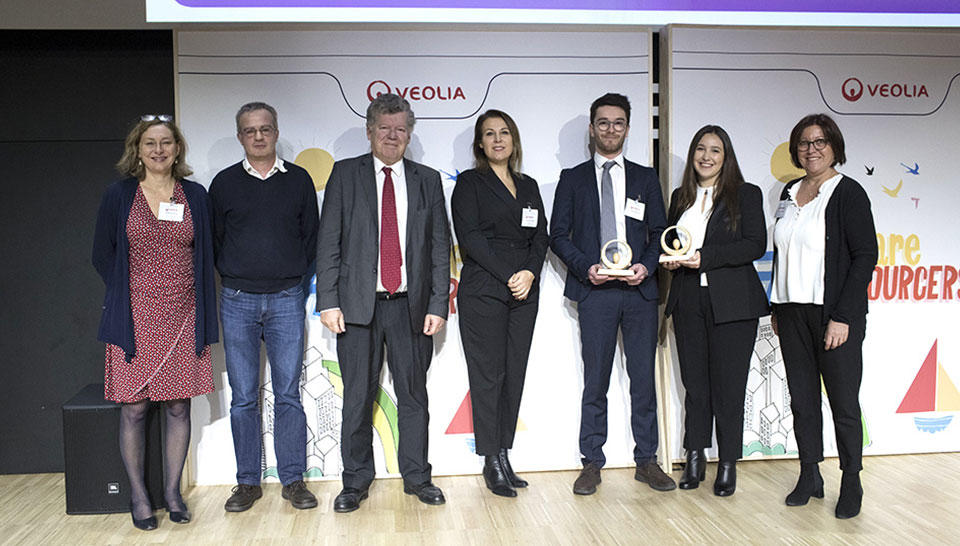 The Industries Award given by Jean-Marie Lambert:
laureates, school representatives and tutors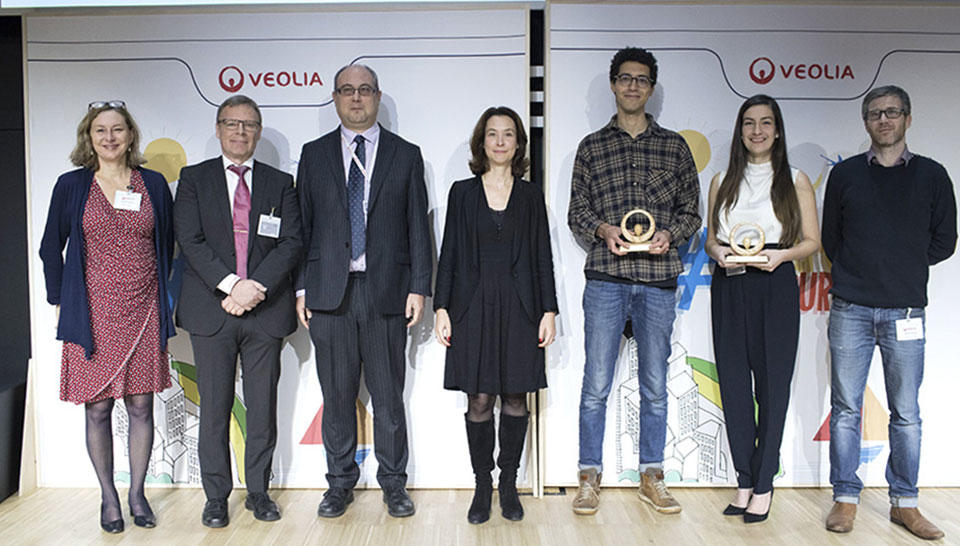 The Cities Award given by Estelle Brachlianoff :
laureates, school representatives and tutors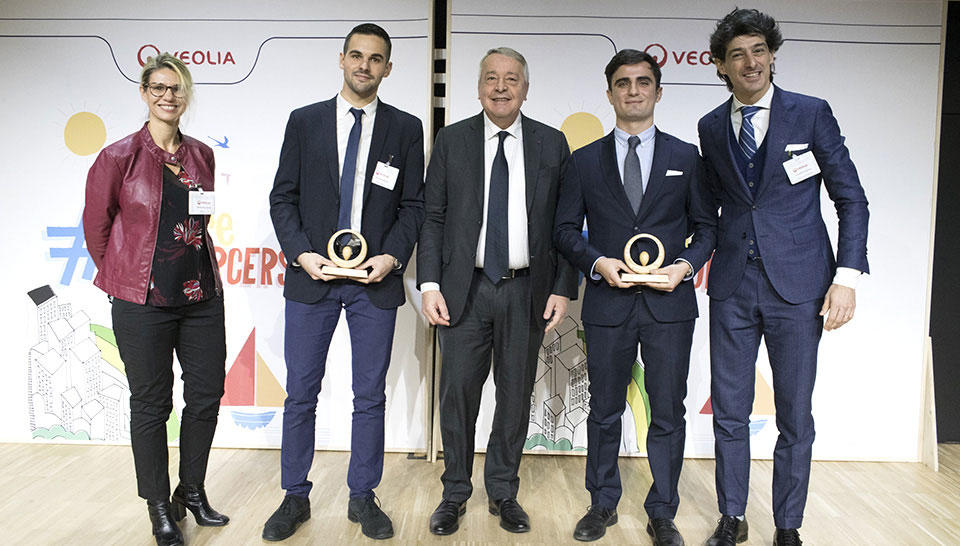 The Performance Award given by Antoine Frérot :
laureates, school representatives and tutors
The 6 winners receive a trip to Hong Kong and a grant. They will discover the Group's teams and facilities there. €4000 is paid to their school. In conjunction with Pur Projet, the CO2 emissions resulting from the winners' flights are offset through a reforestation program in Peru by producers of the Oro Verde cooperative which plants trees in coffee plantations.
---
More:
Veolia Performance Trophies 2018: six winning students