The 20th edition of the Rencontres Economiques d'Aix-en-Provence took place in digital format in Paris. Named "Aix en Seine" for the occasion, which ran from 3 to 5 July, the event brought together 300 experts in 50 sessions revolving around three challenges: creating the conditions for a dynamic and supportive society, building a post-health crisis recovery plan, and renewing European and international relations. The Chairman and CEO of Veolia, Antoine Frérot, spoke on Saturday 4 July, alongside Ilham Kadri, President of Solvay, and Valérie Masson-Delmotte, Vice-President of the IPCC, on the theme of "the ecological transition, a driver for innovation". In order to achieve the objectives of the Paris Agreement - +1.5° to +2°C in 2100 or cutting CO2 emissions by a factor of four by 2050 - the ecological transition must drive innovation.
Social and institutional innovations will speed up the ecological transition
In Antoine Frérot's opinion, crises, be they ecological or health-related, always encourage and speed up innovation: necessity defeats the norm or the accepted wisdom and forces new solutions. For example, Veolia was created 170 years ago to bring clean water to people in the wake of the cholera epidemic that ravaged cities and had its source in unsafe water: a time when Pasteur said "we drink 90% of our diseases". Similarly, 40 years ago there were only three species of fish left in the Seine, whereas today there are 30: when you look for solutions, you will find them.
"We are already familiar with all sorts of technical ecological transition related solutions. What's missing is our ability to mainstream them. And to do it, we need social and institutional innovations. To tackle greenhouse gas (GHG) emissions, we need to adopt the same logic that was used for water 50 years ago. We need to make it more expensive to produce and pollute than it is to produce cleanly.
And we need to give pollution a cost through an emissions charge that will help and partially subsidize those who clean up pollution,», said the CEO.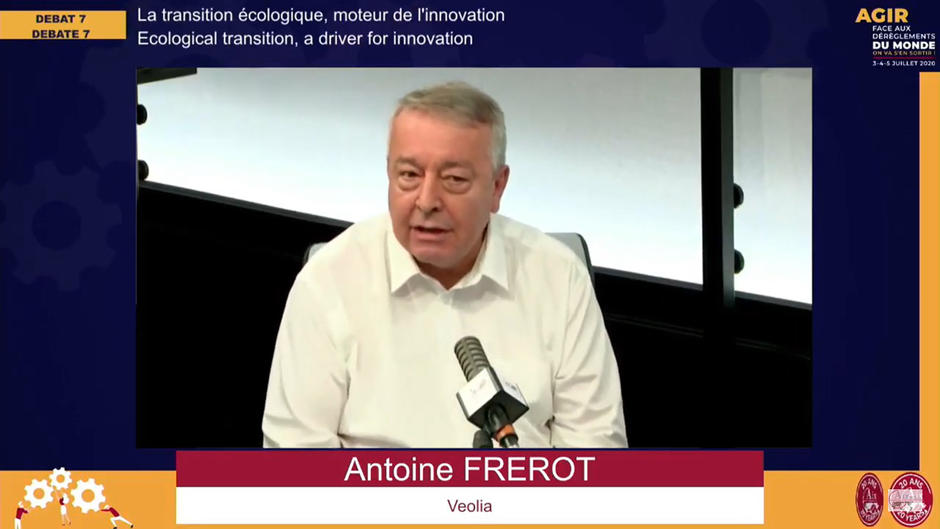 The levy, rolled out across Europe, would need to be complemented by a border carbon tax to provide an incentive for non-European producers to create less pollution if they want to access the market. Using the proceeds of the levy to help clean up, would reduce the additional costs of remediation and speed up the environmental transition.
Locally-based new recycling activities will contribute to the ecological transition
To deploy ecological transition technologies, the 'new mines' of this revolution are local: our waste. Any recycling activities that give a second life to raw materials, extracted in other countries and used locally, emit far less greenhouse gas than processing imported virgin raw materials does.
Producing a recycled plastic water bottle emits 70% less CO2 than producing a bottle from virgin plastic. The proportion saved is even higher with metals and glass. Veolia is planning to build a battery recycling plant with Solvay, where Veolia will recycle the metals and Solvay will manufacture new batteries.
    Locally disposing of used batteries, which will be a resource to be recycled, will become an economic advantage that France did not have in traditional industries. It is not a question of redoing what others are doing better than us elsewhere: we should not relocate, but rather locate new recycling activities that will contribute to the ecological transition», Antoine Frérot concluded.