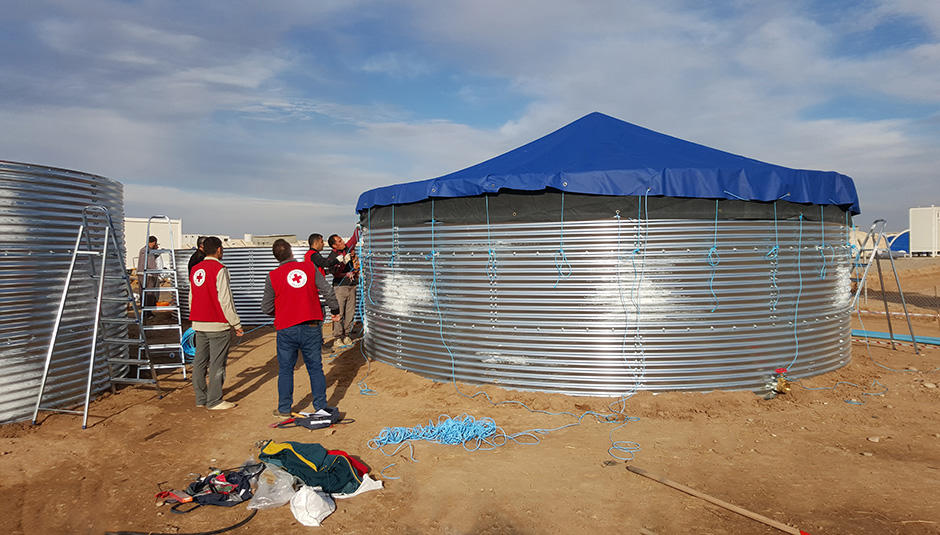 In northern Iraq, large numbers of displaced people and tens of thousands of inhabitants have been deprived of drinking water following the fighting that took place to free the city of Mosul. On the spot since last December, the Veolia Foundation helps
p
rovide drinking water in a refugee camp
near the city. In April, alongside the French
Red Cross
, one Foundation employee and one volunteer
trained around fifteen Iraqi Red Crescent volunteers
in the installation, operation and maintenance of Aquaforce 5000 mobile units; These water treatment units are able to provide 20 litres of drinking water per person per day for 5,000 people.   
Training for Veoliaforce emergency humanitarian operations
At the same time in Manosque (in the South of France), the Foundation trained French Red Cross emergency response team members to use the Aquaforce mobile water treatment units.
And in June in Le Mans, in western France, 25 volunteer Veolia employees took part in a 4 day course to train for Veoliaforce emergency humanitarian operations. Plant operators, operations officers, business engineers, QSE managers, automation, and project managers attended presentations by operational partners such as the French Red Cross and Médecins sans Frontières. They learned how to assemble and operate Aquaforce mobile units.
 
Putting your skills to work for others
Today, Veoliaforce includes 500 Veolia volunteer employees ready to work in emergency situations following disasters. They act during their work time. The Foundation covers the logistics and travel costs. To date 150 skills missions have been conducted.
More:
> The Veolia Foundation and humanitarian emergencies
> The Veolia Foundation supplies drinking water in a refugee camp in Mosul in Iraq
> Hurricane Matthew: the Veolia Foundation in Haiti (1 December 2016)