A better understanding of progress in artificial intelligence
Thanks to machine learning performances combined with the availability of data and computing speeds artificial intelligence (AI) is progressing rapidly.
But Nicolas Miailhe explains that "experts disagree when it comes to its socio-economic impact: on one hand, we see an improvement in quality of life and new jobs are created, which are arguments for speeding up its development; but on the other hand, unemployment, invasion of privacy, discrimination and the loss of control by public authorities call for caution. The productivity gains that depend on the development and widespread use of AI technologies therefore need to be better understood by society, and subject to better governance."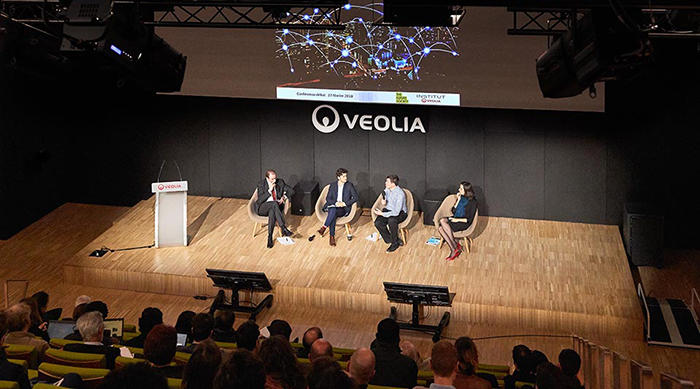 Developing an "urban master plan for data" with all stakeholders
Cities across the world are turning their infrastructure into multifunctional information platforms. Between the speed of digitization and machine learning, cities are brought face to face with an information privatization in public spaces that impacts lifestyles.
 
Claire Falzone explains: "Gradually we see the coexistence of two data ecosystems on a city scale: on one hand collaborative social and solidarity economy platforms, designed to encourage exchanges between the citizens, do not exploit the data collected; and on the other hand private platforms offer new urban services in exchange for the use of the data they collect, which is monetized mainly through advertising. This development, mostly noticeable in large cities, is not inconsequential. As a "society" the city represents an important social infrastructure: to ensure artificial intelligence is properly translated into better community living for its inhabitants, political choices will have to be made about digital infrastructure. For example if big cities were to adopt a Big Data strategy or a data master plan, they would then want to ensure the data is available to all their stakeholders, citizens, departments, public service concession holders, associations, and private partners."
Balancing the use of data from public and private spheres
In order to personalize services while also respecting the right to privacy, cities must create models that protect individuals and their freedom.
 
According to Julien Hendrickx, "the accuracy of AI machine learning models will depend on access to ever larger datasets. So the "de-identification" we have until now used to balance the use of data with privacy is not compatible with Big Data. To develop AI, we have to invent privacy protection technologies that make the data available both securely and transparently."
Veolia and artificial intelligence
The entity Nova Veolia develops new digital expertise together with start-ups. Veolia Research and Innovation has launched an AI program in partnership with CEA Tech. Open innovation is managed by the Group's Technical and Performance Department - added to which forward-looking reflection by the Veolia Institute helps provide a better understanding of the expectations of partners and customers.
In reality, 6 million connected sensors in France already collect useful information for optimizing water quantity and quality, detecting leaks and maintaining networks. Hypervision centres coordinate the work to ensure the comfort of users.
Veolia also makes a virtual "social and budget coach" available to consumers to help them manage their water bills more effectively.
On a global scale, the Group has created around twenty Hubgrade control centres, which analyse and remotely control energy consumption.
Lastly, in partnership with the Ashoka social entrepreneurship network, Veolia has deployed 5 social incubators (9 new this year) across the world that invent inclusive services for vulnerable people and train unqualified young people in coding data from urban services.
More : 
> The Veolia Institute website
> The special Facts Reports issue on "Artificial Intelligence and Robotics in the city"
> The previous Veolia Institute conference on "smart cities at the crossroads" (19 December 2017)