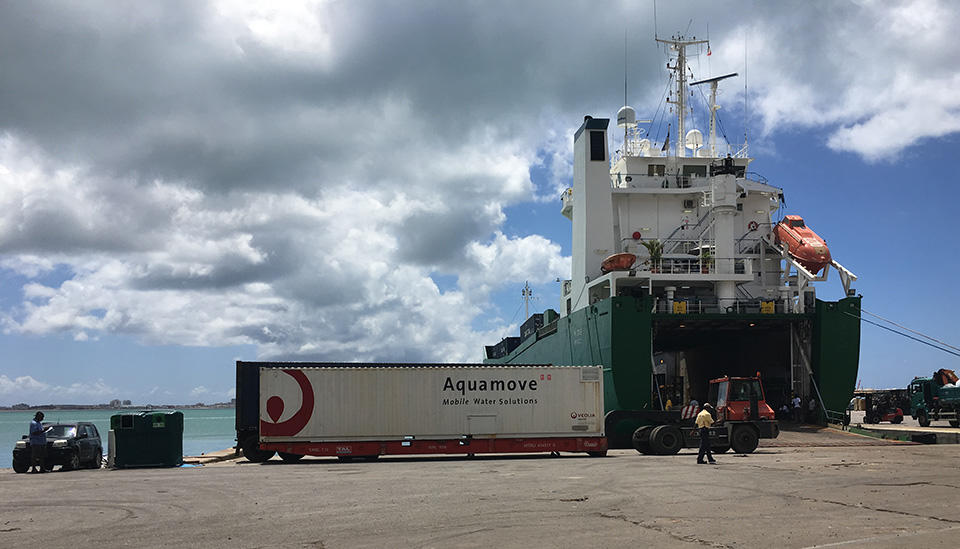 The damage inflicted by Hurricane Irma on the Saint-Martin desalination plant was considerable. The tireless mobilization of the Veolia and Veolia Foundation teams for over 2 weeks has now made the recommissioning of the installation possible. This first step already means the population has a supply of "sanitary" quality water to meet hygiene needs.  
The increase in production at the plant will go hand in hand with the commissioning of Veolia's mobile desalination unit which arrived by plane from Madrid last week.
In order to meet essential needs over the last few weeks, provisional emergency solutions have been put in place by the French Red Cross and the authorities with Veolia's support. In addition, the water supply to the hospital was able to be restored as early as 12 September using water supplies stored in anticipation of the hurricane.  
A complete return to normal water production and distribution on the island will probably take several weeks or even months in some areas. Veolia Group and
Veolia Foundation
employees are continuing to mobilize in collaboration with the government departments, the local authority and other local operators, such as EDF.  
More:
> Press release: Paris, september 25, 2017. Water production and distribution are gradually being restored following hurricane IRMA
> Veolia teams mobilized to supply drinking water to hurricane victims on Saint-Martin and Saint Barthélémy
> Veolia mobilizes following hurricane Irma