Issue
---
Namibia is the driest country in southern Africa. Average rainfall is 250 mm per year and only 1 % of rainwater infiltrates the soil as 83 % evaporates due to the heat. However, groundwater meets about 40 % of the country's water needs, which explains why water use in the capital Windhoek is strongly controlled.
The customer's objectives
• Increase Windhoek's drinking water supply through direct reuse of wastewater.
• Secure the capital's drinking water supply by reducing water stress due to climate change in the region.
• Ensure compliance with the most stringent water quality guidelines applied internationally.
• Benefit from additional environmental benefits: conservation of streams, wetlands, and ponds; reduction of fertiliser use in agriculture in favour of treated, nutrient-rich wastewater for greater safety food.
Veolia's solution
---
Produce drinking water for the city directly from domestic wastewater which is a solution that covers about 35 % of the needs of the city and its suburbs and also addresses chronic water shortages in the region.
Through the joint venture WINGOC (Windhoek Goreangab Operating Company) created for the contract signed with the Windhoek municipality, Veolia (67 %) and its partner VATech Wabag (33 %) operates and maintains the new Goreangab wastewater recycling plant for twenty years. Created in 1968 and upgraded in 2002, this is the oldest and largest plant in the world. 
Innovation
Several innovative technologies were installed when the Goreangab plant was upgraded in 2002:
• a biological filtration and granular activated carbon filtration;
• a multi-barrier process to remove four main elements of wastewater (physical and organoleptic elements, macro-elements, microbiological and disinfection by-products).
+ de 400 000
people supplied with drinking water
21 000 m3
daily production
1st case
at this scale of direct use as drinking water
Technologies
• In order for it to be recycled, the water from the Goreangab reservoir and the Gammans wastewater treatment plant goes through an extremely complex treatment process which is a world reference in the field.
• The approach used is multi-barrier, a state-of-the-art system consisting of ten treatment steps to remove all pollutants and contaminants: oxidation and pre-ozonation, powdered activated carbon dosing, coagulation and flocculation, dissolved air flotation, dual media filtration, main ozonation, biological activated carbon filtration, granular activated carbon filtration, ultrafiltration, disinfection and stabilisation.
These various treatments, coupled with rigorous biomonitoring programmes, ensure high-quality pathogen-free drinking water with emphasis on Cryptosporidium and Giardia removal.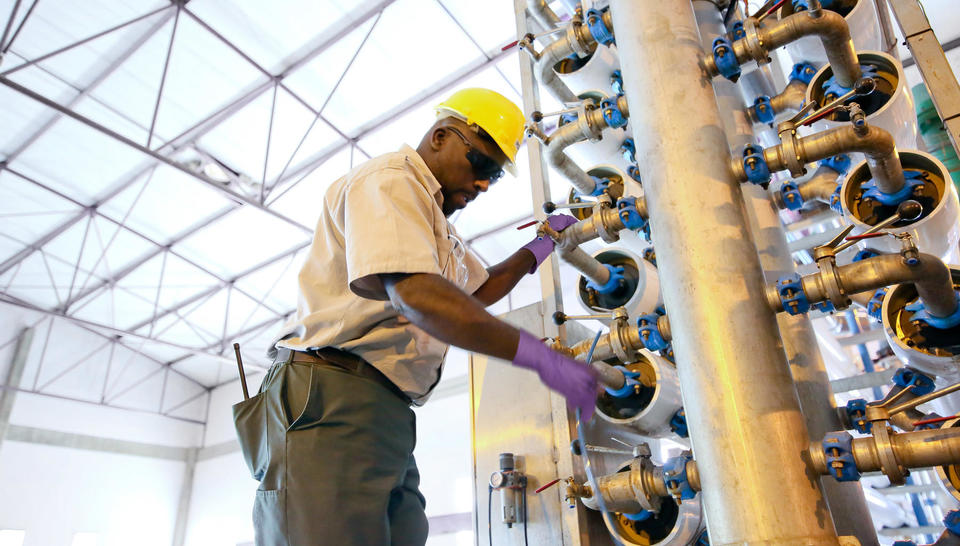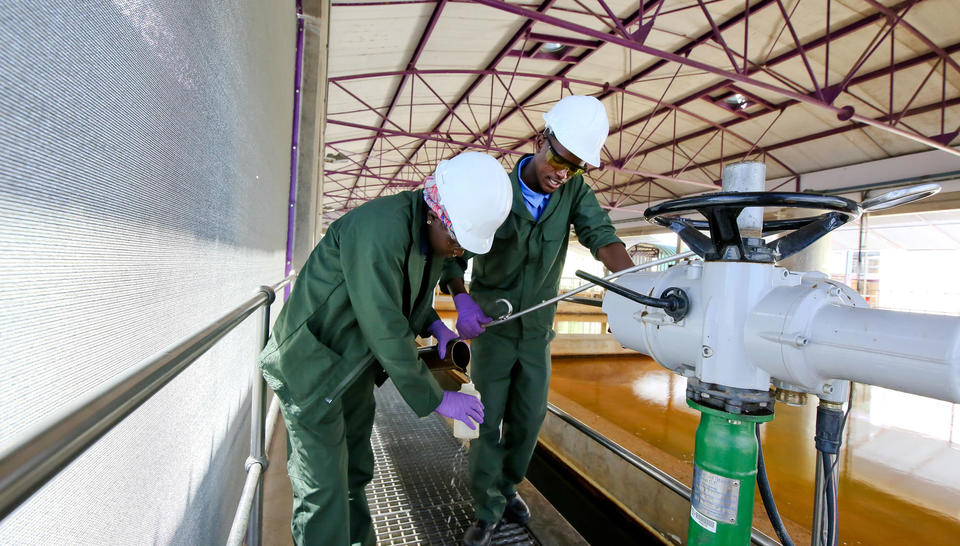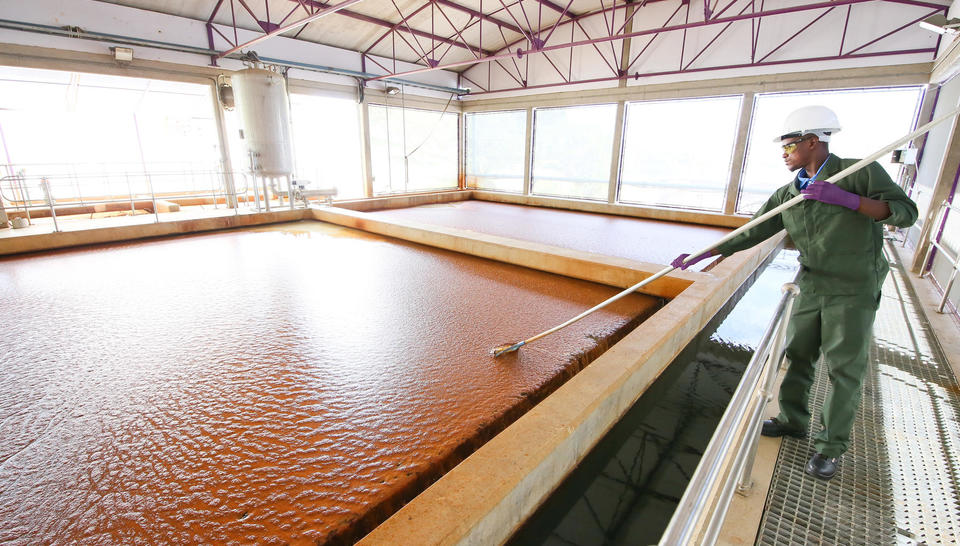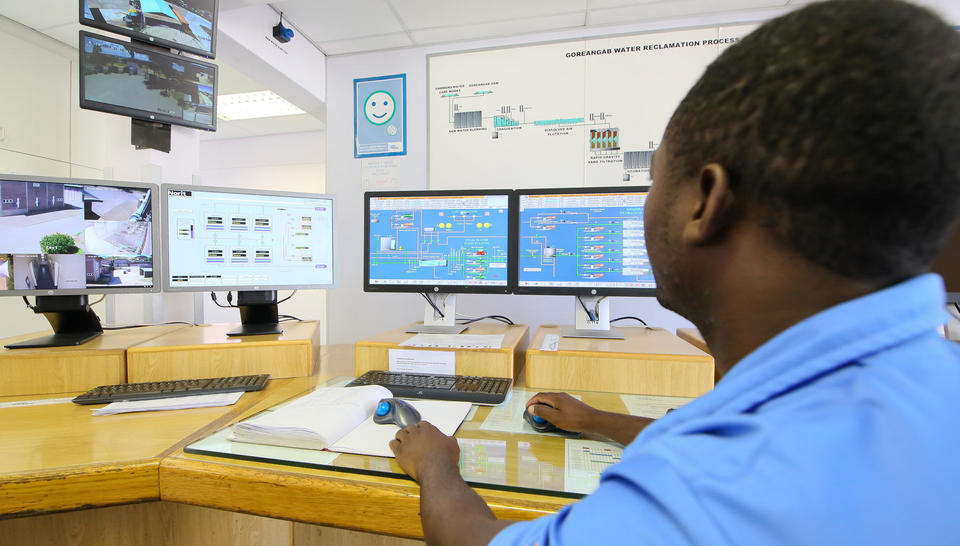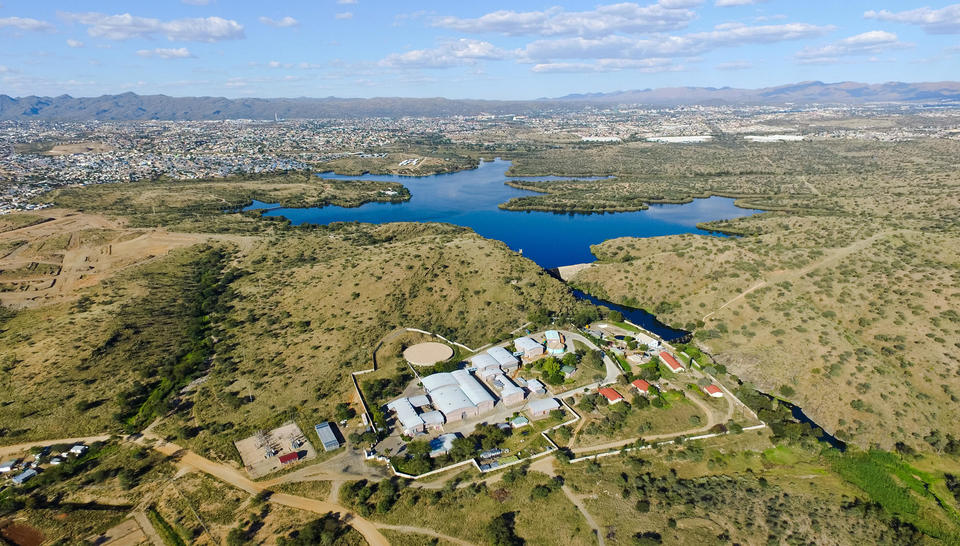 Customer benefits
---
Self-sufficiency in high-quality drinking water
• Water reuse is a response to water shortages that threaten the arid regions of southern Africa.
• The creation of a wastewater system meets the public health concerns of many African cities experiencing rapid urbanisation (+6 %/year).
Wastewater recovery
The case of Namibia demonstrates that wastewater should no longer be considered as waste but as a valuable resource. 
Contract scope
Site: Windhoek, Namibia
Population: 300 000 (Windhoek and suburbs)
Facilities: 1 wastewater-to-drinking water recycling plant
Contract term
• 1968 creation of the first wastewater treatment plant 
• Contract signed and WINGOC consortium created in 2001 
• New Goreangab plant commissioned in 2002 for twenty years
Business sector
Municipal
---
Expertise
• Design of one of the very few wastewater-to-drinking water recycling plants
• Development of advanced technologies
• Constant monitoring of water quality
Planet
• The Goreangab plant contributes to achieving United Nations Sustainable Development Goal 3: it provides the population with quality water in sufficient quantity to maintain good health and reduce the risk of spreading water-borne diseases.
• The plant also meets SDG 6: it guarantees clean water and an adequate wastewater system for Windhoek's population.
• It also contributes to Goals 11 and 12: make cities sustainable through efficient waste utilisation and sustainable production and consumption.
• Finally, it meets Goal 13: it allows the city to increase its resilience to climate change.
People

Organisation of skills transfer to local teams